Neko Nation Sydney feat. Yui Kanan (JP)

Saturday, 9 May 2015 at 5:00 pm

-

Sunday, 10 May 2015 at 5:00 am (AEST)
Event Details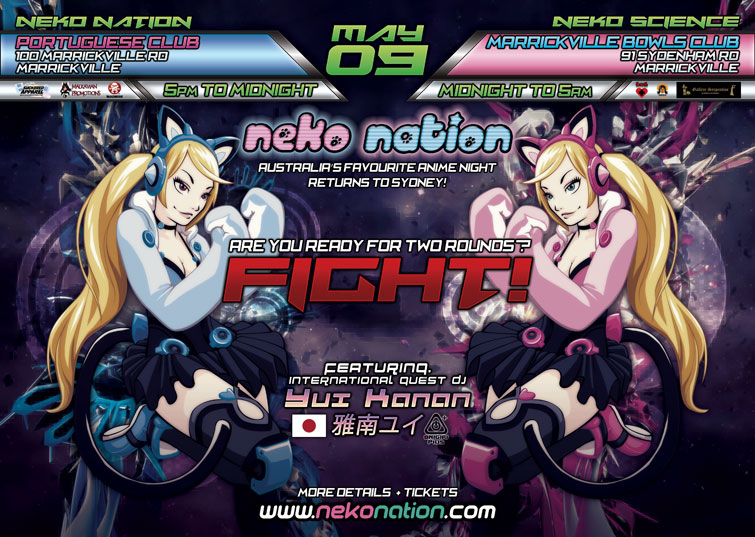 Welcome to Neko Nation, where you can expeperience a one of a kind unique night with the ultimate anime party taking over Sydney and all of Australia! Neko Nation features anime, gaming, Japanese music DJs, plus chiptunes, Bubblegum pop, J-Core and a wide variety of surprises musically from local Sydney DJs and interstate DJs.
Neko Nation is an environment where you can dress up in cosplay in a club environment without being hassled, as a matter fact, encouraged, with lots of awesome prizes to give away from our sponsors! We've got an awesome dancefloor, sexy catgirl dancers and skilled poi and glow twirlers. Expect a high dose of energy on the floor and to help keep you going we've got catboys serving candy for a sugar overload and catgirls serving sushi for the ultimate in taste, no need for a late night trek for an expensive kebab!
Prepare for two rounds!  (venues x 2!)
Neko Nation 
Neko Nation Sydney is set to create a magical anime wonderland across not one but two venues!  This massive event couldn't be contained in a single venue, we're kicking things off with the mega Neko Nation party taking place at the Portugese Club from 5pm-midnight, including free sushi served by catgirls, video gaming, international DJ, comps and an epic evening and night alone.
Neko Science (thanks to Rocket Science!)
For those who go late and harder we're kicking things up a notch by teaming up with Rocket Science who will be bringing their intense hard rave beats till the break of dawn.  If you've got the energy to keep going we're throwing in another awesome party free of charge which is a short walk from the original venue!
Welcome to our ever expanding world where we combine amazing sound and lighting technology with lots of awesome surprises we've got a free kandi making table, massive video gaming room, cat shooting laser beams, pillow forts and more awesome surprises for one amazing night.
Welcome to a party that feels like an anime being brought to life, anime fans and those with an interest in Japanese culture this is an event not to be missed, considered by many to be one of Sydney's top underground events, with a friendly, welcoming and loving atmosphere, this is one night not to be missed!

Featuring Yui Kanan (Japan)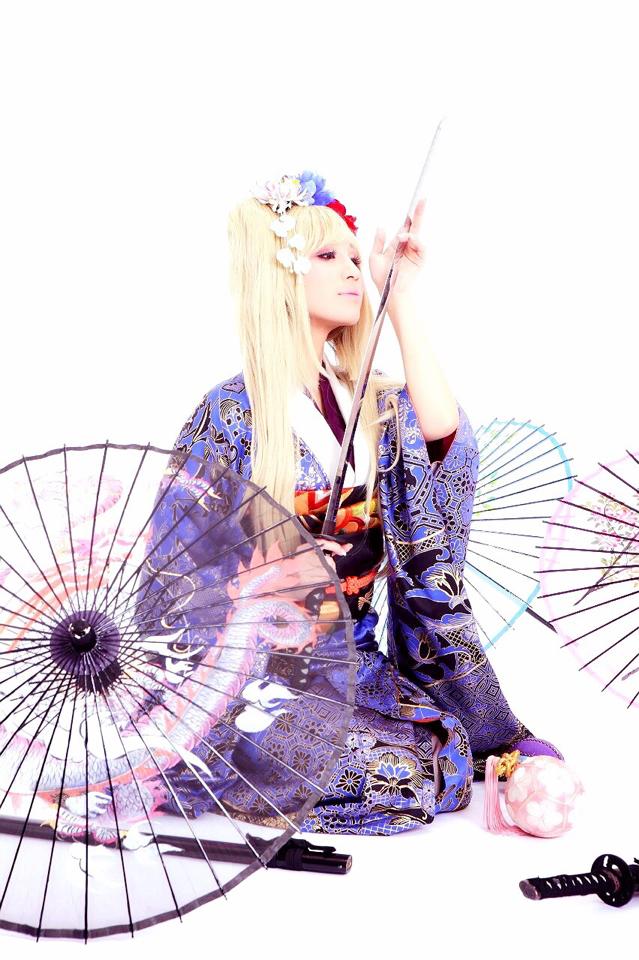 DJ Yui Kanan (aka. DJ ZAZA), leader of YUIMINO+ and young female CEO of cosplay company "ONIGIRI PLUS Inc." After receiving 3rd place in the world at WCS 2008, she used her skill in cosplay and knowledge in entertainment industries to create the very first professional cosplay company in Japan. Working closely with clients from animation/game/manga/local official/NPO to make cosplay and cosplayers more accepted in society. After being an icon for cosplayers in Japan, she has started her career in DJ to reach out further into the world

Her DJ style is based on popular EDM mixed with a touch of J-pop culture to pursue a new expression in EDM DJ-ing. An absolute delight to watch on the decks, filled with energy and an incredible passion for music. Yui Kanan has played in Europe in 2014 and had an appearance at Neko Nation Purrth in December 2014, which was incredibly well recieved.

Neko Nation Sydney
Caturday, May 9th 2015
5pm-5am

Neko Nation kicks off @ Portugese Club, Marrickville
100 Marrickville Road, Marrickville
5pm-Midnight

Neko Science continues @ Marrickville Bowls Club
91 Sydenham Road, Marrickville
Midnight-5am
Tickets include both venues!
Earlybirds: $20
Presale: $25
Door: $30
18+ Event
When & Where

Sydney Portuguese Community Club
100 Marrickville Road
Marrickville, NSW 2204
Australia

Saturday, 9 May 2015 at 5:00 pm

-

Sunday, 10 May 2015 at 5:00 am (AEST)
Add to my calendar
Organiser
Welcome to Neko Nation, a party where we bring an anime wonderland to real life!   Neko Nation is a unique nightclub experience for those who love anime, cosplay and Japanese culture to dance, drink and party the night away in a safe environment.
Ever wanted to hear your songs from anime and video games?  Want to go to a club in cosplay and be surrounded by other cosplayers?  Want to be able to party and interact with other awesome anime fans?  Then Neko Nation is the place to be!
Our events feature DJ's playing a variety of gaming, anime, K-Pop and Japanese music, prize giveaways, a cosplay friendly environment, unique anime and gaming cocktails, AMV's, amazing decor, lighting, sound and Neko Nation's famous super sexy kawaii catgirls who serve delicious free sushi throughout the event!
There is nothing else like Neko Nation in not just Australia but the world, it's a unique event that has attracted amazing talented performers locally and around the world including the likes of TeddyLoid, S3RL, Yui Kanan and The Living Tombstone just to name a few.
We hope to see at one our event soon!  (ノ^ヮ^)ノ*:・゚✧