Description
NEIGHBOURHOOD BOOK CLUB
- For local readers and writers -
Ours is a book club with a difference - each meeting will be hosted by a local author!
We will hold meetings fortnightly, alternating between non-fiction or fiction. You're welcome to attend one or all.
Come along for hearty conversation, good company and cheese and wine.
Jeff Sparrow has agreeed to host our March 5th meeting to discuss his brillant new book Trigger Warnings
---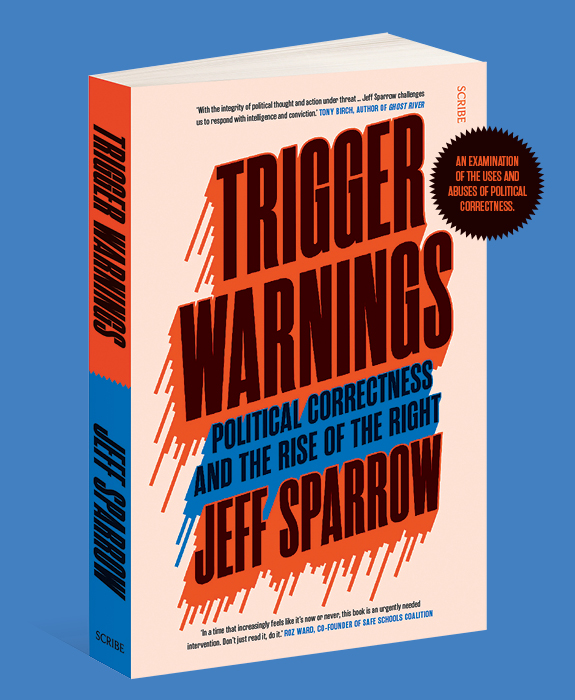 ABOUT TRIGGER WARNINGS: (pick-up a copy in store or buy from our website)
The man lives, quite literally, in a building serviced by a golden elevator. Somehow, he presented himself as the scourge of the elites. For decades, he built a persona based on the most conspicuous consumption and the crassest of excess - and then he won the presidency on an antiestablishment ticket. The unlikely rise of Donald J Trump exemplifies the political paradox of the twenty-first century.

In this new Gilded Age, the contrast between the haves and the have-nots could not be starker. The world's eight richest billionaires control as much wealth as the poorest half of the planet - a disparity of wealth and political power unknown in any previous period. Yet not only have progressives failed to make gains in circumstances that should, on paper, favour egalitarianism and social justice, the angry populism that's prospered explicitly targets ideas associated with the left - and none more so than so-called 'political correctness'.

If Trump - and others like Trump - can turn hostility to PC into a winning slogan, how should the left respond? In the face of a vicious new bigotry, should progressives double-down on identity politics and gender theory? Must they abandon political correctness and everything associated with it to re-connect with a working class they've alienated? Or is there, perhaps, another way entirely?

In Trigger Warnings, Jeff Sparrow excavates the development of a powerful new vocabulary against progressive causes. From the Days of Rage to Gamergate, from the New Left to the alt-right, he traces changing attitudes to democracy and trauma, symbolism and liberation, in an exhilarating history of ideas and movements. Challenging progressive and conservative orthodoxies alike, Trigger Warningsis a bracing polemic and a persuasive case for a new kind of politics.
PRAISE:
'Sparrow writes with a unique combination of dignified sensitivity and a concrete commitment to solidarity and movement building.'
-SAM WALLMAN, POLITICAL CARTOONIST
'He's one of Australia's most crucial political thinkers … Trigger Warnings is perhaps his most polemic [book] yet, written with clear activist goals in mind: to intervene in the present, he insists we must understand the complex history that led us here.'
-THE SATURDAY PAPER
'Australian writer Jeff Sparrow succinctly explains in Trigger Warnings how Trump cleverly skewered his political enemies by appealing to their anger at the elite political and media classes (despite being a member of the elite himself) … Trigger Warnings is a rare book that takes a necessary scalpel to the leftist political persuasion of its author as much as, if not more than, the right-wing agenda he opposes.'
-ANTONY LOEWENSTEIN, WEEKEND AUSTRALIAN
---
ABOUT THE HOST:
Jeff Sparrow is a writer, editor, and broadcaster, and an honorary fellow at Victoria University. He writes a fortnightly column for The Guardian and contributes regularly to many other publications, as well as being a member of the 3RRR Breakfasters radio team. Jeff is the immediate past editor of the literary and cultural journal Overland, and the author of several books, including Communism: a love story and Killing: misadventures in violence.