Event Information
Refund policy
Contact the organiser to request a refund.
Eventbrite's fee is nonrefundable.
An online course to refine and advance your needle lace making skills
About this event
Ok folks! Here we go!
This is the digital follow up workshop from my introductory needle lace class.
WHAT WILL YOU LEARN?
You will refine and advance the needle lace techniques you have already learnt. Plus, you'll learn new combination ground stitches, some more advanced lucious outlining techniques from Venetian Gros Point, more complex cordonnet, rounded shapes in buttonhole, so many useful things!
AND you'll get to stitch a little bra to match the knickers you made in the beginners course.
WHY SHOULD YOU DO THIS COURSE?
Hopefully by now yiou've been stitching and enjoying the slow and gorgeous needle lacing process. Needle lace is a gorgeous technique. It's been passed hand to hand through history, dating well back into the 16th century. It's sumptuous, detailed and rich but is made up of really simple principals. Now that you have covered some of those basic principals, it's time to delve a little deeper into the detail.
WHY AM I TEACHING?
I have been making, studying, teaching and exhibiting needle lace for nearly seven years now. With exhibitions and talks across Australia, and in the USA, Spain and the Netherlands. I use a combination of Punto in Aria, Aemilia Ars, and Venetian Gros Point to create my works, and make contemporary imagery that explores the mundane moments of life using this historical technique.
Also, I just love it. Seriously. And I want you all to love it too.
HOW DOES IT WORK?
If you tackled the beginners course, you'll be familiar with the process:
You'll be sent a lovely package with ALL the materials you will need.
Then we will have an interactive zoom meeting, introducing the course and answering any early questions you may have.
Next, you'll be sent a link to my instructional videos, and digital handouts. Slowly walking through EVERY STEP of the process. You'll be able to pause, rewind, skip around, all the benefits of digital classes.
(We'll include a quick brush up on techniques covered in the beginners course. So don't worry if you're a little rusty.)
AND we'll have three live sessions. In these, we'll cover some additional stitches, plus Q&As and troubleshooting. You can also send me images of your work if you're in a jam, and we'll sort it out that way If you can't make the live sessions. The times and dates for these sessions will depend on what time zones we'll need to cover. (These will all be recorded anyway so attendance isn't compulsory.)
HOW MUCH?
There are two options:
FULL COURSE: $220. Includes all the materials, postage, access to videos, Q&As, the lot.
JUST THE DIGITAL COURSE: $180. If you have all your own materials, this ticket just gives you access to the lessons, plus Q&As and live sessions.
WHAT WILL YOU NEED IN ADVANCE?
-A screen of some kind that will connect to Youtube.
-A WhatsApp account (for sending images. If you'd prefer email, that's fine too.)
-Some embroidery scissors would be useful. Any scissors will work really, but the smaller and sharper the better.
-If you choose the purely digital course, you'll need your materials. So: DMC cebelia cotton size 20 (or equivalent) in white or a light colour, fine sewing cotton in a contrasting colour, needles that fit both threads, semi transparent matte contact plastic.
AND THAT'S IT!
Feel free to contact me if you have any questions. m.hensel.b@gmail.com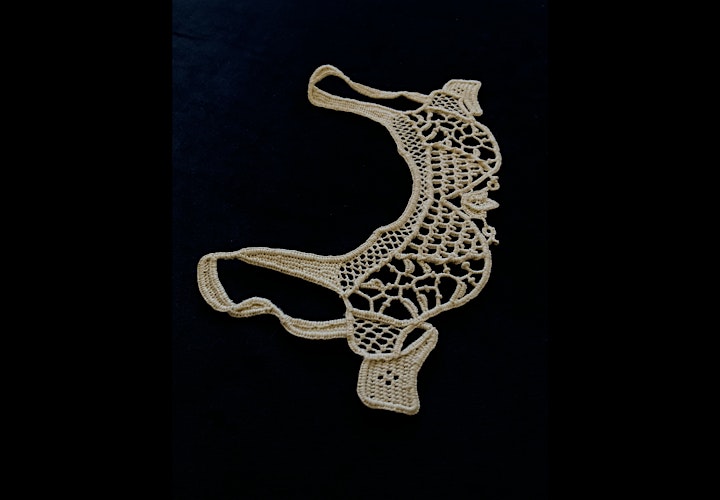 Date and time
Location
Refund policy
Contact the organiser to request a refund.
Eventbrite's fee is nonrefundable.