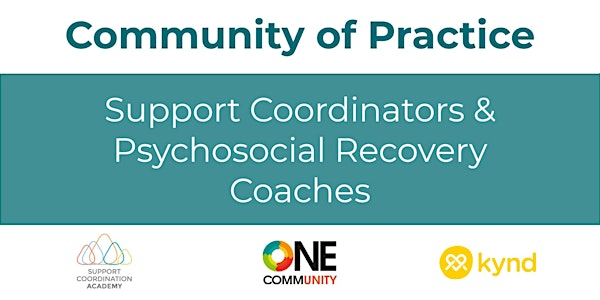 NDIS Community of Practice for Support Coordinators and Recovery Coaches
Professional Development for Support Coordinators and Psychosocial Recovery Coaches
About this event
What is a Community of Practice?
A Community of Practice (CoP) is about collective learning. It's where a group of people who share a common purpose come together on a regular basis to learn, develop, create, and grow.
This social style of learning and professional development draws on the 'collective' knowledge, skills and experiences of the group. While facilitators guide the gathering, a founding principal is that every person, regardless of their stage of learning and development, has valuable contributions to make.
CoP Details:
Location: Online via Zoom
Next Gathering: Thursday 21st July 2022
Times: 2pm (AEST)
Duration: 1.5 hours
Workshop Style Gathering
Get ready to collaborate!
The aim of the workshop is to bring everyone together, from across the country, to identify common themes and challenges, that we all face in working within the NDIS environment.
We will use our shared experiences to identify the issues and how these impact on the participant's we support, and work together to develop strategies for a collective way forward.
Let us know the top 3 challenges you are facing when you register for the session. This insight will help us to begin identifying common themes for this workshop gathering.
Workshop facilitators(s):
Mary Ingerton, General manager - Support Coordination Academy
Jodie Schleusener, Head of Community - Kynd
Do you have a topic or guest presenter suggestion?
Would you like to be a guest presenter on a topic you're knowledgeable about?
If so, let us know when you register!