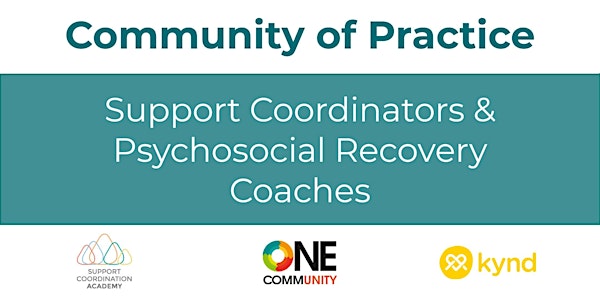 NDIS Community of Practice for Support Coordinators and Recovery Coaches
Professional Development for Support Coordinators and Psychosocial Recovery Coaches
About this event
What is a Community of Practice?
A Community of Practice (CoP) is about collective learning. It's where a group of people who share a common purpose come together on a regular basis to learn, develop, create, and grow.
This social style of learning and professional development draws on the 'collective' knowledge, skills and experiences of the group. While facilitators guide the gathering, a founding principal is that every person, regardless of their stage of learning and development, has valuable contributions to make.
CoP Details:
Location: Online via Zoom
Next Gathering: Thursday 16th June 2022
Times: 2pm (AEST)
Duration: 1 hour
Topic and Guest Speaker:
This is the third in a series of gatherings focused on 'Good Evidence'.
During April, May, and June, we will explore the topic of good evidence from the perspective of three allied health disciplines - Social Work, Occupational Therapy, and Psychology.
The aim of this series is to assist Support Coordinators and PRC's to understand the importance of good evidence, what good evidence looks like, how to review a Report to make sure it provides enough evidence to justify the supports being requested, and if not, being able to identify where a Report needs to be strengthened and to ask for amendments if required.
Guest Presenter(s):
Melanie Whitelaw, Therapy Pro - Psychologist, Acting Director of Service Delivery
Yvette McKendry, Therapy Pro - Lead Psychologist
Topic: Psychologist – Complex Psychosocial
In this session we will explore:
common themes and challenges in the NDIS space for participants with ASD and psychological support needs
understanding psychological support in the context of the NDIS
examples of complex scenarios in the context of good evidence and good reporting
other practical strategies to strengthen the skills and knowledge of Support Coordinators and PRC's
Q&A - ask on the day, or submit your questions in advance during registration
Presenter Bio:
Melanie Whitelaw, Psychologist, Acting Director of Service Delivery
For about 20 years, Mel Whitelaw has been the cheer leader of clients seeking to boost their confidence and attain goals towards more independent living. Years working as a rehabilitation counsellor in occupational rehabilitation enabled this psychologist to work with, and build rapport with, people from diverse backgrounds – cultural, linguistic, and professional – as well as varying physical and emotional challenges.
At Therapy Pro, Mel works with clients of all ages, providing psychological assessments and putting in place individualised interventions. As well as developing behavioural support plans, she can help you work through anxiety, stress, frustration, grief, trauma, depression, and other emotional regulation issues.
Yvette McKendry, Lead Psychologist
Yvette has worked in the disability sector for over ten years, five as a Disability Support Worker (in Emerald and Brisbane) and almost six years as a Psychologist with Disability Services.
Working across all age ranges, as a Psychologist Yvette provides support to children and adults, as well as the team of family members, support workers and teachers around the client.
Yvette is skilled working alongside clients that have dual diagnoses (mental health and disability) but her area of speciality is Positive Behaviour Support and Intervention.
Do you have a topic or guest presenter suggestion?
Would you like to be a guest presenter on a topic you're knowledgeable about?
If so, let us know when you register!