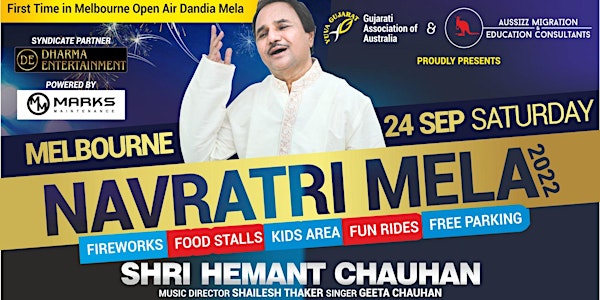 Navratri Mela 2022 Melbourne by Shri Hemant Chauhan
Location
Werribee Racecourse
2-10 Bulban Rd
Werribee, VIC 3030
Australia
First Time Ever in Melbourne - OPEN AIR DANDIA MELA 2022 with SHRI HEMANT CHAUHAN - Academic Award Winner & the Only Folk Artist of Gujarat
About this event
First Time Ever in Melbourne - OPEN AIR DANDIA MELA 2022 with Shri Hemant Chauhan and Group performing LIVE with Music Director Shailesh Thaker and Singer Geeta Chauhan and the legacy of Dandia is ON in the city of Melbourne.
The Academic Award Winner & Only Folk Artist of Gujarat. Hemant Chauhan is an Indian writer and singer associated with Gujarati literature and music with specialization in Bhajan, religious and Garba songs and other folk genres. He received the 'Akademi Ratna Award 2011' for his contributions to Gujarat's traditional folk music. He has sung more than 5000 bhajans and many other devotional items.
Get ready with the Dandia sticks this festive season for the most heart throbbing dandia nite in the history of Melbourne.