NAVA 2014 Synergy Program

Multiple Dates
Event Details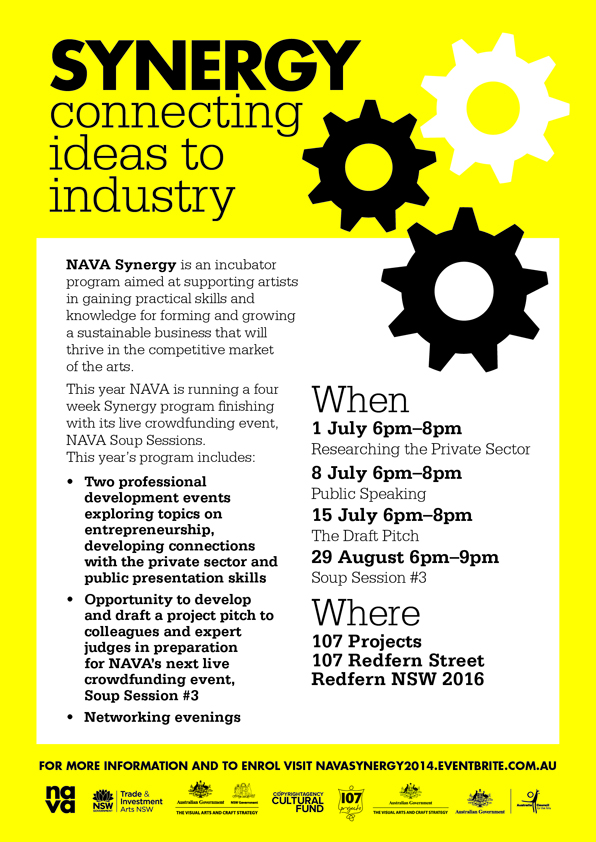 The schedule:
Week 1. Researching the private sector. 1st July, 6pm - 8pm. 
Securing an agreement with a private sponsor or entering the crowd-funding arena can be a tough task and a daunting one at that for many artists. Aligning yourself with a suitable sponsor and honing your methods for the pitch will be key to your success. This initial workshop will look at tips and processes artists can use in creating a successful crowd-funding campaign whilst also giving audiences an insight into the private sponsorship sector.
Guests will hear from both Brianna Munting, Deputy Director of NAVA, and Caraline Douglas, Communications Coordinator of Artspace. 
Week 2. Public Speaking. 8th July 6pm-8pm. 
107 Project's Jess Cook will give a practical workshop on public speaking and provide participants with tips on the all important elevator pitch. 
Week 3. The draft pitch. 15th July 6pm-8pm. 
Participants will have the opportunity to pitch their project to fellow participants and expert judges. Constructive feedback will be provided by the judges.
Week 4. NAVA Soup Session #3. 29th August 2014. 
NAVA Soup Sessions are a live crowd-funding event in partnership with 107 Projects. Launched in 2013 Soup Sessions are community dinners that provide micro grants to local visual artists and provide the community with the opportunity to learn about and connect with visual artists.
*TERMS AND CONDITIONS
Inclusion in Soup Session #3 is dependent on a complete application form.

Open to NSW visual artists and craft practitioners only. 
This NAVA Professional Development event is made possible through our event partner, Sydney College of the Arts and through the following funding partners.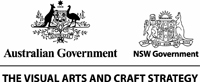 Event partner

Organiser
The National Association for the Visual Arts (NAVA) is the national peak body protecting and promoting the professional interests of the Australian visual and media arts, craft and design sector.