Description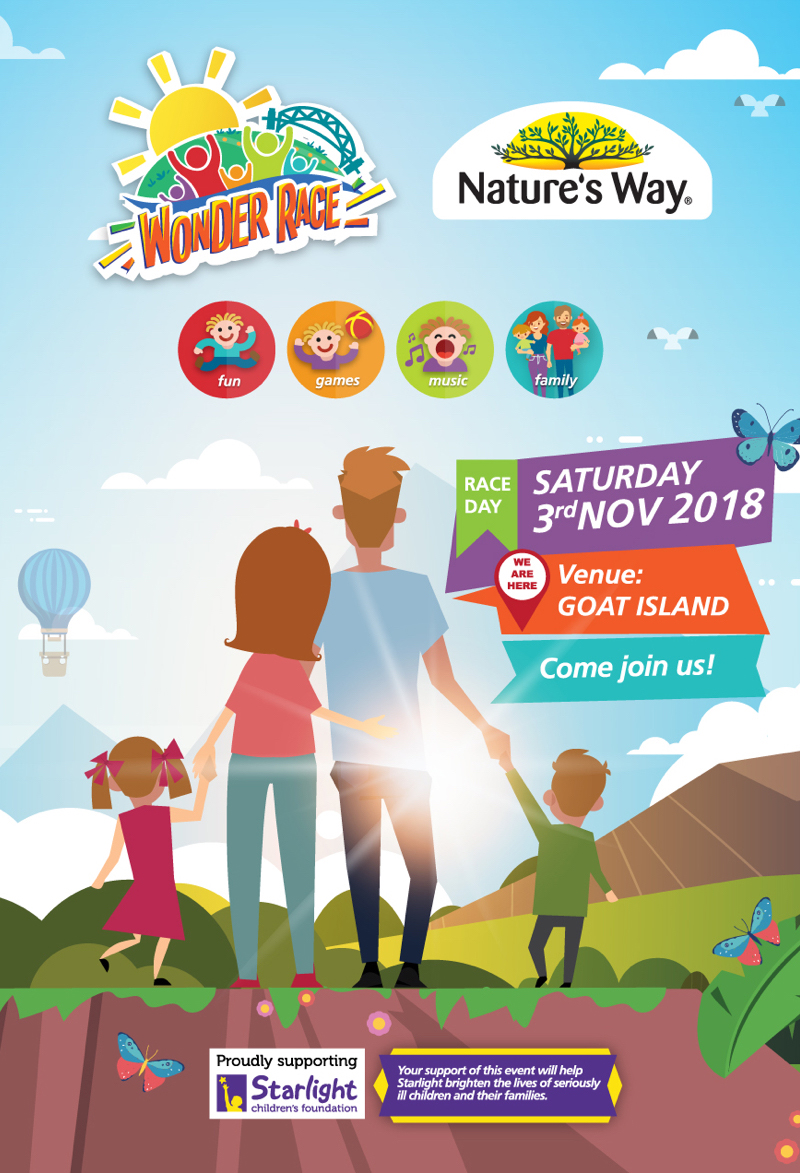 NATURE'S WAY WONDER RACE
Move Swift like a Hare and Soar High like an Eagle;
Be Bold like a Lion while Keeping Calm like a Duck.
All made possible by Nature's Way Wonder Race!
And even better, the Nature's Way Wonder Race takes place with the breathtaking backdrop of Sydney Harbour on the heritage-listed Goat Island in Port Jackson, Sydney.
Nature's Way Wonder Race provides a series of family and child friendly activities conducted in the format of a fun race. Sponsored by Nature's Way®, the event celebrates healthiness, happiness and encourages Australian families to live life "Nature's Way".
NATURE'S WAY SUPPORTS STARLIGHT
Nature's Way® believes every kid is a wonder kid. We invite you and your family to participate in the race and be rewarded with a day of extraordinary family fun and happiness.
Ticket proceeds from the event will be donated to Starlight Children's Foundation to help brighten the lives of seriously ill children, teenagers and their families. Starlight helps sick kids simply be kids.
EVENT PROGRAM
8:30 – Check-in at King Street Wharf 1
9:00 – Ferry leaves for Goat Island
9:30 – Race registration and goodie bag collection
10:30 – Opening Ceremony commences
11:00 – Wonder Race officially opens
13:00 – Race completion and prize bag redemption (prize bag redemption available from 12:30 onwards)
13:00 – Ferry leaves for King Street Wharf

BUY TICKET ONLINE
Tickets can only be purchased online to assist us planning the logistics in advance. The ticket will entitle every registered participant to a free goodie bag, return ferry transport to the event venue, and access to all Wonder Race games and activities.
Individual ticket cost is $10 per person including booking fee and GST. Children 5+ years are charged the same price as adults. Children 5 years and under will receive FREE access with a registered adult.
Hurry up and book your tickets now! Ticket sales ends on 26 October 2018 at 18:00 (AEST).
GETTING THERE
Goat Island cannot be accessed by public transport, chartered ferry will be arranged for all Wonder Race participants. Please arrive by 8:30AM at KING STREET WHARF 1 and present your e-ticket to check-in. Ferry will leave the wharf at 9am, please don't be late!
By Car
Wilson Parking is located at 321 Kent Street. It is a 4-minute (or 350m) walk to King Street Wharf 1. Visit Wilson Parking website for the weekend rates. Alternatively, there is another Wilson Parking lot at 71 York Street which takes you an 8-minute (or 600m) walk to King Street Wharf 1. Visit their Wilson Parking webpage for the weekend rates.
Secure Parking is located at 345 - 363 George Street. It takes a 10-minute (or 650m) to walk from there to King Street Wharf. Visit their Secure Parking page for the rates. The closest parking lot to King Street Wharf is Secure Parking located at 1 Shelley Street (200m apart), right across the road from King Street Wharf's restaurants and bars. Visit the Secure Parking website for their rates.
Sun Parking is located at 261-293 Kent St in the basement levels of Westpac Tower, and is only a 2-minute (or 450m) walk along Erskine Street from King Street Wharf. There are entrances on Sussex Street and Kent Street. Visit the Parkopedia website for Sun Parking's rates.
By Train
Alight at Wynyard Station, take the York Street Exit. The distance from Wynard Station to King Street Wharf 1 is around 600m, which takes about 7 minutes on foot.
GOODIE BAG COLLECTION
Participants will receive a free goodie bag upon arrival at the registration area on Goat Island. Each goodie bag will contain a vest, one cap, a poncho, a race bib with your competitor number, one AQUASUN sunscreen, and a drink. One goodie bag per registered person.
RACE RULES
Finish challenges and collect 8 stamps on your ticket to receive a prize bag and a finisher medal will be awarded to children under 18 years old.
COURSE MAP
Click here for the Wonder Race Course Map and plan your journey ahead!
FAQ
Have more questions for our event? Click here to browse our FAQ. Any further questions, click CONTACT button below and send us any enquiries.
TERMS
By purchasing the tickets, you agree to the participant agreement.