Join Kids in Nature Network for a special online launch of Nature Play Week 2022. Featuring Annette Sax and Aunty Lee Couch
About this event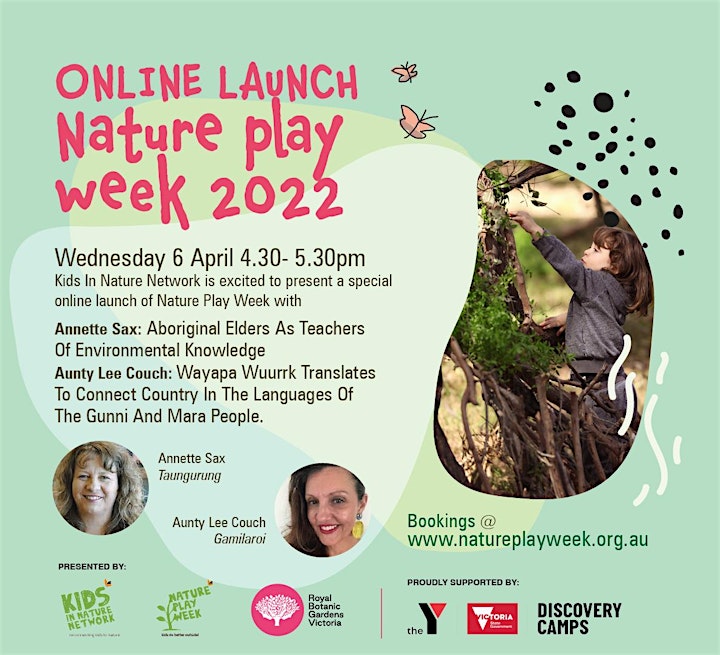 Kids in Nature Network are thrilled to launch the 9th annual Nature Play Week in 2022. Nature Play Week is a celebration of the incredible work our network do in making time for children to spend time outdoors. This year our launch will take place online via zoom with special guest speakers Annette Sax and Aunty Lee Couch.
Annette Sax, Taungurung Badjur has worked as an Aboriginal Early Childhood Practitioner for 30 years. Annette is the Education and Creative Arts Director of Yarn Strong Sista (YSS), working locally and nationally for 20 years foregrounding Aboriginal Pedagogy. Annette is an Aboriginal Artist and Cultural Interpreter and for 15 years facilitated Cultural reclamation and revival of Possum Skin Cloak Making. Her core vision is to connect with Aboriginal Community, developing programs and resources that support First Nations children's and families identities. Annette has been taught her Cultural Knowledges by her Victorian Aboriginal Elders and has their permission to share more widely.
In 2020 Annette launched Yarn Strong Brutha (YSB), her range of Aboriginal Fashion Accessories and Homewares inspired by Taungurung Country!
Lee Couch, Gamilaroi
Lee is an Aboriginal Therapeutic Practitioner from the Gamilaroi Tribe Northern NSW born and raised on the traditional lands of the Kulin Nation. She is an accredited in Mindfulness, Meditation, Winagarli ( Listening) & Wayapa Wuurrkk ( Movement). Her experience also extends to Personal Development and one on one facilitation. She has over 13 year experience in the Health & Wellness industry.
Our online launch will be followed by a families day with free nature play activities at the Royal Botanic Gardens Melbourne - Monday April 11 10am - 2pm. To find out more and book a free ticket, visit www.natureplayweek.org.au