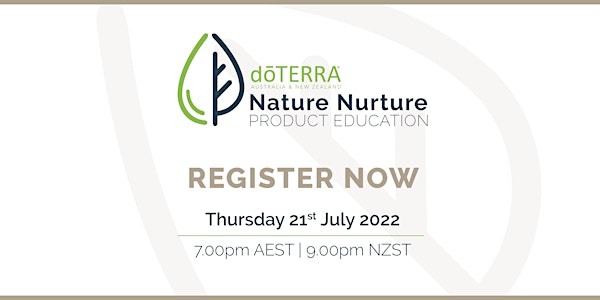 Nature Nurture, Online Workshop: Thursday 21st July, 7PM AEST/ 9PM NZST
Welcome to dōTERRA's Nature Nurture July Workshop:
About this event
Join us for this series of informative, online workshops designed to encourage you to nurture yourself and your family with the healing and transformative powers of nature.
These inspiring, monthly workshops support your understanding of our oils and how to use them, empowering you to care for yourself and others, nurtured by nature's purest gifts.
We'll enrich your knowledge and understanding of our product and instil a strong sense of purpose with a glimpse into our guiding philosophies and principles.
You'll discover both sides of the bottle - how to nurture a wellness lifestyle at home, while supporting people and communities around the world.
In true dōTERRA spirit, these education-based workshops are aimed at bringing our community together in support of a cause. By taking part, you'll not only learn about essential oils, but become part of a life-changing movement, with $5 from every ticket sale going directly to Healing Hands AUNZ.
Speaker Line Up:
Daily Self Car Practices for Adults - Steph Arthrell, Premier Leader.
Daily Self care practices for Kids - Sarah Callegari, Silver Leader.
Are you a GROW Participant? Great News for our 2022 GROW Participants! You can utilise these Nature nurture Workshops during GROW to introduce prospective enrolees to the world of doTERRA.
Please ensure that both you and potential enrolees have a ticket to the event – connect with them post the event to sign them up through the GROW portal.
Once they have been enrolled, please email the GROW Team growdoterraaunz@doterra.com with a copy of yours and your enrolee's tickets for the Nature Nurture event.
Ticketing:
Tickets are $5 and the entirety of the ticket price will be donated to the dōTERRA Healing Hands Foundation Australia and New Zealand.
Tickets are on sale up until the event start time.
Zoom Access Links are sent within ticket confirmation emails.
It is recommended to download the ZOOM app to your device prior to the event for best access to this workshop. Please refer to your confirmation email for further details.
If you need further assistance, please contact: eventsaunz@doterra.com
Ticket Refund & Transfer Policy
There are strictly no refunds or transfers for this event.
In the unlikely situation that your event is cancelled, you will be refunded the full ticket amount using the same payment method used for purchase. If your event is postponed or changed, you will be notified via email with updated event details. Dates and speakers are subject to change without notice.