Natural Building Course

Thursday, 24 May 2018 at 7:50 am

-

Sunday, 27 May 2018 at 4:00 pm (AEST)
Event Details
In just 4 days you'll learn and practise how to build with natural materials that will work.
  
From a 'professional' builder who's been through many councils, who can build to codes (Federal, State & Local)
and has designed and built over 50 natural buildings. 
That means you'll design and build your own building properly. So it withstands the elements... councils, Australian Standards and the National Construction Code!
You'll learn theory AND also practise what you learn. As qualified builders and Cert IV Trainers we know how to teach so you retain and learn it.
You'll learn 'best practice' in the mornings and then in the afternoon, get hands-on practical experience. Just some of what you'll learn with natural building materials:
Designing energy efficient homes. Sounds easy eh? Every person with sketchup can say it, top 'eco architects' create beautiful homes. Are they affordable for you and are they energy efficient? Are they designed around the natural building materials so it's quick and cost effective?



Because we've designed and built many homes, and lived in a few, we use proven systems that work. Understand thermal mass and insulation and exactly where they need to go in your home. How high should your walls be, what roof is best? Bring your plans and get feedback. 
Natural building should be awesome and fun. Learn how to meet local, state & federal building codes.

You'll learn & work with: Straw bale, straw panels, light straw, cob, earth floors, lime crete, hempcrete, rammed earth, traditional timber frames, stone, green roofs....

Learn the art of getting the render on and straighten the walls (it's like magic)




Clay & lime render recipes and techniques that have worked for us on over 50 homes. 

(that will last and won't flake off, go mouldy or fail).


How to prepare the walls for rendering. 

Passiv Haus other systems

 (are they worth doing in Australia?)

Flooring systems (slab vs strip footings vs piers/joists) which is best?

You'll see what tools and materials we use. How services are dealt with (natural termite protection). 
____________________________________________
Rain, hail or shine: Yes we'll still go ahead in bad weather
Camping on site:  Yes - limited camping onsite: majellalloyd@gmail.com
Accommodation : Possible ecovillage member vacancies ecovillageliving@gmail.com
Carpool: Need a ride? Got a spare seat? Contact us and we'll send you the carpool group
 _____________________________________
Is a Course or Workshop best for you? This is a Course
If you want to know HOW TO build a strawbale home...our courses are the best. 
Workshops give you practise, repetition, on various parts of the bale raising. You won't learn the theory on why we do the system, or why we use a particular render or cob walls in specific areas. Workshops are focussed on 'doing' whereas courses explain why and give you an overview. 
______________________________________________
By purchasing tickets, you agree that:
Your spot is confirmed when we receive your payment
You commit to arriving at 7:55am everyday and be a part of the team
If you take photos or videos during the workshop, you'll only use them for personal use 
You are fit and healthy or will tell us of any health issues 
You'll give Viva Homes more than 48 hours warning if you cannot attend 
You may be photographed or filmed by Viva Living Homes and are happy for them to use the photos in promotional material. If you're not ok with this, just tell us, we get it 
You'll do a safety induction led by one of our Team
Food....nom nom nom:
Our beautiful hosts will supply scrumptious: lunches, morning and afternoon teas. 
Just bring your own breakfasts & dinners
They'll cater for general needs (vegetarian and dairy-free) 
- we cannot cater for other dietary requirements.  
Have special dietary needs? or have food allergies, we suggest bringing your own specialty foods.
Can I bring my children? 
Our courses will be a 'pop up' building site and it's unsafe for kids under 16 to be in the building area. A course is pretty boring for children after 1 minute. If you want to tag team with your significant other... just ask us (we suggest focus and dedicate this time to learning and absorbing the information. It's a house after all). 
No spectactors please
(just do one of our workshops or jump onto our eco house tour 
if you are ready for learning loads) 
We will sell out, we always do. So book now 
___________________________________
What students say:
"Amazing experience! Highly recommended! The viva team were incredibly encouraging and it was wonderful meeting like minded people. The knowledge and experience gained was invaluable. Thanks guys :)" Erin
"We contacted Viva in a last ditch effort to find some support with our straw bale walls. It is safe to say that we would not have continued with the plan for straw if we had not done this." Leensy
"Sam you are awesome, so knowledgeable and a terrific teacher, highly recommend doing the course, fantastic facilitator, and Kristy, the trusty sidekick, is pretty damn awesome too" Terri-Anne
"Sam was very professional, an exceptional presenter. Came away with the knowledge, tools and skills I need to head towards building my own house" Danny Hill
Need another reason?
After your join, you get into our private "Graduates Group" - Stay in touch other cool people
Get special access to our wholesale trade suppliers. that will easily save you the cost of the course!
Watch Matt & Carolyn talk openly about how much time and $ they saved 
by doing a course with Sam (3min video). They're owner building their own home
https://www.youtube.com/watch?v=pqsqOji1Vas  
Sam teaches the theory... demonstrates it, then you practise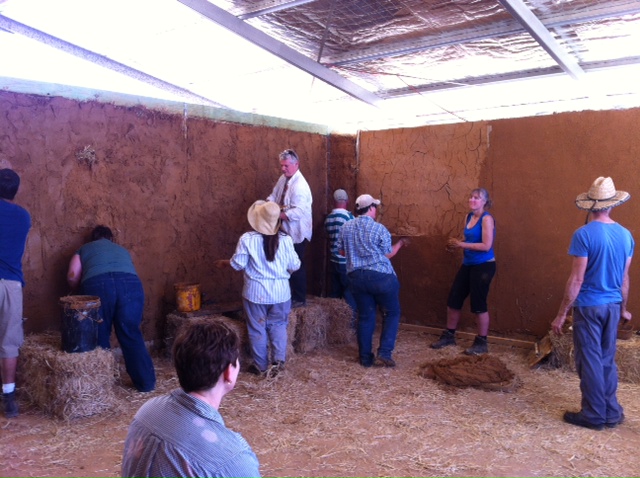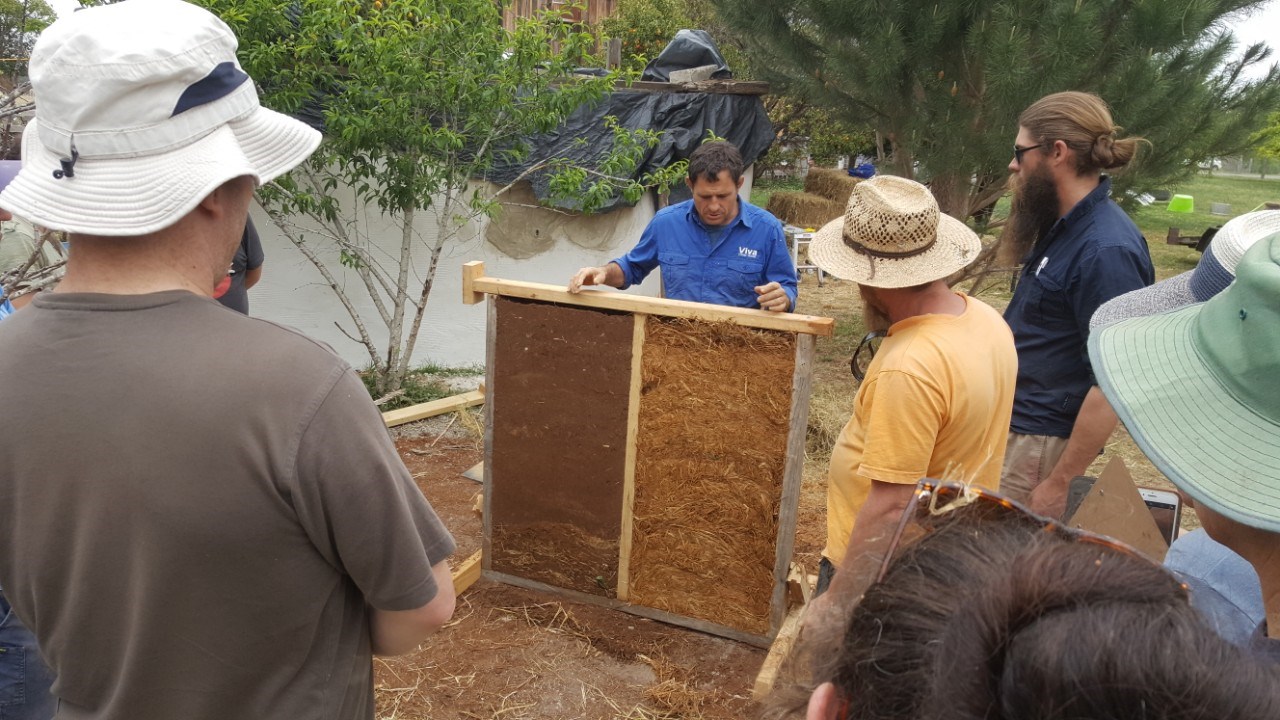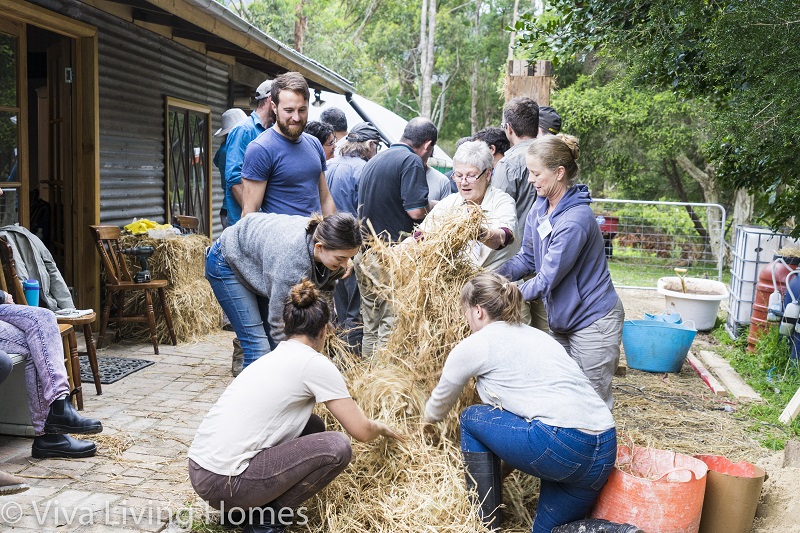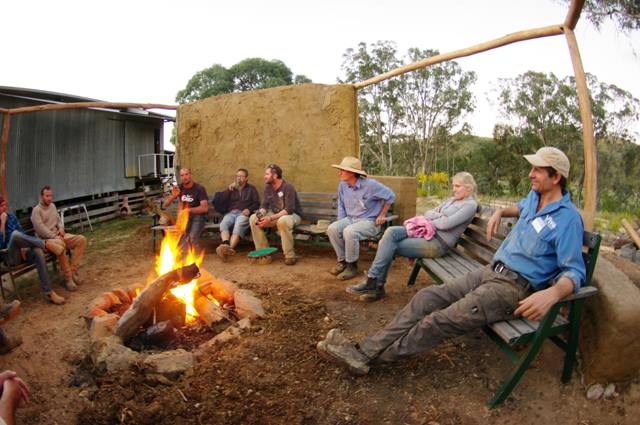 When & Where

@NararaEcoVillage
25 Research Rd
Narara, NSW 2795
Australia

Thursday, 24 May 2018 at 7:50 am

-

Sunday, 27 May 2018 at 4:00 pm (AEST)
Add to my calendar
Organiser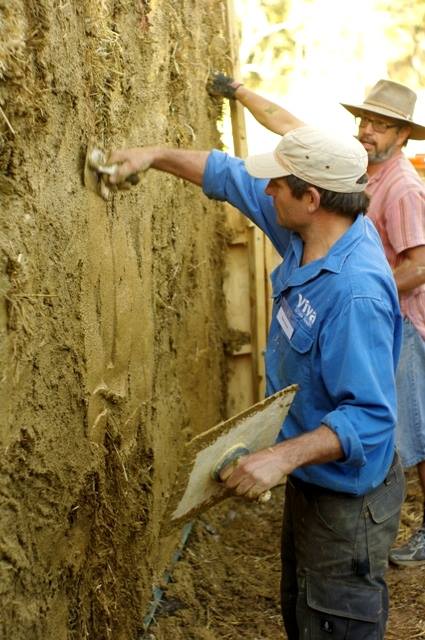 Sam educates builders, architects, owner builders and councils from all over Australia and regularly runs workshops at the Australian Rural Education Centre, Milkwood Permaculture, The HIA Sydney Home Show, Australian Technology Association (ATA) and local councils around Australia. He has built over 30 straw bale homes and have built 3 of his own straw bale homes. He lives in one himself.
Sam's qualifications include:
- Licensed Builder and Supervisor
- Bachelor of Economics (Agriculture)
- Diploma in Building
- Cert IV Carpentry
- Cert IV Training & Assessing
- Building Thermal & Assessment (Australian energy rating course)

- Master Builder with the Master Builders Assoc (MBA)
- NSW Rep & Member of Australasian Straw Bale Building Association (Ausbale)
- Member of Earth Building Association of Australia (EBAA)
- 2014 Excellence in Building awards from the MBA for "Environmental Management" and "Best House under $500,000".