Event Information
Location
Duldig Studio Museum & Sculpture Garden
92 Burke Road
East Malvern, VIC 3145
Australia
Celebrate Umbrella Day with the Duldig Studio on Sunday 06 March 2022 from 2:00pm.
About this event
Join us in celebrating Umbrella Day in the surrounds of our beautiful sculpture garden!
Enter our Umbrella Parade - decorate an umbrella at home, bring your favourite umbrella or dress up to match your favourite umbrella! With children's activities, refreshments and prizes to be given out, there's fun for the whole family to enjoy Umbrella Day at the Duldig Studio.
Umbrellas can be purchased from the Duldig Studio on Tuesdays and Thursdays between 1-4pm, courtesy of Clifton Umbrellas.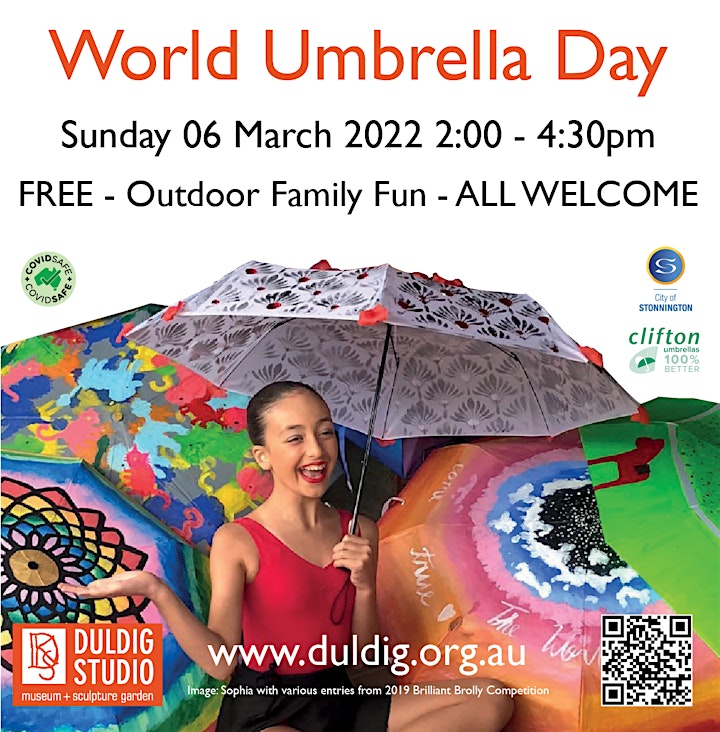 The Duldig Studio is a public house museum and the former home and studio of sculptor Karl Duldig and his wife, artist and inventor Slawa Horowitz-Duldig. The sculptures, drawings, paintings and decorative arts in the Duldig Collection tell a remarkable story of survival and creativity.
World Umbrella Day is supported by the City of Stonnington and Clifton Umbrellas.
Date and time
Location
Duldig Studio Museum & Sculpture Garden
92 Burke Road
East Malvern, VIC 3145
Australia