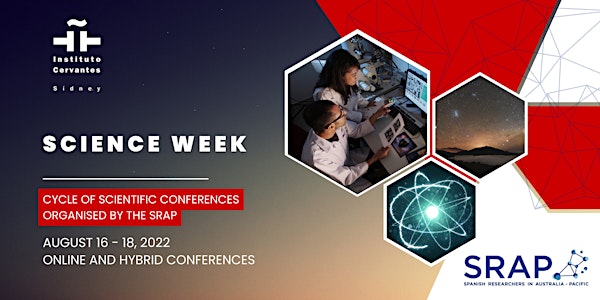 National science week 2022 - Connecting Australian/Spanish Research- online
Location
Instituto Cervantes Sydney
Level 3, 299 Sussex St.
Sydney, NSW 2000
Australia
EVENT IN ENGLISH - Online Join us with the Spanish Researchers in Australia-Pacific (SRAP) to celebrate the Australian National Science Week
About this event
EVENT IN ENGLISH - ONLINE
Conference at Instituto Cervantes. This is the Eventbrite to write you down Online. Link will be provided by email 48 h before the conference.
On the occasion of the Science Week in Australia, the Instituto Cervantes of Sydney collaborates with the Association of Spanish Researches in Australia (SRAP) to offer this conference <<Connecting Australian and Spanish Research (hybrid)>> with the collaboration of:
Dr.Cristina Martínez Lombilla (Postdoctoral Research Associate at the University of New South Wales and SRAP) will talk about "The faintest structures of the Universe".
Dr.Bernardo García Pola (Postdoctoral Fellow at the University of New South Wales and SRAP) will talk about "Game theory: Madness at first sight".
Prof.Javier Álvarez-Mon (Professor at Macquarie University and SRAP) will talk about "The Elam civilization (4200-525 a. C.) and the origins of the Persian Empire"
Dr.Ricardo Javier Domínguez Llosa (Chief Technical Advisor Climate Portfolio FAO-Vanuatu and SRAP) will talk about "Evidence of the Impact of COVID-19 on Biodiversity, agriculture and food systems".
Prof. Carl Munoz-Ferrada (Director of Gammasonics Institute for Medical Research and SRAP) will talk about "Nuclear medicine and surgery"
Host: Ms. Coral Martínez Iscar (Director of Instituto Cervantes Sydney)
Host: Dr. Ángel R. López-Sánchez (Macquarie University and SRAP President)
This is an hybrid science communication event at Instituto Cervantes Sydney that can be also attended virtually. Each panelist will give a short (12 min) talk followed by a final Q&A and panel discussion with the audience.
For further information on SRAP please visit their Website: http://srap-ieap.org/?lang=es   
This activity is offered within the Cátedra Cervantes which was born in 2013 with the ambition of raising the profile of Spain's international projection and promoting the knowledge of cutting-edge projects related with all branches of academic knowledge. The Instituto Cervantes of Sydney works hand in hand with important local universities, as well as Australian, Spanish and international companies, always seeking to disseminate a part of the Spanish academic, scientific and cultural world with less international visibility.