National Finance Brokers Day - BRISBANE
About this event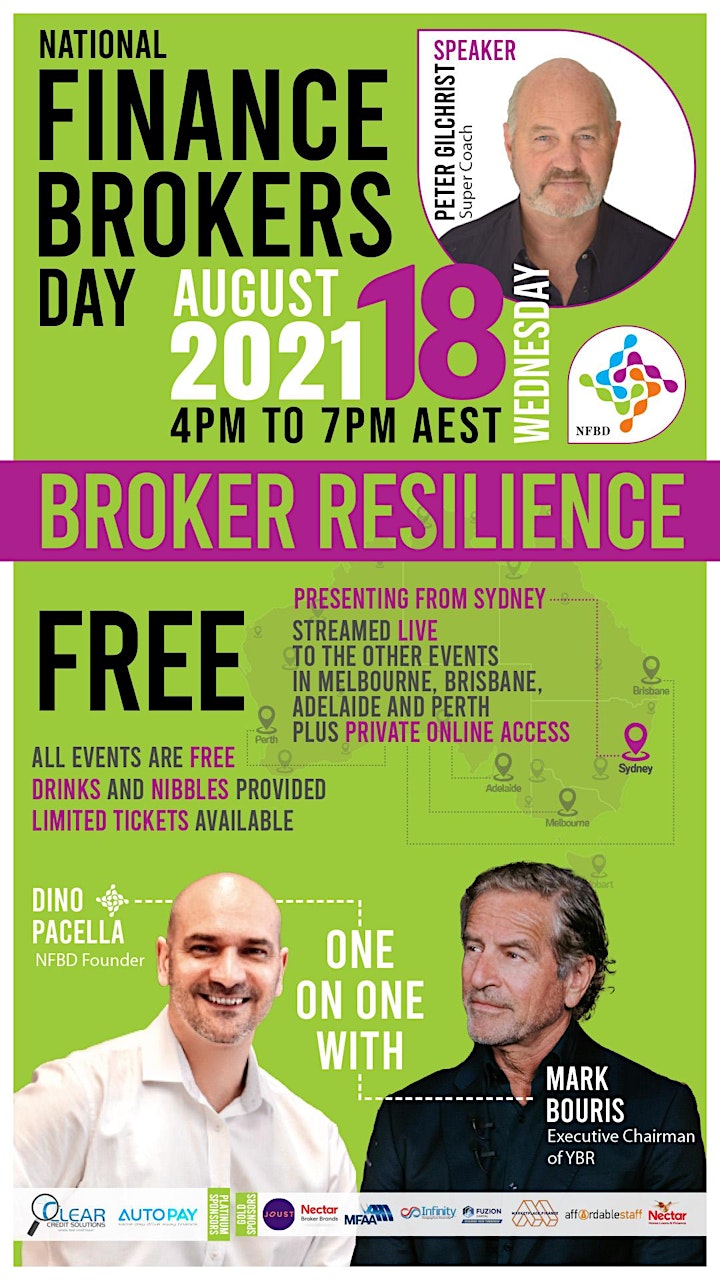 With the past twelve months being disrupted like never before due to a worldwide pandemic, this year's National Finance Brokers Day will be about celebrating the resilience, the determination and the amazing passion that finance brokers have shown towards the Australian consumer market.
2021 NFBD Theme: Broker Resilience
Background: National Finance Brokers Day is the officially recognised day to celebrate and promote the finance broker industry throughout Australia.
NFBD has been established, with support of industry professionals, to help build positive awareness of the finance broker industry.
This channel is currently responsible for writing 60% of all home loans within the Australian market (as of December 2020).
The lead up to the nationally recognised day, held annually on the third Wednesday in August (Wednesday 18th August 2021), will assist the consumer market with greater insights and knowledge into the broker channel.
2021 NFBD Event: Wednesday 18th August, will consist of simultaneous celebratory events with food & drinks provided, across the country in Sydney, Melbourne, Brisbane, Adelaide, and Perth.
The Sydney event will be the official host where Super Coach Presenter, Peter Gilchrist, will take the stage at 4:50pm AEST, to talk about our theme of Broker Resilience.
NFBD Founder, Dino Pacella, will sit down one on one with Executive Chairman of Yellow Brick Road, Mark Bouris from 5:10pm AEST.
The above will be streamed live, via a unique web link, from 4:45pm AEST into the other city events, as well via a special link to those who will not be able to attend the physical celebratory events.
The live streaming will run for one hour followed by drinks & food (cocktail networking) celebrating the tremendous work and effort of the broking industry, through all the disruptors including COVID, during the past 12 months
Event Times:
Sydney - 4pm to 7pm (Sydney Event Link - https://www.eventbrite.com.au/e/156600988773
Melbourne - 4pm to 7pm (Melbourne Event Link - https://www.eventbrite.com.au/e/156602100097)
Brisbane - 4pm to 7pm (Brisbane Event Link - https://www.eventbrite.com.au/e/156602322763)
Adelaide - 3:30pm to 6:30pm (Adelaide Event Link - https://www.eventbrite.com.au/e/156602368901)
Perth - 2pm to 5pm (Perth Event Link - https://www.eventbrite.com.au/e/156602493273)
Menu: Food & Drinks will be supplied.
Event Host: For any questions at your event, please see your event host, Mario Camerlengo.
COVIDSafe Plan: Each venue has a set COVID safe plan in place, but can vary due to differing state government regulations. Please check these measures when entering the venue or visit the COVID health website relevant to your location. Regardless of venue, all guests must check in when arriving at each venue and sanitise hands. Please keep updated with the current COVID restrictions, as these events are subject to change at any time.
*If any state lockdowns are in place, we will email all registered guests with the live streaming link.
Thank you to our NFBD 2021 Sponsors below.