National African-Australian Diaspora Engagement Conference (NAADEC) 2019
Description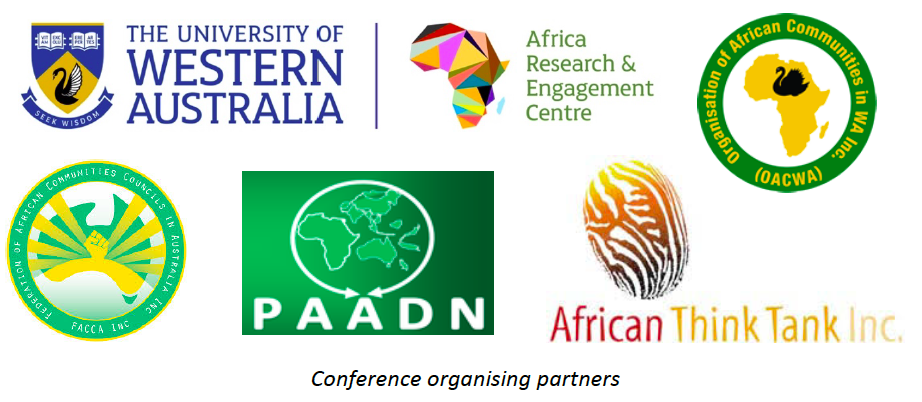 National African-Australian Diaspora Engagement Conference (NAADEC) 2019
Deepening links between African-Australian communities, governments and universities
Friday 30-Saturday 31 August 2019
The University of Western Australia, Perth
The University of Western Australia's Africa Research & Engagement Centre (AfREC) and partners Organisation of African Communities in WA (OAC), African Think Tank (ATT), Pan-African Australasian Diaspora Network (PAADN) and Federation of African Communities Councils of Australia (FACCA) invite participation, partnership and co-sponsorship for the National African-Australian Diaspora Engagement Conference (NAADEC) 2019 taking place at the University of Western Australia, Perth, on 30-31 August 2019, just prior to the annual national Australia Africa Week (1-7 September).

About the National African-Australian Diaspora Engagement Conference (NAADEC) 2019
The purpose of NAADEC is to explore opportunities, obstacles and mechanisms for deepening links between African-Australian communities, governments (state and Commonwealth), universities and the African Union. The national conference builds upon a related conference on African-Australian Settlement & Integration 2030 convened in Melbourne by ATT and the University of Melbourne in November 2018. One of the key points of discussion at that conference was the need to move beyond state-based discussions to convene a 'national, Pan-Australian, Pan-African' conversation on deepening engagement between these sets of stakeholders. It also draws on the work of PAADN, set up to be a bridge between the African Union and the African-Australian diaspora, and a range of other organisations.
Registration: is free but essential via this Eventbrite page. Registration closes 23 August 2019.
Full program: Please see the NAADEC page on the AfREC website for full conference details.

Contact: Dr David Mickler, AfREC Director, on david.mickler@uwa.edu.au


Parallel African-Australian diaspora engagement conferences in Perth:
NAADEC sits alongside a parallel African-Australian diaspora conference entitled Succeeding Beyond Borders, co-convened by African Professionals Australia (APA) and Regions International (RI), which will take place on the evenings of 29-31 August in Perth at the City of Perth Library, Murdoch University and the Duxton Hotel. Note: an integrated schedule for the parallel conferences can be found on the NAADEC conference website, and we strongly encourage participants to attend both conferences (corresponding daytime and evening sessions). Participants must register separately for each conference. Free group transport will be provided between the venues for interested participants. We strongly encourage all participants to stay on in Perth for national Africa Australia Week.
Organiser of National African-Australian Diaspora Engagement Conference (NAADEC) 2019
AfREC produces research, teaching, training and other collaborations with partners to address sustainable development challenges and responsibilities and to strengthen wider Australia-Africa relations. The Centre drives innovative and ethical collaborations between Australia and Africa – a dynamic and diverse continent of 55 countries and 1.3 billion people – and draws upon the important knowledge, ideas and experiences of growing African-Australian communities.