About this Event
"Typography is the visual component of text. It's part of the voice of a brand in that it plays into first impressions and shows off personality — like wearing sweatpants versus a suit to your first day of work."
– Nadine Chahine
Typefaces embody the unspoken messages in our words. Explore with eminent type designer Nadine Chahine the theories of international relations and power politics in order to draw linkages with the world of design and visual communication. Nadine aims to connect campaign design to the larger context of politics and international relations and to answer the question: what forms of power does visual communication yield and how can it be used effectively?
With her expertise in Arabic type design Nadine will, through key projects and milestones, explore the politics of Arabic type design, identity, and expression. She will argue that there's a place for both the classical and the modern letter form and the importance of this plurality for the different voices within cultures to be expressed.
6:00pm: Premingle Drinks
6:30pm: Talk
8:00pm: Post Drinks and Networking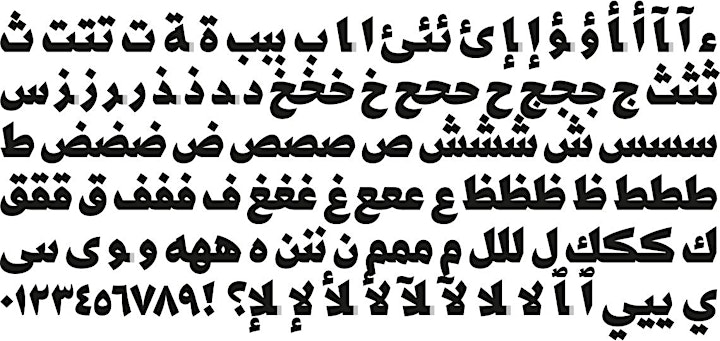 About Nadine Chahine
Dr. Nadine Chahine is an award-winning Lebanese type designer and principal at ArabicType Ltd. She has an MA in Typeface Design from the University of Reading, UK, and a PhD from Leiden University, The Netherlands. She has numerous awards including two Awards for Excellence in Type Design from the Type Directors Club in New York in 2008 and 2011. Her typefaces include: Frutiger Arabic, Neue Helvetica Arabic, Univers Next Arabic, Palatino Arabic, and Koufiya.
Nadine's work has been featured in the 5th edition of Megg's History of Graphic Design and in 2012 she was selected by Fast Company as one of its 100 Most Creative People in Business. In 2016 her work was showcased in the 4th edition of First Choice which highlights the work of the 250 top global designers. In 2017, Nadine was selected by Creative Review to their Creative Leaders 50.
Presented by: