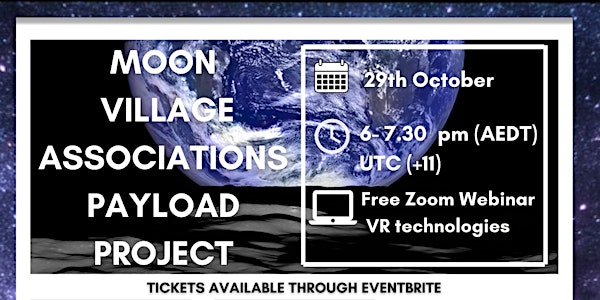 MVA PAYLOAD - The Overview Effect
The Moon Village Associations First Payload Project is objective is to send a camera to the Moon to livestream a whole Earth!!
About this event
Join us to hear perspectives of the MVA payload project goals from leaders in their fields!
Liza Koumi- Moon Village Payloads Project Manager, Space projects engineer, and International Space University Alumni
Philippe Van Nedervelde- Award winning VR creator, Advocate for Spaceflight and Futurist.
Alice Gorman a.k.a Dr Space Junk -Space Archaeologist, Heritage consultant and Board member of the Space Industry Assocation of Australia and Space4women.
Carley Scott- CEO of Equitorial Launch Australia- Australia's Spaceport at 12 Degrees, Board of Space Industry Association of Australia and CSIRO's Advanced Manufacturing Academy. .
Vienna Tran, Moderator of the event,Space medicine researcher and Writer with Space Australia.
Dr Sarah Jane Pell - Analogue astronaut , Award winning Artist, Researcher.
Thursday the 29th of October AEST 6:00pm (UTC+11)