About this Event
Officer Marcus Moscowicz is a small town policeman with dreams of making it to detective. One fateful night, shots ring out at the surprise birthday party of Great American Novelist Arthur Whitney and the writer is killed...fatally. With the nearest detective an hour away, Marcus jumps at the chance to prove his sleuthing skills—with the help of his silent partner, Lou. But whodunit? Did Dahlia Whitney, Arthur's scene-stealing wife, give him a big finish? Is Barrette Lewis, the prima ballerina, the prime suspect? Did Dr. Griff, the overly-friendly psychiatrist, make a frenemy? It couldn't possibly be a member of that New Jersey boys' choir on hand for Arthur's birthday party, now could it? Marcus has only a short amount of time to find the killer and make his name before the real detective arrives...and the ice cream melts!
Special A and B Reserve Early Bird pricing available until 1 April...
MURDER FOR TWO is the perfect blend of music, mayhem and murder! In this hilarious 90-minute show, 2 performers play 13 roles—not to mention the piano—in a witty and winking homage to old-fashioned murder mysteries.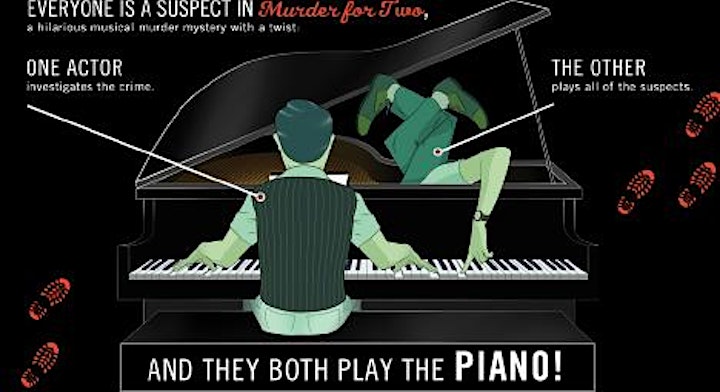 REVIEWS
"Critic's Pick! An ingenious miniature musical in the form of a snazzy vaudevillian double-act. Deploys minimal stage resources to maximum effect. With just two actors, a piano and a prop or two, the show spins out a comic mystery animated by funny, deftly turned songs." — The New York Times
"A hilarious musical whodunit! Who'd have guessed that murder could be so much fun? Murder for Two kills." — The New York Observer
"A must-see 90-minute jolt of caffeinated creativity!" — NY1
"A charmingly frenetic new musical comedy...wins you over with droll writing and winsome performances." — Entertainment Weekly
"A two character feat of rapid-fire timing, piano playing and silliness. The goofy high-energy antics will draw a crowd." — Denver Post
"A one-act wonder! One of the zaniest contemporary farces, with music, that one will encounter. The show's cleverness and audacity elevates the evening to much more than just a trifle of a comedy – there is considerable impressive method to the delicious madness on the stage." — Hartford Arts Examiner
"Impressive! One has to be swept away by the delirium of it all." — LA Times
"Undeniably fun! An entertaining, vaudeville-style romp!" — LA Weekly
"This is an ingenious and drop-dead funny play that wows on every theatrical level." - Frontiers Media
"Brilliantly hilarious! This bawdy, gutsy, old-fashioned comedy comes to life as two people pull every trick out of the trunk of comedy while solving a murder. If you want to laugh until you cry, see Murder for Two." — Discover Albany
"If you're looking for 90 minutes of pure silliness, step right up to Murder for Two." — Pittsburgh Post-Gazette
Performers
Date and Time
Location
Refund Policy