Description
Hey there Mumma!
We are SO excited to announce that Munchkin & Bear are partnering with the amazing Make a Wish Foundation to host a Babes in Arms Christmas Party at Victoria Park's Garden Marquee on the 28th of November, 2019.
We are hosting this magical event for two reasons:
Christmas is about caring!
Firstly, we know that Christmas parties and tiny babies or huge bumps don't usually mix, but at Munchkin & Bear, we want to spoil you this festive season! Our event will cater for the pregnant Mummas or those with Bubs aged 0-1 year old, allowing you to have a magical day together, meeting other new mums (or bring your whole mums group!).
Christmas is about giving!
Secondly, this event will cap off our magical fundraising month for the Make-A-Wish Foundation. During the entire month of November, we are donating $10 from every Luxe Play Mat purchase to help them create life-changing wishes for children with critical illnesses. This will culminate with our fabulous Christmas event where we will have loads of incredible prizes on offer for you, and present Make-A-Wish with our total funds raised.
This fun-filled day will include:
Delicious food, drinks and bubbles (and a free coffee from the onsite coffee cart of course!)

A soft play space for the bubs to play whilst you mingle hands-free

Free baby classes for you to enjoy some precious one on one time with Yoga Baby & Making Rainbows Music & Sensory

Incredible raffle prizes including gorgeous local fashion, beauty and baby brands

A fashion and styling panel, tailored for new Mums, with the amazing Jasmine from @prettychuffed and special guests

The presentation of our fundraising efforts to Make-A-Wish

Free parking

Relaxed hours. The event is from 9.30-2pm but you can come and go as you (or your bubba) needs! Check out the event timeline below to see what time to come works for you.

There will be a photographer on site capturing happy snaps of the day! Just let us know on the way in if you would prefer for you or your child's image not to be published. We will also check on entry!
You can probably tell that we are SERIOUSLY excited about holding this event, and as Mums ourselves, we'll make it a day to remember for you. See you there!!
Spaces are limited you the first 80 tickets, so get in quick!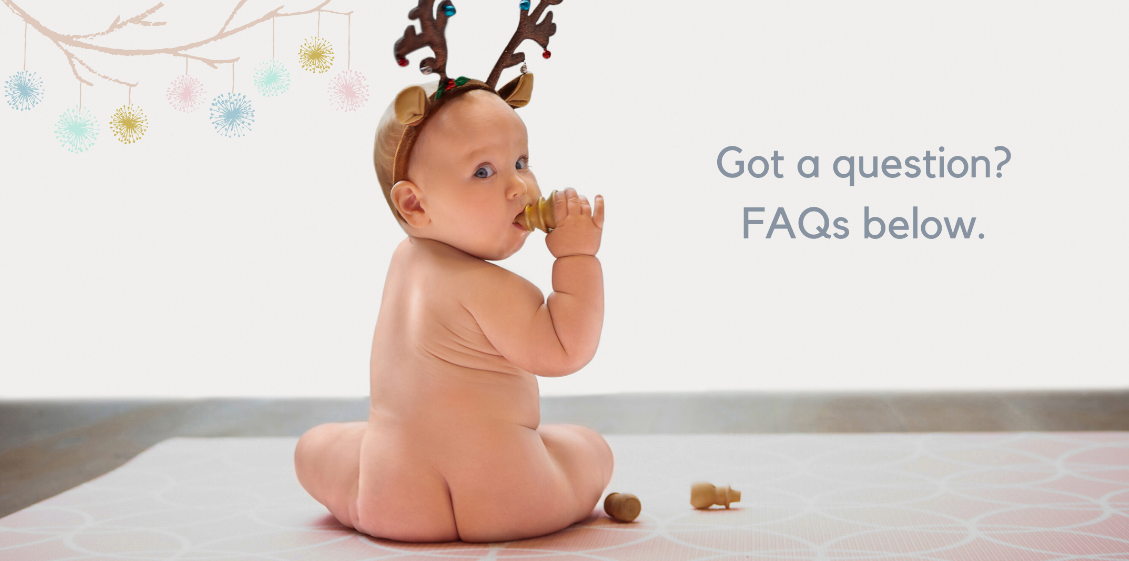 - What is the timeline of the event?
9:30am: Doors Open
10-10:20am: YogaBaby Morning Class #1 (spaces limited so each class is offered twice)
10:30am: Welcome from Alana, M&B founder
10:40 - 11am: YogaBaby Morning Class #2
11-11:30am: Fashion & Styling Panel with @prettychuffed and special guests
12pm: Brief hello from Jaime at Make-A-Wish Australia
12:30pm: Prize raffle draw
1-1:20pm: Making Rainbows Afternoon Class #1 (spaces limited so each class is offered twice)
1:30-1:50pm: Making Rainbows Afternoon Class #2
2pm: Event concludes
- Where do I park?
There is free onsite parking offered at the Victoria Park complex. Please see map below.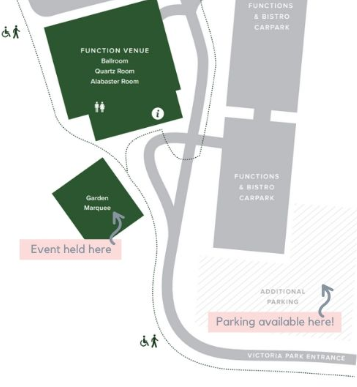 - I have a child older than 1, or siblings. Can they come too?
Unfortunately not. The venue and the free baby classes can't cater for older bubs and siblings we are afraid, hence the newborn to 1 year age restriction. This event is a chance for new mums in the difficult first year to spend uninterrupted, festive time with their newborns and also for expecting mums to celebrate. We hope to do something special for bigger kids in the future though!
- I have twins under 1, do I need to purchase 2 tickets?
No need - just one ticket per mum, bubs are free! Also, we will have plenty of lovely staff if you need an extra set of hands.
- How can I feed my baby at the event?
We will provide a selection of high chairs for those who need them. Plus you're welcome to feed your little ones on our wipe clean play mats provided! And we are 100% breastfeeding and bottle feeding friendly!
- Will there be change tables available?
There are change tables provided in the venues restrooms and we will have a station set up to help keep your bubba fresh!
- My baby will need to sleep.
You're welcome to bring your baby carrier, and capsule inside with you. There will be limited pram parking outside.
- Should I bring a pram?
There will be limited pram parking available outside the venue, but capsules or carriers would be preferred if possible for space reasons inside the event space (could you imagine 80 prams!?). However, if bub needs to be jiggled in a pram, we can definitely accomodate you.
- Is the venue Airconditioned?
Yes absolutely. You will be perfectly comfortable on a hot day.
- Will there be somewhere to get Coffee?
We have hired a coffee cart to come on site!
Your ticket includes one coffee voucher from our onsite coffee van. Additional coffee can be purchased at the event if you need more caffeine!
- What food and drink is included?
Our event is catered by the Victoria Park chefs and will include a selection of dips and breads, delicious hot and cold canapés, a light lunch and refreshments, including water, tea and coffee, plus a glass of Champagne (or juice if preferred!)
- I have a dietary requirement. Can I be catered for?
Absolutely. Please send us an email to:
- Tell me about the raffle! Do you take EFTPOS?
We would prefer cash to prevent tech issues if possible. The raffle prizes are AMAZING and include beauty vouchers, baby items, fashion for you and bub, nursery decor and so much more!
- Whats the dress code? How fancy are we getting?!
Well there will be fun to had on the floor with your little one at the Baby Yoga and Baby Music classes, so come as pretty as you like, but make sure you are comfy enough to get down and relax too! Comfort is key Mummas!