Description
Got a big idea that you want to get off the ground?
The Mumtaza Network is excited to partner with Global Sisters and One Roof Women to bring you the 'My Big Idea' Workshop.
'My Big Idea' is a half-day incubator program perfectly tailored to idea (or pre-idea) stage businesses.
This workshop is facilitated by Global Sisters, and is perfect for those without an idea, with too many ideas or with a very early stage business hunch.
It is designed to help women FIND the 'big idea' that they want to turn into a business.
To register click Register on the Eventrbite page and complete the Global Sisters registration form (http://globalsisters.force.com/surveys/registration). Global Sisters will be in touch with you to confirm your registration prior to the day.
ABOUT GLOBAL SISTERS~
Global Sisters exists to support women to become financially independent and stand tall through business.
Global Sisters is not a traditional charity; their business is building businesses. And it is their aim to help as many women in need as possible to realise financial independence and improve their lives for future generations. Rather than providing handouts, they're making a smart investment in a better world. Global Sisters helps to unlock potential and talent. It equips women with all the resources they require – people, finance and technology – to accelerate an idea into a fully operational micro business or social enterprise.
www.globalsisters.org | @lovethemarket
ABOUT MUMTAZA~
The Mumtaza Network has a simple mission: to normalise the representation of women of colour in positions of power and influence. In particular, Mumtaza focus is on four pillars of power and influence: intellectual, political, cultural and economic capital.
Mumtaza' strategy is three pronged: facilitating connections to existing opportunities through partnerships, running workshops for upskilling and development across a range of skills, and providing a platform for women's voices to be heard through the speaker's bureau, the Mumtaza agency.
www.mumtaza.network | @mumtaza
ABOUT ONE ROOF~
One Roof has become Australia's leading work space dedicated to women-led business. This means businesses with a female founder, cofounder, CEO and / or has a core value of gender equality or promoting women. But One Roof is so much more than a co-working space.
One Roof has morphed into an entire ecosystem, supporting women & girls at every stage of the entrepreneurial journey. Access to a carefully designed & affordable shared workspace, targeted business support including accelerators & masterminds, meditation, yoga & mindfulness activities, a large event space that can accomodate up to 300 people, curated connections to a global community & access to high class mentors & experts are just a sampling of what One Roof has to offer.
www.melbourne.oneroofwomen.com | @oneroofwomen
LOCATION~
We're Proudly supported by One Roof Women. Located at 77-79 City Road, Southbank. Disembark the tram at the Arts Centre stop, and walk to the stairs behind Hamer Hall to access City Road.
All day street parking on Moore St.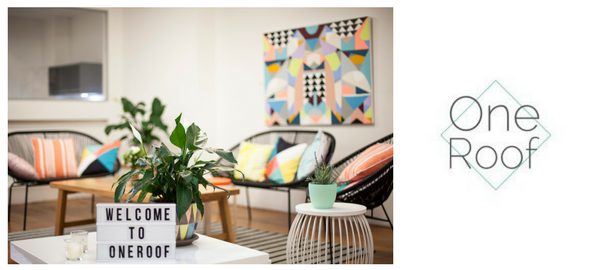 EXTRA BITS TO NOTE~
> Please note that lunch is not included, bring some lunch along with you on the day. Morning tea will be provided.
> All materials needed for the workshop will be provided on the day.
> Taking part in the My Big Idea workshop means you're eligible to attend the Global Sisters Sister School in the future, which is a 5-day practical business education program that provides the practical knowedge and support needed to get a business off the ground in Australia.