Connecting mums to key services in the community and each other and offering practical information to help them improve their wellbeing
About this event
On November 19th Desert Blue Connect are holding a Mum's Mental Health and Wellbeing Expo to raise awareness about peri-natal anxiety and depression (PNDA), connect mums and mums to be to key services in the community and each other and offer practical information to help them improve their overall well-being. FREE for all parents and caregivers of young children , all you need to do is drop into the QE11 Centre between 9.00-1.30 on November the 19th for as long as you like at a time that best fits your routine.
The Expo will run from 9.30-1.30 and throughout the day there will be a series of speakers on topics relating to maternal mental health and well-being, stalls from local businesses and community services, playgroup and childcare representatives, physical health representatives such as short group exercise classes, women's health physiotherapists, massage therapist, women's health nurse and child health nurse. Morning tea, feeding areas and children's activity stations are also provided.Desert Blue Connect currently offers the Looking after Mums Program (LAMP), which provides individual support to women with PNDA. At the Mum's Mental Health and Wellbeing Expo we will be launching a LAMP facebook group, which is an extension of the existing program. The LAMP facebook group supports perinatal wellness by providing a nurturing, inclusive and safe online parenting community. It has been designed to keep all mums connected and provide education so they feel more confident about parenthood and experience improved mental wellbeing.
The Expo has been generously supported by The Western Australian Women and Newborn Health Service and Bendigo Bank, which has ensured that participants will be able to attend for free. We would like to acknowledge and show our appreciation for the numerous businesses, organisations and individuals who have come on board to share their knowledge and expertise, hold stalls, run activities and donate prizes so that this event will be a success. We hope to attract as many parents of young children as possible to the Expo and in doing so help them feel supported by our community in their parenting journey!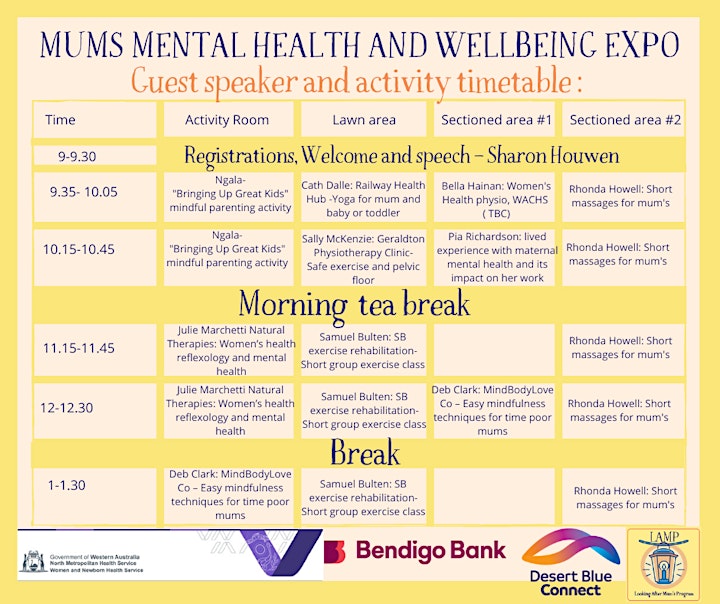 Organiser of Mums Mental Health and Wellbeing Expo