Description
Mum's & Bub's Workshops – REBOOT & REBALANCE YOUR LIFE!
$25* General admission
Special offer -
*Bring a friend for $15
The New you – Mum!
Mum's the name and everything doesn't look the same…You have been on the biggest journey of your life, one that has changed you forever!
You have been tested like never before and you now love like you never knew existed!
Being a Mum is the best thing in the world, however if we are honest with ourselves, it's the hardest job in the world too.
This workshop is designed to help New Mums and Mum's with more than 1 to help you redefine who you are and what you want life to look like now with your family.
This is about you Mums and taking care of you…
We will –
Dream, Visualise and set new goals for you and your family

Show you how to transform your dreams into reality

Explore mindfulness techniques to remain healthy and positive in this 'tired' & 'busy" stage of life.

Celebrate 'YOU'!
The positive environment is designed for you and your Baby/Toddlers to feel safe, comfortable and so you can find your inner sparkle to shine throughout this wonderful new chapter of life!
Mums - Come along, explore & learn more about the new you and bring a friend.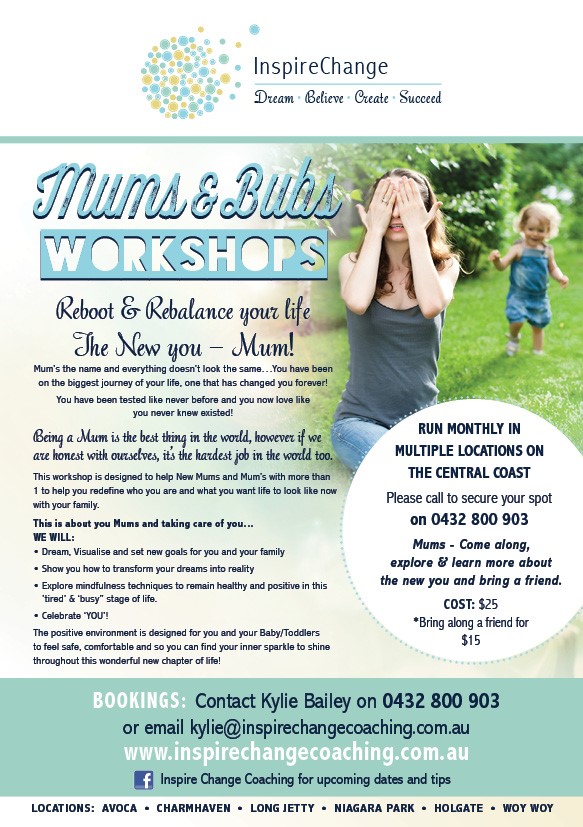 FAQs
What can I bring into the event?
Blankets and toys for your Baby and/or Toddler
How can I contact the organiser with any questions?
Call Kylie Bailey on 0432800903 for any questions or to secure your spot