Event Information
Location
Niche Bar
663 Newcastle Street
#7
Leederville, WA 6007
Australia
Your favourite Bollywood fix is back and this valentines we go WHITE! Join us as we set an electric scene at Mumbai Vibrations!
About this event
Your favourite Bollywood fix is back and this time we go WHITE! Dress to impress in your most creative white style glamour outfits as we set an Electric Bollywood scene at at Niche Cocktail Bar, one of Perth's favorite and most sophisticated venues. We look forward to seeing you all!
★ Date: Friday, 11 February★ Doors Open at 09.00 PM★ Venue: Niche Bar★ Address: 7/663 Newcastle St, Leederville WA 6007★ Artist: DJ Karma | Xclusive Sounds | DJ Nik | DJ Dips★ Music: ✦ Bollywood ✦ Commercial Top 40 ✦ Dance ✦ Urban Bhangra ✦ Remixes★ 18 + Event. Valid photo ID required for entry. Management reserves right of entry.
►►► 𝑻𝑰𝑪𝑲𝑬𝑻𝑰𝑵𝑮 𝑰𝑵𝑭𝑶 ◄◄◄𝙁𝙞𝙧𝙨𝙩 𝙍𝙚𝙡𝙚𝙖𝙨𝙚
★ GENERAL ADMISSION $25 | VIP $40 (Express Entry, Separate VIP Area) | VIP GROUPS (Express Entry, Exclusive VIP Area)𝑵𝒐𝒕𝒆: Door Prices will be higher!
NOTE ⚠️You will be required to show proof of their COVID-19 vaccination, either in a digital or paper-based form, along with approved identification.
You must wear a mask when not consuming a drink.
We live in unpredictable circumstances. There may be changes as a result of government regulations. Please bear with us if any changes occur as a result.
TO BOOK YOUR TICKETS NOW CONTACT:
𝗩𝗶𝗿𝗲𝗻 𝗣𝗮𝗯𝗮𝗿𝗶 𝟬𝟰𝟯𝟵 𝟵𝟯𝟱 𝟯𝟯𝟯𝗗𝗵𝗮𝘃𝗮𝗹 𝗣𝗮𝘁𝗮𝗻𝗶 𝟬𝟰𝟭𝟯 𝟴𝟮𝟯 𝟯𝟯𝟬
▀▀▀▀▀▀▀▀▀▀▀▀▀▀▀▀▀▀▀▀▀▀▀▀▀►►►𝘿𝙍𝙀𝙎𝙎 𝘾𝙊𝘿𝙀◄◄◄★ KEEP IT CLASSY (DRESS IN WHITES)★ SMART CASUAL!★ DRESS TO IMPRESS!★ STRICT VENUE DRESS CODE APPLIES!
▀▀▀▀▀▀▀▀▀▀▀▀▀▀▀▀▀▀▀▀▀▀▀▀▀▀
▄▀▄ 𝑷𝑹𝑬𝑺𝑬𝑵𝑻𝑰𝑵𝑮 𝑷𝑨𝑹𝑻𝑵𝑬𝑹𝑺 ▀▄▀▄► Ultra-Fast Migration Australia MARN 0321177Got a migration query? Give their effective & friendly staff a call! Be sure to check them out on Facebook and Hit that LIKE Button
► Bollywood restaurantOne peek inside Bollywood Restaurant and you'll realize dining out in Innaloo has hit a new level. All the glitz, glamour and drama with amazing food!
Gold Sponsors► Alderton & CompanyMedia Teams► Indian Events In Perth
✓ 𝙎𝙥𝙤𝙣𝙨𝙤𝙧𝙨𝙝𝙞𝙥𝙨 & 𝙈𝙚𝙙𝙞𝙖 𝙋𝙖𝙧𝙩𝙣𝙚𝙧𝙨𝙝𝙞𝙥𝙨 𝙖𝙧𝙚 𝙣𝙤𝙬 𝙤𝙥𝙚𝙣 𝙛𝙤𝙧 𝙩𝙝𝙞𝙨 𝙚𝙫𝙚𝙣𝙩!✓ 𝙒𝙖𝙣𝙩 𝙩𝙤 𝙗𝙚 𝙖 𝙥𝙖𝙧𝙩 𝙤𝙛 𝙩𝙝𝙚 𝙩𝙚𝙖𝙢? 𝘼𝙧𝙚 𝙮𝙤𝙪 𝙞𝙣 𝙪𝙣𝙞? 𝘿𝙤 𝙮𝙤𝙪 𝙝𝙖𝙫𝙚 𝙖 𝙫𝙞𝙗𝙧𝙖𝙣𝙩 𝙥𝙚𝙧𝙨𝙤𝙣𝙖𝙡𝙞𝙩𝙮? 𝘿𝙤 𝙮𝙤𝙪 𝙬𝙖𝙣𝙩 𝙩𝙤 𝙥𝙧𝙤𝙢𝙤𝙩𝙚 𝙤𝙧 𝙗𝙚 𝙖 𝙥𝙖𝙧𝙩 𝙤𝙛 & 𝙖𝙨𝙨𝙞𝙨𝙩 𝙞𝙣 𝙥𝙧𝙤𝙙𝙪𝙘𝙞𝙣𝙜 𝙦𝙪𝙖𝙡𝙞𝙩𝙮 𝙚𝙫𝙚𝙣𝙩𝙨?
𝙎𝙚𝙣𝙙 𝙪𝙨 𝙖 𝙢𝙚𝙨𝙨𝙖𝙜𝙚 & 𝙚𝙭𝙥𝙧𝙚𝙨𝙨 𝙮𝙤𝙪𝙧 𝙞𝙣𝙩𝙚𝙧𝙚𝙨𝙩!𝙁𝙤𝙧 𝙖𝙣𝙮 𝙛𝙪𝙧𝙩𝙝𝙚𝙧 𝙞𝙣𝙛𝙤𝙧𝙢𝙖𝙩𝙞𝙤𝙣 𝙧𝙚𝙜𝙖𝙧𝙙𝙞𝙣𝙜 𝙩𝙝𝙚 𝙥𝙖𝙧𝙩𝙮 𝙤𝙧 𝙩𝙤 𝙗𝙚 𝙖 𝙥𝙖𝙧𝙩 𝙤𝙛 𝙞𝙩, 𝙥𝙡𝙚𝙖𝙨𝙚 𝙘𝙤𝙣𝙩𝙖𝙘𝙩 𝙪𝙨:
𝗩𝗶𝗿𝗲𝗻 𝗣𝗮𝗯𝗮𝗿𝗶: 𝟬𝟰𝟯𝟵 𝟵𝟯𝟱 𝟯𝟯𝟯 & 𝗗𝗵𝗮𝘃𝗮𝗹 𝗣𝗮𝘁𝗮𝗻𝗶: 𝟬𝟰𝟭𝟯 𝟴𝟮𝟯 𝟯𝟯𝟬
▀▀▀▀▀▀▀▀▀▀▀▀▀▀▀▀▀▀▀▀▀▀▀▀▀
★ Like our Facebook Page: www.facebook.com/FuturistiqEnt★ Join our Facebook Group: http://www.facebook.com/groups/2487451977/★ Past Futuristiq Events: http://www.facebook.com/pages/Futuristiq-Entertainment/153169498034099?sk=photos▀▀▀▀▀▀▀▀▀▀▀▀▀▀▀▀▀▀▀▀▀▀▀▀▀LIKE l LOVE l SHARE <3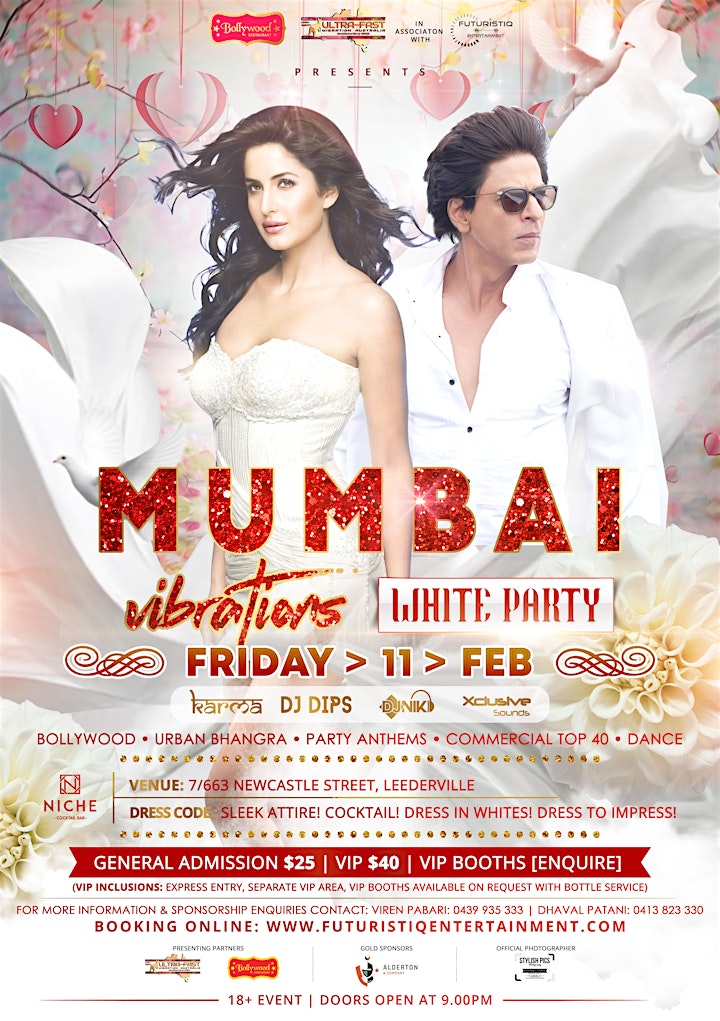 Date and time
Location
Niche Bar
663 Newcastle Street
#7
Leederville, WA 6007
Australia