MSPminds Melbourne: Take Your Business From A to Exit
About this event
Join our stellar line-up of MSP owners and industry experts as they share their success stories in an M&A discussion you won't want to miss.
We look forward to what will be a remarkable opportunity to unite and ignite some of the brightest minds in the biz to collectively innovate, reflect, and discuss their key learnings among an exclusive group of Australian MSP owners, all of whom, are bound to walk away from this session with a strengthened network and the expert knowledge to make 2021 a year of amplified growth and prosperity.
*Please note: In the case of government-enforced lockdowns, the event will be rescheduled and your ticket will remain valid. In the event of cancelation, tickets will be fully refunded.
We look forward to seeing you in person in Melbourne!
- Event program coming soon -
Introducing our speaker line-up 🙌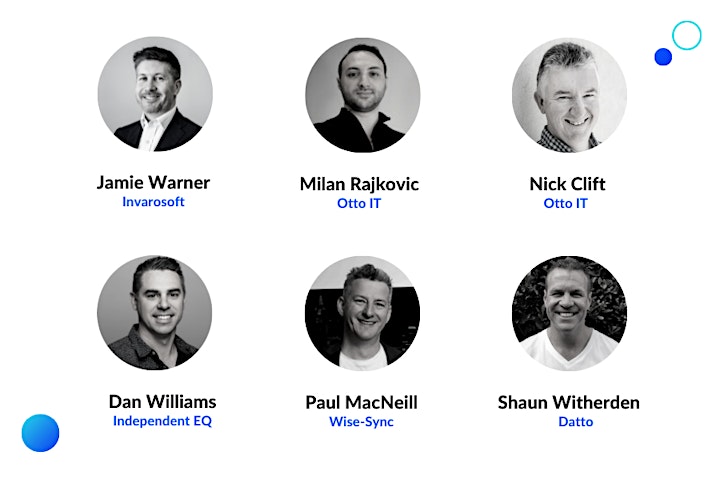 STAY TUNED: More to be announced soon
About
Jamie Warner | CEO, Invarosoft
Jamie Warner is the serial entrepreneur and is currently CEO of fast growing start-up Invarosoft® and Chairman of MSP, eNerds®. He launched eNerds in 2000 and has grown the company organically to over 45 staff and $9 million in revenue across 4 cities. eNerds has also won many awards including SMB Partner of the Year six times in 2015, 2016, 2017, 2018, 2019 and 2020 at the ARN ICT Industry Awards. Invarosoft recently won 'Start-up Specialist of the Year' at the ARN ICT Awards 2020. Jamie has been a member of Entrepreneurs Organization from 2009 to 2020 and served as President in 2014/15 for the Sydney Chapter.
Dan Williams | Owner, Independent EQ
Dan Williams is a Certified EOS® Implementer and has more than 20 years experience in the IT industry. He is the former CEO of Australian MSP and certified Great Place to Work, Powernet. Dan spends the majority of his time pursuing his purpose of connecting people with possibilities to unlock potential. As a lifelong entrepreneur himself, Dan now works with over 25 technology service providers across the APAC region as their EOS Implementer and Coach on their journey.
Paul MacNeill | CEO & Founder, Wise-Sync
Paul MacNeill is the founder and technical visionary behind Wise-Sync and Wise-Pay, Cloud Accounting and Payment integration for ConnectWise Manage. Paul is a world-renowned ConnectWise billing expert often called upon to work with larger, complex accounting structures. Paul has provided strategic consultancy, delivering key business systems globally for CPA Australia, and is passionate about helping Managed Service Providers achieve greater financial visibility in their business.

Organiser of MSPminds Melbourne: Take Your Business From A to Exit
Wise-Sync offers smart, flexible ConnectWise syncing and integrations between cloud accounting software Xero and QuickBooks Online. Wise-Sync is not only known for its syncing and payment solutions, it also offers various workshops and networking events that support MSPs and industry vendors.