Description
The National Union of Students (NUS) Disability and Accessibility Conference is a chance for students with disabilities and access conditions to come together to discuss and organise around campaigns and causes faced on university campuses. The conference is organised by the NUS Disabilities Department in collaboration with the Monash Student Association (MSA) Disabilities and Carers Department. It will be held from the 29th to the 30th of September 2018 at Monash University Clayton campus. Any questions email disabilities@nus.asn.au and msa-disabilties@monash.edu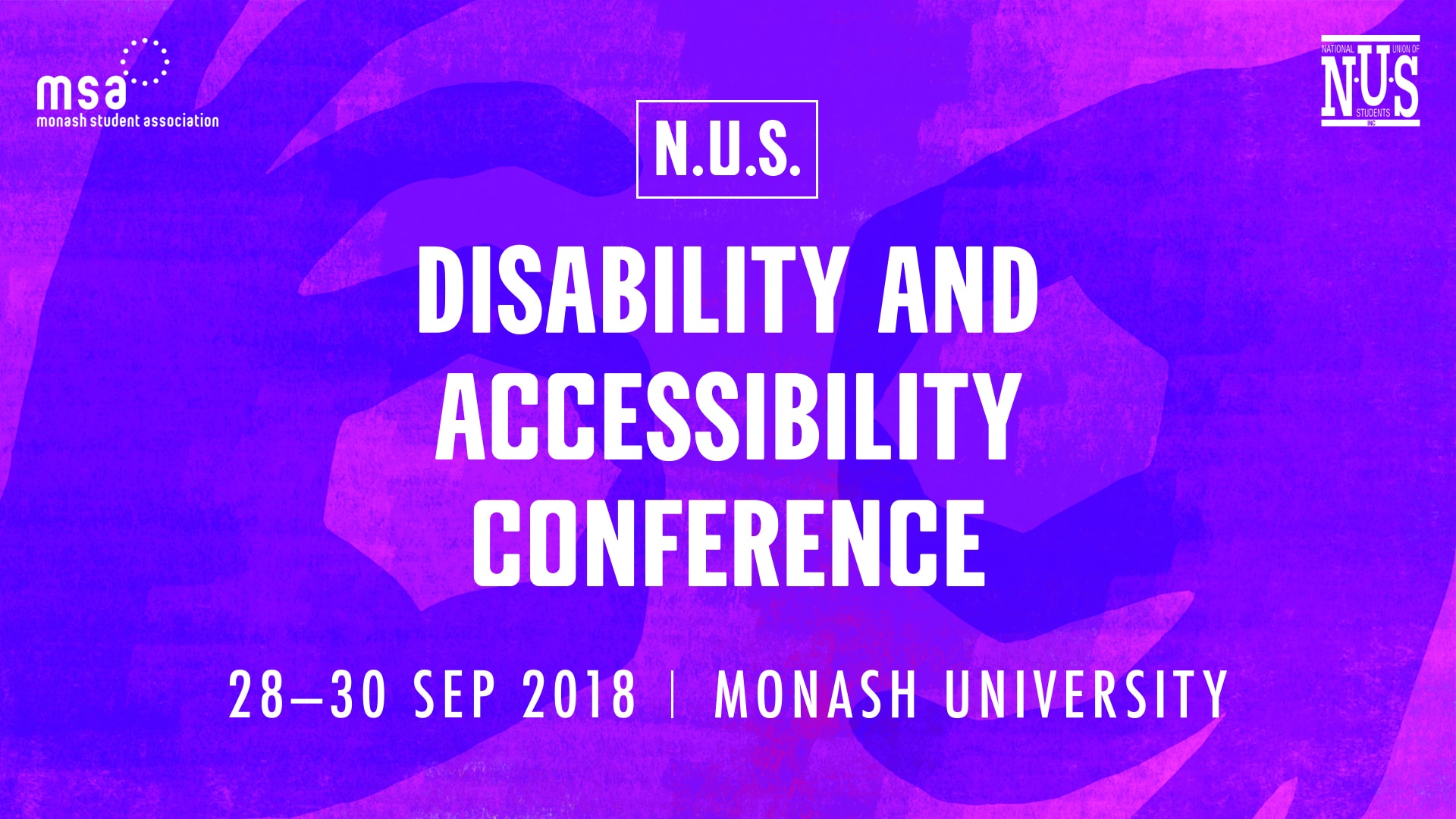 This event is proudly brought to you by the Monash Student Association.
The venue reserves the right to refuse entry. MSA encourages responsible consumption of alcohol.



---


FAQs
My student assocation or university wants to pay via invoice. Can I do that?
If you would like to organise payment via invoice please email the event organisers at msa-disabilities@monash.edu.
What are my transport/parking options for getting to and from the event?
For details on the public tranport options for Monash Clayton please go to https://www.monash.edu/people/transport-parking/public. The Learning and Teaching Building is located next to the bus loop.
Parking options can be found at https://www.monash.edu/people/transport-parking/parking. There is no parking charged on weekends in the blue, carpool, yellow, red bays and ticketed areas.

Is there accommodation available? How do I book it?
There are a limited number of places available in hostel style accommodation available for attendees. Further details will be forthcoming. Accommodation payment should be made at the time of ticket purchase by August 28 to ensure availability.
Will there be food available?
Morning tea, lunch, and afternoon tea will be provided. Please ensure that you list any dietary requirements when purchasing your ticket.
What is an autonomous caucus convener?
At the conference we will have autonomous caucuses for LGBTIQ+, People of Colour, Aboriginal and Torres Strait Islander, Trans and Non Binary, and Wom*n. These caucuses are for the purpose of bringing together a group of people who identify with this group to discuss shared experiences. We will also have pro-caucuses for people who do not identify with the autonomous caucus to discuss and understand the experiences of autonomous folks.