MQ Incubator | Lessons learnt from a startup growing in uncertain times
Join Harry Hubbert, CTO at Greenroom Robotics, to explore lessons learnt from a startup growing in these uncertain times.
About this event
Join Harry Hubbert, Chief Technology Officer at Greenroom Robotics & former Navy Robotic and Autonomous Systems and Artificial Intelligence Project Manager to explore the methods in which Greenroom chooses its projects, how the teams are constructed and some lessons learnt from a startup growing in these uncertain times.
Greenroom Robotics is a 100% Australian owned and run company based in Sydney and Melbourne. The Greenroom team is made up of a collection of highly specialised engineers that bring experience from a range of fields to develop novel and advanced technology solutions. Greenroom specialising in applied machine learning, edge computer, remote sensing and autonomous systems and has many exciting projects in both Australia and internationally.
The Team is made of five core members, with various graduates and additional members supporting projects as well as the ongoing maintenance and service of projects that have been finalised. Greenroom is in track for its first year of seven figure profits through this small team and our methods of project management and conduct.
About the speaker:
Harry Hubbert is the Chief Technology Officer at Greenroom Robotics, a thriving Australian company developing edge computing solutions and Machine Learning Software for Australian and international clients. Harry recently completed nine years in the Royal Australian Navy as an Engineer Officer specialising in Innovation and Maritime Robotics.
Harry studied Naval Architecture at the Australian Maritime College in Tasmania, gaining sponsorship within the RAN Undergraduate program at the completion of his first year. During his time at University LEUT Hubbert conducted various projects in designing and developing Maritime Autonomous Systems, he founded the Australian Maritime College Autonomous Technology society and received the Royal Institute of Naval Architects Design prize for his work in developing the preliminary design of the Royal New Zealand Navy Offshore Patrol Vessel. He graduated in December of 2014 with honors and started his military training followed by a number of postings as sea, with the last five years dedicated to developing innovation frameworks, new workforce models and implementing innovative ideas to real-world military capability.
In his previous role, Mr. Hubbert was the Robotic and Autonomous Systems and Artificial Intelligence Project Manager for the Warfare Innovation Navy Branch, based in Canberra. This exciting and rewarding role had LEUT Hubbert exploring future technology and making it a reality for the Royal Australian Navy. Some of his projects included developing a 16-foot autonomous catamaran that can detect and track other boats and navigate without human intervention, Artificial Intelligence software to improve search and rescue teams in locating life rafts and swimmers, design and development of custom drones for RAN capability expansion as well as acting as a Subject Matter Expert for senior Naval Officers in the field of maritime autonomy.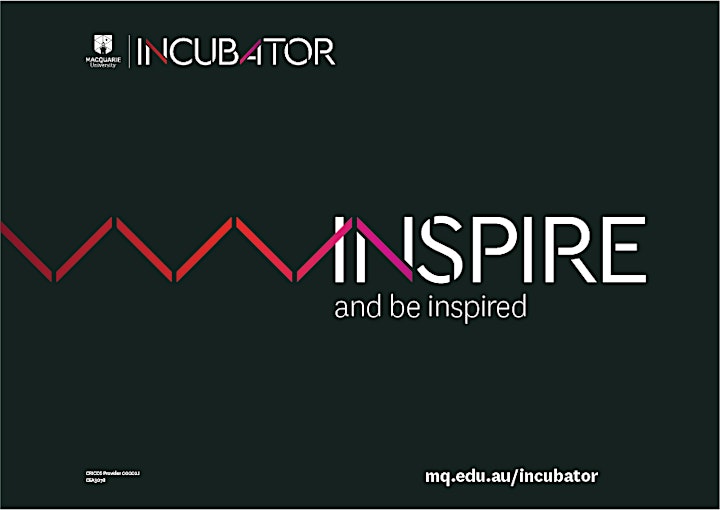 Organiser of MQ Incubator | Lessons learnt from a startup growing in uncertain times