Description
PEREGRINE TRAVEL CENTRE WA OXFAM TRAIL WALKER FUNDRAISER & MOVIE NIGHT
Peregrine Travel Centre WA along with Peregrine Adventures invite you to a special preview screening of MOUNTAIN on Tuesday 12 September! Jess has put together a team of hikers to tackle the Oxfam Trailwalker 100km within 48hrs on the 22nd Sep- 24 Sep. Jess and her team are hoping to raise a minimum of $5000 for Oxfam. You can keep up to date here: https://trailwalker.oxfam.org.au/my/team/28945
A raffle will be drawn on the night to win an Oxfam hamper-
$1 per ticket or $3 for 5
A unique cinematic and musical collaboration between the Australian Chamber Orchestra and BAFTA-nominated director Jennifer Peedom, MOUNTAIN is a dazzling exploration of our obsession with mountains. Only three centuries ago, climbing a mountain would have been considered close to lunacy. The idea scarcely existed that wild landscapes might hold any sort of attraction. Peaks were places of peril, not beauty. Why, then, are we now drawn to mountains in our millions? MOUNTAIN shows us the spellbinding force of high places – and their ongoing power to shape our lives and our dreams.

Director: Jennifer Peedom
Music: Australian Chamber Orchestra (ACO)
Narrator: Willem Dafoe
Runtime: 74 minutes
Watch the official movie Trailer here: https://youtu.be/UccsdQfohSc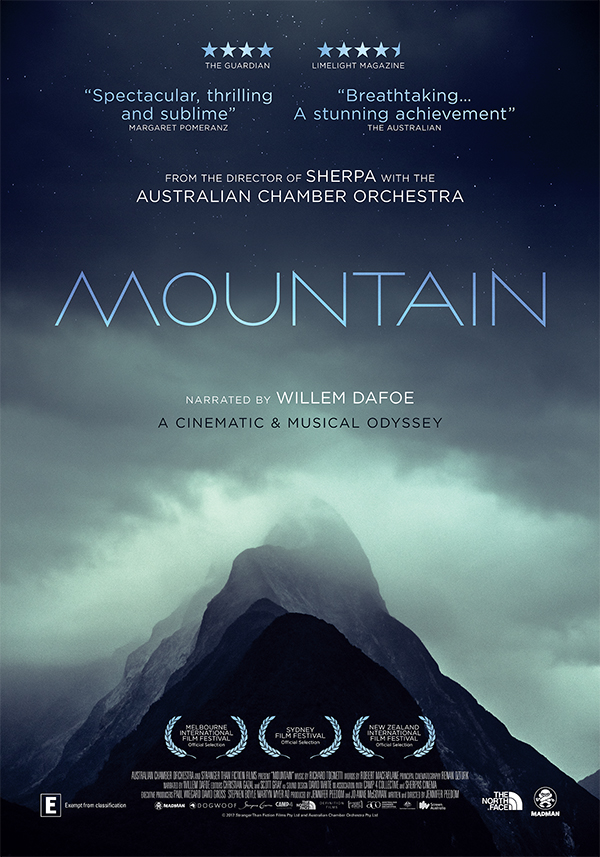 About Oxfam Trailwalker:
Oxfam Trailwalker in Australia has raised more than $70 million since 1999. With the support of our Trailwalker teams, Oxfam has the funds to carry out vital work around the world and enable the people they help to bring about positive change in their lives. Together we are promoting education, ensuring access to clean water, teaching skills to grow food and fighting for their rights.
$15 can buy three collapsible 10ltre water bladders, enabling families to transport and store clean drinking water in the aftermath of an emergency.
$50 can teach children in vulnerable areas how to swi, so they are able to get to safety in the event of flash flooding.
$100 can pay for enough locally produced, high-yielding maize seeds to provide four farmers in Timor-Leste with corn and a source of income for the future.
$150 can provide a farmer in Malawi with fertiliser, seeds, and tools to market and sell produce.
$200 can provide two women and four children with shelter, food and water for one week in an oxfam- supported safe house in Papau New Guinea, keeping them safe and free from violence.
$250 can pay for a hygiene awareness campaign in a Cambodian school to teach health and disease prevention.
$1000 can pay for a three-day workshop focused on training 50 South African people in caring for children living with HIV, learning about cooking, nutrition and food preservation.