A healing circle for mothers to connect to the truth of their emotions, experience personal somatic therapy support and feel less alone.
About this event
(Payment issues - Eventbrite is creating issues with some payments due to a PopUp Blocker - if this is happening for you, please send me an email alitablanchard@gmail.com or DM and I'll send you a Paypal Invoice with discount for the hassle )
This special Mothers Healing Circle will support mothers on their journey of healing and growth through the power of sharing in circle, releasing suppressed emotions and somatic healing with the support of a trained Psychotherapist and Somatic Experiencing practitioner.
This circle is for you if:
- You regularly react in anger to your children's behaviour
- You are feeling isolated and alone in motherhood
- You are in constant cycle of guilt and shame
- You want to raise your children more consciously but feel numb and frozen
- You want to be truly heard and supported in motherhood
- You are ready to heal and grow as a woman
- You experience anxiety, overwhelm, consistent fear, rage, low self worth or trauma
Held in circle by Alita Blanchard, circle facilitator and conscious parent coach and supported by Vanessa Worthington, psychotherapist and Somatic Experiencing practitioner.
About Vanessa Worthington
Psychotherapist and Somatic Experiencing Practitioner
https://traumahealing.com.au/about-me/
Each month we will gather in circle to:
- Connect deeply to ourselves and others - circle is a supportive space for confidential sharing, without advice, judgement or interruption. You will feel truly heard and held. All your emotions are valid and welcome
- Be supported in your healing - Vanessa will support each mother, after their sharing, to feel into their body, locate the emotional body response and gently move and release the trauma stuck in the body. This is an introduction to the healing power of Somatic Experiencing for trauma healing.
What is Somatic Experiencing
_______________
Somatic Experiencing is a pioneering body awareness approach to healing trauma by Dr Peter Levine PhD. It focuses on experiencing the 'felt sense' in the present moment to relieve the physical, emotional and physiological effects of post traumatic stress disorder and other stress and trauma-related health problems.
Venue
_______________
The Landing Space
33 Forresters Beach Road
Forresters Beach
https://www.facebook.com/thelandingspacecc
Date and Time
Saturday 15th May 2021
(then monthly dates TBA)
1pm - 4pm
Tea and treats provided
Bring
_______________
Water bottle
Cushion
Warm jumper
Journal and pen

Price
_______________
$67 per person
$180 for a series of 3 circles
To reserve your space, contact Alita 0410324042 alitablanchard@gmail.com
(No mother left alone – if you are struggling or disadvantaged in any way, please contact Alita for financial assistance).
Reserve your space – limited to 12 seats.
…….
Testimonial for Circles
_______________
"Having a community of strong women who raise you up without judgment is so incredibly powerful. To you Alita Blanchard for creating a much needed safe space for women to gather, learn, grow, cry,feel empowered and most importantly heal - thank you! I'm not sure you know just how powerful or impactful your work is but believe me your work provides light on the darkest days!" - Sam G.
…...
Circle themes over 6 month healing series -
May 2021 - What is trauma and how does it show up in day to day life
_______________
- discussion on the nervous system, the difference between shock trauma and developmental (relational) trauma, how trauma shows up ie anxiety, depression, shut down, overwhelm, physical symptoms
June - Developing a relationship between the body and the mind.
_______________
How to support connection.
This may include some gentle exercises where we explore the felt sense, the sensory and emotional experience. How can we be present with these? What are our patterns or strategies to "not feel" How can we develop more capacity to allow the feelings to move through us
July - Discovering yourself through mothering.
_______________
We discuss the wounds we carry from our own family of origin and how we were parented. What did we like and what hurt us. What did we do to protect ourselves. How do we want to make different choices in our role as a mother. What are your needs during this time of your life and how could they be met.
August - Relationships - how does becoming a parent change your relationships?
_______________
How women relate to themselves, to their partners, their friends, to their own parents. What kind of support would help them have the relationships they desire. Will touch on family systems and how they can perpetuate and cause entanglements.
September - Learn to respond instead of react
_______________
Working with the triggers of anger which often can cause a mother to lose their shit and then feel the torrent of shame and guilt that always follows. How can we support something different to happen.
Ongoing connection and support
_______________
You are also invited to join the Aware Mama Collective group, a private Facebook group for motherhood support, connection and conscious and aware parenting tips.
Disclaimer
_______________
The intention of the workshop is to provide support and to build awareness for participants. Whilst it is a healing circle and supported by a psychotherapist, it is not group therapy. Should you feel you need additional support we encourage you to contact a therapist for a one on one session.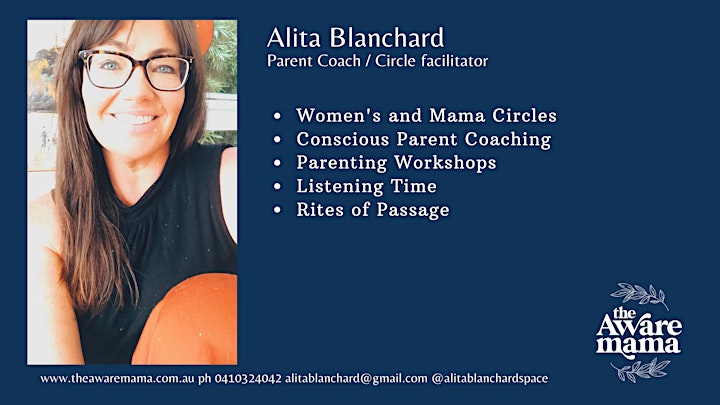 Facilitator
Alita Blanchard, Parent Coach and Circle Facilitator
Based on the NSW Central Coast, Alita is a dedicated, honest and nowhere near perfect mother of three boys who love to rumble and ramble in the outdoors . She is a trained Rites of Passage facilitator, Women's Circle facilitator and trauma-informed Conscious Parent Coach.
Alita supports and guides mothers in their transformation through motherhood (matrescence) and helps to bring awareness to their own needs and emotions so they can feel more aligned, aware and connected to themselves and their children.
Instagram: @alitablanchardspace
Website www.theawaremama.com.au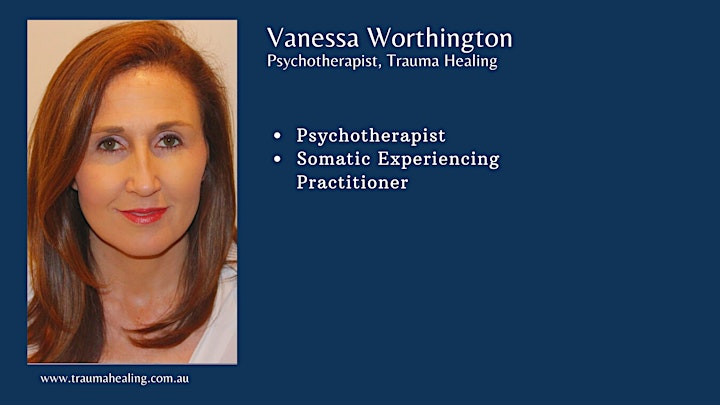 Facilitator
Vanessa Worthington, Psychotherapist
Vanessa is a highly qualified Psychotherapist and works with people to resolve psychophysiological trauma.
She supports the healing of people who have suffered experiences that continue to effect their lives, uncovering and empowering the true self.
Over the past 15 years, Vanessa has involved as a participant in Family Constellation work and have completed numerous facilitator trainings over the years. Family Constellations looks at the hidden dynamics in families which can assist in developing an understanding for clients regarding family relationships and patterns that may be carried through generations. This work has been enormously healing for me.
She is trained in Somatic Experiencing, a powerful trauma healing modality by Dr Peter Levine PhD.
Website www.traumahealing.com.au
Qualifications include:
B.A (Psychology)
Holistic Counselling & Psychotherapy (post graduate)
Cert IV Breathwork Practitioner
Somatic Experiencing Practitioner (SEP)
and more - see https://traumahealing.com.au/about-me/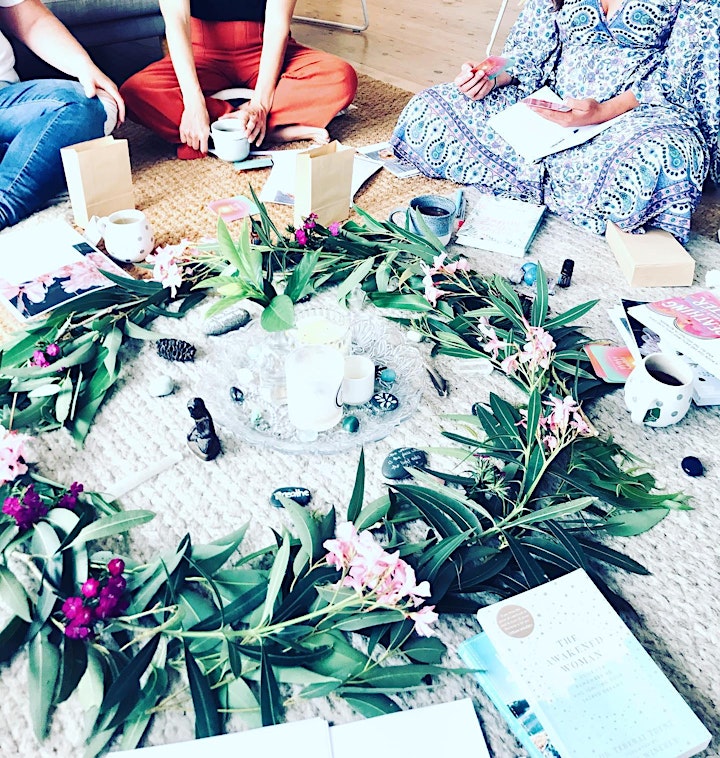 Payment
Places are strictly limited to 12 people. You can register through EventBrite or contact the Alita to make payment.
Contact Alita Blanchard on 0410 324 042 or alitablanchard@gmail.com to organise payment direct via bank transfer or credit card.
Accessibility
I acknowledge the situation of many people in financial stress that may need respite in these times of great need but are unable to afford this event or organise care. If you are disadvantaged in some way but feel greatly in need of parenting support and connection, please contact the organiser to discuss assistance and/or alternative support I might be able to offer.
Cancellation and Refund Policy
Covid 19 - full refund if the event must be cancelled due to Covid.
If you cannot attend the workshop please cancel as soon as possible. The following refund policy is strictly adhered to.
Cancellation up to two weeks prior to the retreat - Full refund.
Cancellation within 14 days prior to the commencement of the workshop - No refund but registration can be transferred to another person. To transfer your registration please email alitablanchard@gmail.com
Terms and Conditions
Please note that information about the event and venue are subject to change and cancellation. In the event that this workshop may have to be cancelled or postponed, we will inform you directly via email as soon as possible.