About this Event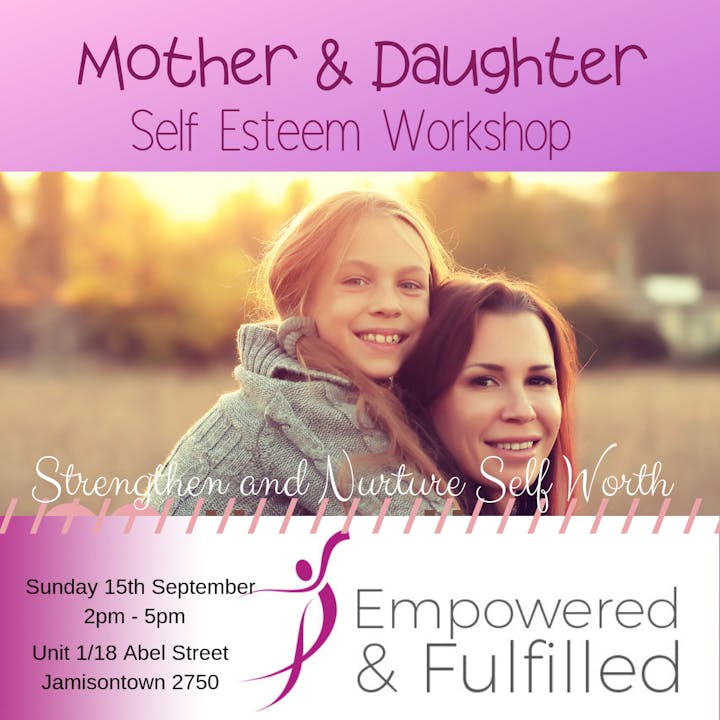 Empowered and fulfilled are pleased to announce that they will be hosting an interactive Mother and daughter Self esteem workshop. After the success of the Mother and Daughter Vision board workshop and learnings from the workshop it was established that an interactive, playful, creative Self Esteem workshop would be beneficial to further enhance the connection of Mother and Daughter.
This workshop aims to help nurture the connection with mother and daughter as well as help Mothers have the skills to help raise confident, resilient young girls. Join us for a fun filled afternoon were you both will have time to be creative, connect with your child and learn more about each other. This is an opportunity to start talking about certain issues impacting today's young girls and help foster self-esteem. Some activities will enable you to create artwork to frame on your walls.
This workshop is for girls aged 11 and upwards and their Mother/Aunt Care giver. So, come and join us and enjoy some quality time to reconnect and nurture out most precious relationships.
In this workshop you will both learn
. What is Self Esteem
. Where does self-esteem develop from
. Understanding how patterns of thinking affect self esteem and how to reshape those thinking patterns into a more positive mindset.
. Boost your mindset by focusing on your strengths
. improve your self-talk by reframing your self-talk language.
. how to build your Daughters Self Esteem and how you can be a role model of building Healthy Self Esteem.
. Creating habits that foster deeper mother and daughter connection as well as habits that enhance self-worth and self-love.
. How body and mind need to be nurtured to enhance self-esteem.
. How to improve communication with your child to talk about personal issues that impact on young girls.
. Understanding and nurturing each other love language based on the work of Dr Gary Chapman.
What you will experience in this workshop
You will experience an opportunity to connect with each other in a safe and positive environment as well as be role models for them to blossom. It is a beautiful space to be creative, empowered, nurtured and a space to learn and grow ore as individuals as well as your relationship with each other.
Tickets
1 Early Bird ticket from 18/06/2019. One ticket includes Mother and Daughter for $69
2 Regular Ticket from the 2/09/19. One ticket includes Mother and Daughter for $89.
Included in this workshop
1. Snacks and refreshments
2. All Material Provided to complete all creative activities
3. Gift
Joclyn Stanley from Empowered and Fulfilled has a background in psychology and has experience working with children, adults and their families on a range of topics that are relevant in today's world. Joclyn has created a series of workshops to fulfil her Vision of creating a world of love, compassion, respect and resilience. Empowered and fulfilled want to empower Woman and Young girls to be confident within themselves and create their story of strength, confidence and resilience.