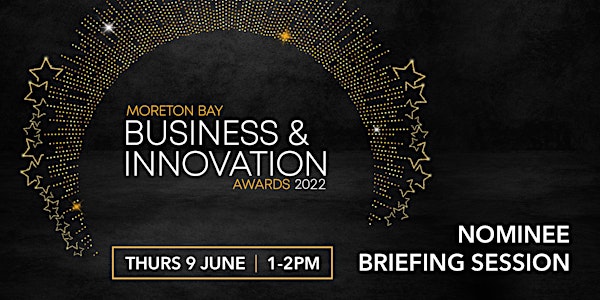 Moreton Bay Business & Innovation Awards Nominee Briefing Sessions
Join us for a nominee briefing session designed to assist you with your 2022 Moreton Bay Business & Innovation Awards submission
About this event
Moreton Bay Business & Innovation Awards -
Nominee Briefing Session
Join us for this nominee briefing session designed to assist you with your 2022 Moreton Bay Business & Innovation Awards submission. This is your chance to ask direct questions to awards experts, judges, and previous winners to give you the best possible chance of success in this year's awards program.
About this session
This briefing session has been specifically designed to assist nominees in enhancing their submission to give themselves the best chance of success in the Moreton Bay Business & Innovation Awards.
The session is aimed at demystifying the awards process and assist you with the process and preparation of your Moreton Bay Business and Innovation Awards journey.
Hear from:
Previous award winner
Judge panel member
Professional award writer
Learn about:
The 2022 Moreton Bay Business & Innovation Awards program
How to properly address question criteria
Types of evidence to include in your answers
What judges look for as part of a successful submission
Making the process smoother, quicker and easier for you
Workshop Details
When: Thursday 9 June
Time: 1.00pm to 2.00pm
Location: Online via Teams (A link to join the session will be emailed to you prior to session commencing)
For more information please contact:
luke.steers@mbrit.com.au
The Moreton Bay Business & Innovation Awards are proudly delivered by Moreton Bay Region Industry & Tourism, along with strategic partner Moreton Bay Regional Council, and supported by Bishopp Outdoor Advertising, Regional Development Australia Moreton Bay, Think2Be, North Harbour, EPIC Assist, Moreton Daily, Akyra, SRJ Walker Wayland and USC.