Join us for a day of feminine wisdom, of connecting to our cycling bodies & our rites of passage from menarche to menopause.
About this event
It is time, women are awakening..
A one day women's workshopwith Sarah Miller
Reclaiming feminine power through reconnection with the women's mysteries.
Reconnect with the women's wisdom within you –
Learn about the wisdom of the cycles and our life seasons

The influence of the lunar cycle and the earth's seasons

The spiritual practice of menstruation and menopause

The transformative power of our rites of passage

Understand why you feel the way you do!
This is a day of tuning into the body's sacred intelligence, of noticing how Life lives in each of us, how we dance with the cycles and the seasons. Join us!  You have a seat in the Circle.
This workshop is for all women, post menarche including those who identify as woman.
*Bring a cushion to sit on, a wrap for warmth, waterbottle, your journal and a pen.
*Delicious morning and afternoon tea provided, BYO lunch.
"MoonSong was really inspirational. it really helped me to make sense of my life and where i'm going. It showed me how powerful I really am, and how to live my life to the fullest. I think MoonSong helps women understand the flow of their cycles and how empowering they actually are. Its gets us in touch with our essence." Sylvie
While I had an idea about what Moonsong was about, I did not expect to be so deeply touched by the openhearted tender acceptance of the beautiful women I sat in circle with. Moonsong has a way of bringing women together in a raw undefined way, allowing us space to express ourselves and feel heard/held. Through learning to weave our own cycle into the universal rhythms I felt great kinship with my fellow sister. Myshell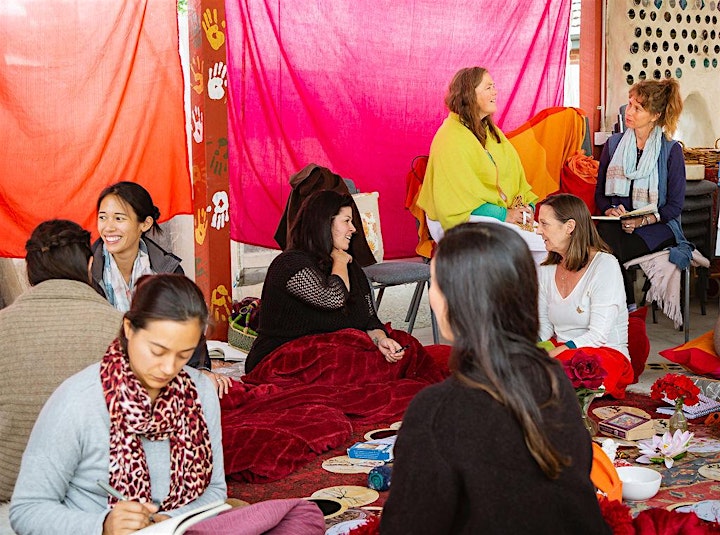 Organiser of MoonSong One Day Workshop for Women
Sarah Miller is a Teacher of the Four Seasons Journey and MoonSong Workshop for the School of Shamanic Womancraft. She is also the founder of Embodiments Dance, a dance, drum and women's circle space. Through her work she aims to enable women's deep connection to self and to honour the wisdom and power of the moving body, and the earth. She is a shamanic drummer, an early childhood educator and a story teller. She has two children with her partner.