Monash University and The Hacker Exchange present an evening of inspiration + networking as we meet young Australian Women in STEM.
About this Event
Meet the future STEM innovators...
What were you doing when you were 15 years old?
Find out how the next generation is responding to the rapid changes in tech and business and join us at this fun and inspiring evening hosted at Covo, San Francisco.
Over drinks and refreshments, you'll hear from Australian high school and college-aged students who created IoT innovations during a highly competitive 'Women in STEM & Entrepreneurship' Program (WISE).
The WISE program was led by Monash University's Faculty of IT and supported by The Hacker Exchange, a global talent incubator for next generation startups and leaders.
Ticket proceeds from this event will be donated to WIRES - Wildlife Information, Rescue and Education Service.
As well as hearing from our students, you'll also meet:
Chris Gonsalvez – Chief Investigator, WISE Program, Faculty of IT, Monash University
Jeanette Cheah – Co-founder & CEO of The Hacker Exchange & Course Advisory Team: Entrepreneurship at Monash University
Chris and Jeanette will present a global perspective of education for women in STEM and entrepreneurship based on their experience driving initiatives in innovation ecosystems such as Tel Aviv, Singapore, Silicon Valley and beyond.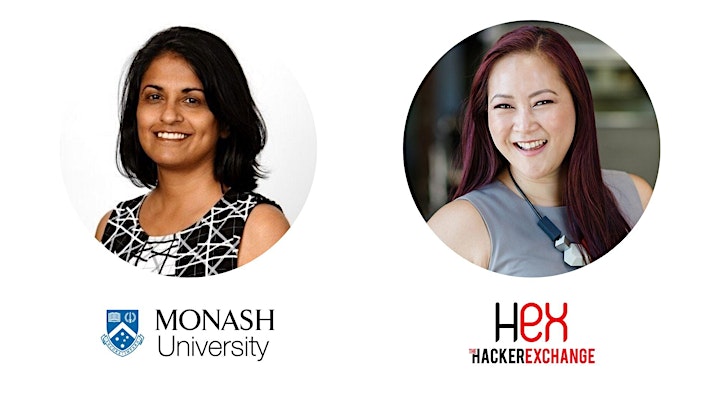 Your ticket includes drinks, light refreshments, and an opportunity to network with supporters of women in STEM, Monash Alumni in the Bay Area, and fellow education and business innovators.
Agenda:
6.00pm - Arrival: Drinks & canapés served
6.30pm - Welcome from MC
6.40pm - Discussion: A Global View on STEM & Entrepreneurship Education
7.00pm - Student STEM project presentations & audience questions
7.30pm - Close formalities & Networking
8.30pm - Event concludes.
Your hosts
About The Hacker Exchange
The Hacker Exchange (HEX) is a global talent incubator shaking up entrepreneurship education by supercharging the next generation of leaders and startups. Through global, immersive and academically accredited programs, HEX builds student mindsets, skillsets and networks to prepare them for the future of work. Currently, HEX is proud to connect global talent to innovation ecosystems like Silicon Valley, Tel Aviv, Singapore and Melbourne.
About the Faculty of Information Technology (IT) at Monash University
With the only dedicated Faculty of IT in the prestigious Group of Eight universities - and one of only a handful in the world - Monash embeds IT in every strategic research initiative across the university. The Faculty of IT has a strong reputation for excellence in research and we contribute positively to society through interdisciplinary research and education, using innovative information technology as a vehicle for social good.
To view the Monash Privacy Statement click here.