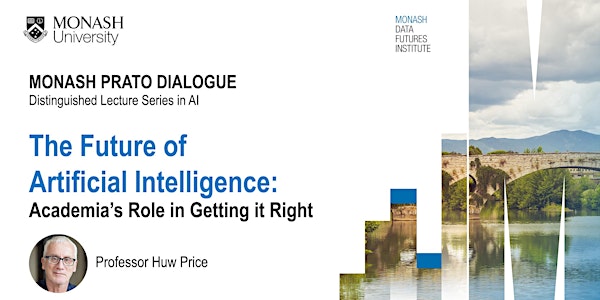 Monash Prato Dialogue - Distinguished Lecture Series in AI
Sales Have Ended
Registrations are closed
Thank you for registering. The webinar details will be sent to you closer to the event. For any further queries, please contact us at datafutures@monash.edu
The Monash Prato Dialogue is a Distinguished Lecture series on Artificial Intelligence and its impact on society.
About this event
As academics contemplate the future of artificial intelligence from their own vantage point, what they face is an engineering challenge.
As he explores the future of AI via his role as an academic, distinguished philosopher Professor Huw Price will share his thoughts on 'How can we build the most effective academic collaborations, to do our part in 'getting AI right'? '
About the speaker
Professor Huw Price is an Australian philosopher and Academic Director of the Leverhulme Centre for the Future of Intelligence (CFI) at the University of Cambridge. Founded in 2016, CFI was the first of a new generation of interdisciplinary research centres exploring the challenges of Artificial Intelligence (AI).
Professor Price was previously the Bertrand Russell Professor of Philosophy and a Fellow of Trinity College and is a co-founder of the Centre for the Study of Existential Risk at the University of Cambridge.
Professor Price is a Fellow of the British Academy, the Australian Academy of the Humanities, and the Royal Society of New South Wales, and a Past President of the Australasian Association of Philosophy.
Abstract
In a famous 1950 paper about machine intelligence (the one in which he introduces what we now call the Turing Test) Alan Turing ends like this: he says "We can only see a short distance ahead, but we can see plenty there that needs to be done."
That's still true for us, as we contemplate the future of artificial intelligence from our own vantage point, seven decades into Turing's future. But what needs to be done now?
Professor Price will discuss this issue from the perspective of an academic whose own life and career spans most of those seven decades – the last of them in Cambridge, where he's been fortunate to work with many colleagues who have their eyes on our long term future. His key message is that we academics face an engineering challenge: How can we build the most effective academic collaborations, to do our part in 'getting AI right'?
Monash Data Futures Institute
The Monash Data Futures Institute is an initiative of Monash University, Australia's largest university. The institute represents more than 400 researchers actively involved in utilising AI and data science for social good.
Monash Prato Dialogue - Fostering Global Dialogue & Discovery in AI and Data Science
The Monash Data Futures Institute Prato Dialogue Distinguished Lecture Series aims to explore the evolving impact of data science and AI in society by fostering a global dialogue.
The lecture series takes its name from Monash University's Centre in Prato, Italy. Located in the heart of Tuscany, our Prato Centre represents a European base for international research and education, intellectual and cultural exchanges and brings people together to meet, learn and collaborate with peers and colleagues from around the world.
Please note: this lecture series is virtual in 2021.
Monash Data Privacy
By registering for the event, you agree to receive communications from Monash University. Monash University values the privacy of every individual's personal information and is committed to the protection of that information from unauthorised use and disclosure except where permitted by law. For information about the handling of your personal information please see Data Protection and Privacy Procedure and the relevant Data Protection and Privacy Collection Statement that applies to you depending on the nature of your relationship with us.
If you have any questions about how Monash University is collecting and handling your personal information, please contact our Data Protection and Privacy Office at dataprotectionofficer@monash.edu.