Monash Medicine Curriculum Symposia 2021 - Digital Health
About this event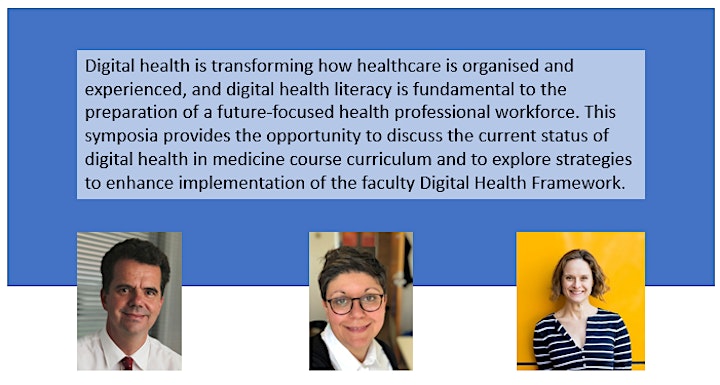 Monash Medicine Curriculum Symposia 2021
Digital Health
Wednesday 6th October 2021 4-5.30pm
Presenters:
Professor Tim Shaw
Tim is Professor of eHealth and Director of the Research in Implementation Science and eHealth Group (RISe) in the Faculty of Health Sciences at the University of Sydney. He co-leads the strategic development of Digital Health at the University of Sydney and chairs the Digital Health and Informatics Network.
Associate Professor Melissa Baysari
Melissa Baysari leads the integration of the digital health curriculum into the medicine course at the University of Sydney. She is coordinator for units in eHealth and has research interests in digital health to support medication management, with a particular focus on the design and evaluation of computerised decision support.
Associate Professor Fiona Kent
Fiona is the Director Collaborative Care and Work Integrated Learning in the Faculty of Medicine, Nursing and Health Sciences, Monash University. She is also an APA neurological physiotherapist and has worked as a clinician and clinical educator at Peninsula Health, Monash Health and in the Physiotherapy Department at Monash University. She completed her Masters in Health Professional Education investigating patient perspectives of student led care and her PhD in interprofessional student education. Her work and research focuses on the development and evaluation of interprofessional curriculum.
Video Conferencing Details:
Please click this URL to start or join. https://monash.zoom.us/j/89518727327?pwd=WUdqZ1lzcCtTUmx1dnhFb1pZd0xLUT09 Or, go to https://monash.zoom.us/join and enter meeting ID: 895 1872 7327 and passcode: 169319
Join from a dial-in phone: Dial: +61 3 990 59666 [+61 3 9905 ZOOM] or +61 2 8015 2088Meeting ID: 895 1872 7327 International numbers available: https://monash.zoom.us/u/kdyg1SfiyM Join from a Video capable room system(H.323/SIP): Dial: 61262227588 (From within Monash only) or: 103.122.166.55 (IP) or zmau.us (Backup) Meeting ID: 895 1872 7327 Passcode: 169319============================================
Use of Zoom is subject to Monash University's IT Acceptable Use Policy.
For information relating to the handling of your personal information please refer to Monash University's Data Protection and Privacy Procedure.If you have any questions about how Monash University is collecting and handling your personal information, please contact our Data Protection and Privacy Office at dataprotectionofficer@monash.edu.============================================
Organiser of Monash Medicine Curriculum Symposia 2021 - Digital Health via Zoom