Description
Stirling Business Centre in Balcatta, is launching an exciting new coaching program for start-ups and small businesses who are wanting to grow their business. We value your support and as a leader in our small business ecosystem we would like to extend the warmest of invitations to the official launch of Momentum.
The evening will be an opportunity to network and for you to meet other players in Perth's small business community. His Worship The Mayor, Mark Irwin, will be guest of honour as he officially launches the Momentum program.
The Barefoot Leader, Jeremy Watkins, will also be sharing his take on leadership and show you how you can "Discover your own Genius - Understanding the Paradox of Performance". Jeremy advocates that we often feel like we need to be speeding up but intuitively we know we need to slow down. We need to discover our genius and increase our performance in a sustainable way.
The future of leadership is not important. It's VITAL.
Jeremy Watkins (aka the Barefoot Leader) is a Leadership and Sustainable Performance Mentor, Speaker, Facilitator (and soon to be published author) who works with Senior Leaders, Corporate Executives, Business Owners and their teams to help them develop new insights, that increase their influence and maximise their impact as leaders.
Jeremy is an inspiring example of living his central message that drives his highly contagious passion.
---
"Living in vitality is the foundation of sustainable performance, meaningful achievements and a life well lived." Jeremy Watkins ~ The Barefoot Leader
---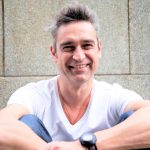 Momentum is an initiative supported by the City of Stirling and Stirling Business Centre.