Description
Be captivated as Michael AW shares intimate moments from his adventures with orcas, leopard seals, crocodiles, tiger sharks, great whites, southern right whales, and the times he was thrown out of the water by humpback and Brydes whales. For the first time ever, Michael shall reveal pictures of undescribed species of Dumbo Octopus recently discovered in the deep Arctic Ocean. Michael Aw is an author, explorer and conservation photographer with accolades including winning more than 65 international photographic awards and named one of the world's most influential nature photographers by Outdoor Photography.
About Michael: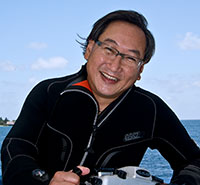 Michael Aw is a wildlife photographer, explorer and a conservationist and has authored 36 books of the ocean. He has won more than 66 international photographic awards and named as one of the world's most influential nature photographers by Outdoor Photography. He has been published in BBC Wildlife, GEO, National Geographic, the Smithsonian, Nature, Ocean Geographic, Asian Geographic, Nature Focus, Times, and Discovery to name a few. Michael is recipient of four awards from the Natural History Museum Wildlife Photographer of the Year Wildlife Competition in 2000, 2010, and in 2006 and 2015 he won the underwater category.During 2010-2016 Michael was the project director for the Elysium Epic expedition to the Antarctic and Arctic with 66 team members comprising the world's best image makers and scientists. In 2018 he led a team of 50 on an expedition across the heart of the Coral Triangle, for a first ever baseline survey of the biomass of corals and fishes in the region.
Includes: Light refreshments and a cash bar.
General Information
Enquiries: phone +61 2 9298 3646 or email members@anmm.gov.au.
Our Plan Your Visit page has everything you need to know about a trip to the museum.