Sales Have Ended
Registrations are closed
Dear All, We greatly appreciate your interest to participate in our Moi Virundhu event to support our farmers and farming. We regret to inform that the registration for Moi Virundhu is closed now as we have reached the maximum limit. If any vacancies arises, we will notify you based on the waiting list order. Please send your details (Name, Number of Tickets, Veg/Non-Veg preference) to one of the phone numbers below. 0420 373 154; 0405 470 796; 0405 470 896 Follow us @ https://m.facebook.com/australia.thamizhargal/ Thank you for your support..! ~ Tamil Associations Victoria
Sales Have Ended
Registrations are closed
Dear All, We greatly appreciate your interest to participate in our Moi Virundhu event to support our farmers and farming. We regret to inform that the registration for Moi Virundhu is closed now as we have reached the maximum limit. If any vacancies arises, we will notify you based on the waiting list order. Please send your details (Name, Number of Tickets, Veg/Non-Veg preference) to one of the phone numbers below. 0420 373 154; 0405 470 796; 0405 470 896 Follow us @ https://m.facebook.com/australia.thamizhargal/ Thank you for your support..! ~ Tamil Associations Victoria
Description
வாருங்கள்

...! உழவையும், உழவரையும் காப்போம்..!


About this event
Tamil Nadu is facing worst drought in 140 years due to monsoon failure. This drought resulted in a situation of poor agricultural yield for farmers. According to the National Crime Records Bureau, 606 farmers committed suicide in 2015 and the report marked 'Bankruptcy or Indebtedness' and 'Family Problems' as major causes for farmer/cultivator suicides.

Considering the farmers situations in Tamil Nadu, Various Tamil Associations in Victoria have come forward to make a difference in the lives of some affected farmers and their families .
What have we done so far..
So far we have supported six families who lost a farmer, by setting up an income source such as livestock rearing (Goats) and provided educational support for their kids.

What are we doing..
We are in the process of restoring an irrigation canal (பாசன வாய்க்கால் தூர் வாருதல்) of 5.5 Kms in Azhiyur Panchayat, Nagapattinam Dt. This community project is expected to benefit more than 700 families.
To achieve this, we have been raising funds through various fundraising events such as Cricket tournament, Bunnigs BBQ and Walkathon.

On behalf of Tamil Associations in Victoria, we would like to invite you along with your family and friends to join us for a fundraising South Indian feast called Moi Virundhu.
This event includes two hours of entertainment and South Indian style traditional dinner.
Let's join together to make a difference in our farmers life..!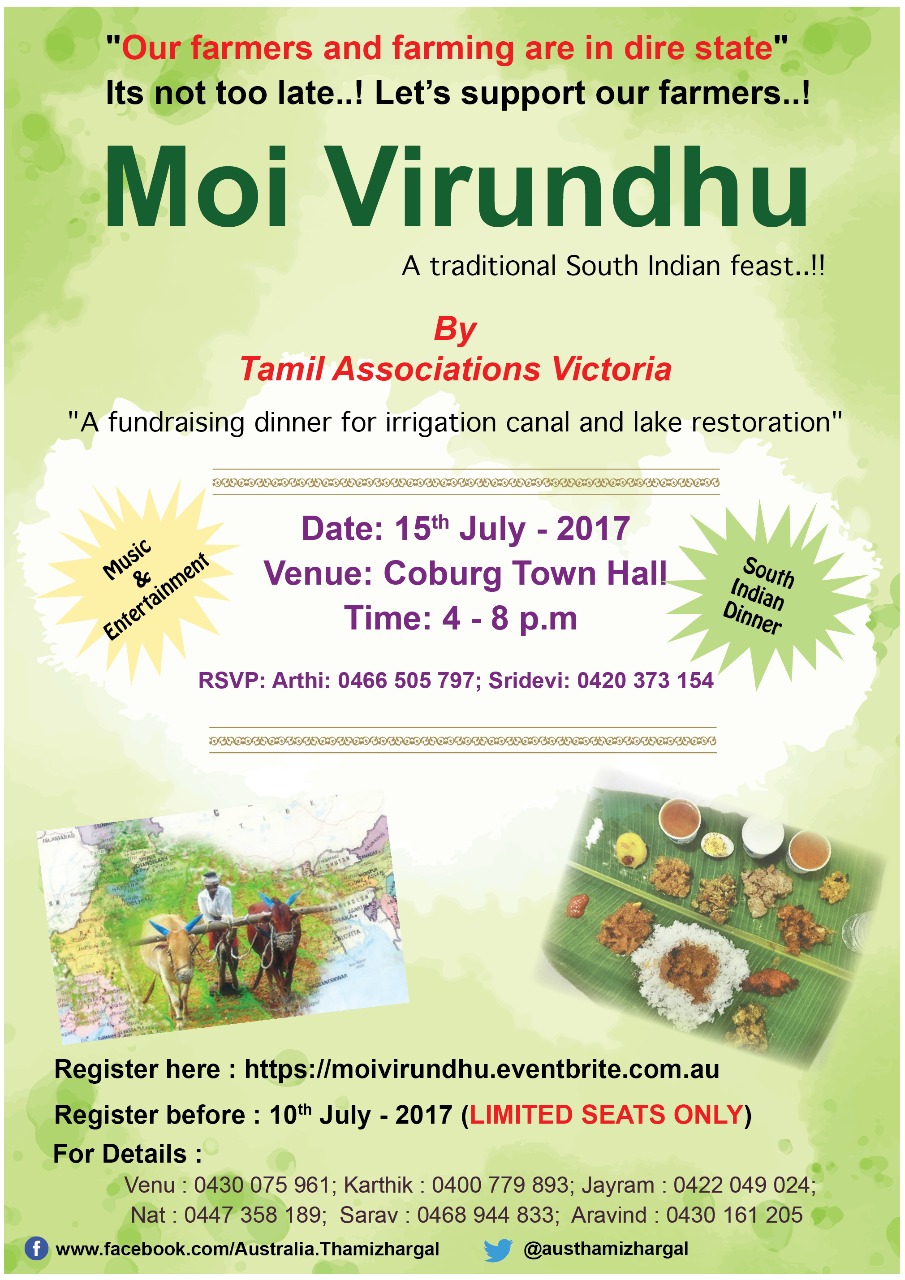 Follow us @
Facebook: https://www.facebook.com/Australia.Thamizhargal
Twitter: https://twitter.com/austamizhargal
#MoiVirundhu #MoiforFarmers #