Mobile App Development Bootcamp

Thursday, 14 March 2013 from 9:00 am to 6:00 pm (AEDT)
Event Details
Learn how to create mobile apps. In just one day.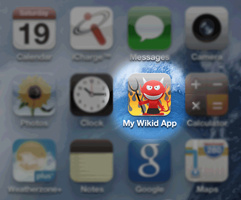 Make your idea come to life

Maybe take the first step to an exciting new career

Want to create the next worldwide App Store blockbuster?

Or just looking for a new geeky hobby…
If any of the above apply, this course is for you!
More smartphones than computers are sold each month since 2011. There will be more smartphones and tablets than all the world's desktops and laptops by the end of next year (IDC). The future is mobile. If you're a web developer, or your business is web-based, it's time to think about transitioning to mobile.
Kickstart your move to mobile by spending one day with me at the "Mobile App Development Bootcamp" at Hub Melbourne. We start early for an intensive full day session. I will teach you how to build a functioning mobile app on your laptop, load it up on your mobile phone to test and be ready to push it out to the App Store. You don't get to go home until you pass!
Even if you don't plan on becoming a mobile app developer yourself, going through this course will put you in a better position to negotiate with and manage the app developers that you hire, instead of them managing you!
I will introduce the latest tools to build sophisticated mobile apps without needing to learn complex programming languages like Objective C and Java. Write your app just once and be able to run it on a range of mobile platforms from a single code base. Best of all, almost all of these tools are open source and free.
All you need to get started is a working knowledge of HTML, CSS and basic Javascript, so if you can make a web page, you're in!
If you're already an expert web developer, you can build fancier apps, but that's only incidental to what is covered in the course.
There is plenty to learn, but everything is taught from the beginning.
What you need to bring along:
A Mac or PC. Mac is preferred because of extra tools and options available for iOS development, but we won't leave our Windows friends behind.

iPhone updated with the latest iOS release

iPhone USB cable
Once we're done, you're set up to work anywhere and anytime with the above 3 items.
Includes lunch, morning/afternoon tea, unlimited all-day coffee and after-class chill out drinks.
Class size limited to 12 so everyone can get personalised attention.
GST-inclusive price. Tax Invoice will be issued.
Course format: Workshop with lectures alternating with hands-on exercises
Course content includes:
Intro to the mobile software ecosystem

Web Sites vs Web Apps vs Native Apps

Meet the new Web: HTML5, CSS3, Javascript, AJAX

Tool up your laptop as a mobile development factory

The essential toolset: Xcode, PhoneGap, jQueryMobile

What you need to know about developer certificates and provisioning

Step by step from "Hello World" to App Store

Integrating your app to device functions (GPS, Camera, Contacts, etc)

App Store Administration

All the tips, tricks and shortcuts to save you time and frustration

Plenty of notes and cheat sheets
Mobile platforms covered: The tools used and the principles learned can also be used to build iOS, Android, Windows, Blackberry, HP WebOS and Symbian apps. Due to time constraint, this session will focus on iOS (iPhone/iPad/iPod) app development only. The other platforms are simpler than iOS. A future session (date to be finalised) will focus on Android. Participants in the iOS bootcamp qualify for 50% discount in the Android bootcamp and vice-versa.
Bonus: you don't need to pay Apple $99/year to join the iOS Developer Program until you're ready to publish in the App Store. For this course, I will unlock your iPhone for developer use so that you can install and test your apps on your own phone.
About the instructor

Hi, I'm Ayudh Nagara, and I will be running this workshop. I'm a software architect for Interspace Communications, an application development company, and director/co-founder of Xilo Online, a payment services provider in Australia. Although I've had many jobs in the IT industry in my career, my primary interest remains harnessing the power of software to solve human and business problems. When I wrote my very first program many years ago, I felt a sense of empowerment not unlike that of the ape who picked up the shard of bone in the opening scenes of 2001: A Space Odyssey - video clip. As your tour guide, I'll show you the wonders and point out the pitfalls on your programming journey, so that you too can share that magical moment with that ape and me.
In a few short years since Apple released the iPhone, writing applications for smartphones has completely revitalised software development. Apple, followed by it's smartphone competitors, have created a multi-billion dollar global software marketplace from scratch, creating an ecosystem that has unleased the talent and creativity of countless thousands of programmers around the world, many of whom work for themselves. This course packages over a year of learning, experience, trial and error into a one-day session that removes the mystery of mobile apps and will have you completely comfortable with starting your own mobile development project the day after the class.
Substitutions and Cancellations
Sometimes the unforeseen happens. If you are unable to attend the course, substitutions are always welcome at any time - please contact the organiser to confirm the name of the substitute who will be attending in your place. You can re-sell your ticket to your substitute under your own private arrangement.
If you're unable to find a substitute, you can cancel and get a refund. If you cancel on or before 4 March, you will get 90% of your fee refunded (10% to cover merchant and admin costs). If you cancel after 4 March, you will get 50% of your fee refunded (to reflect a lost sale). A better option for you may be to hang on to your ticket and use it on a future session (to be announced) and not incur a financial penalty. Please advise the organiser of your intention. There will be no refund for no-show without prior notification.
When & Where

Hub Melbourne (Green Room)
Level 3, 673 Bourke Street
Melbourne, Victoria 3000
Australia

Thursday, 14 March 2013 from 9:00 am to 6:00 pm (AEDT)
Add to my calendar
Organiser
Interspace Communications is a software consulting and development company that builds custom transactional and e-commerce applications. Interspace Communications is also the software development arm of Xilo Online, www.xilo.com, a web and mobile payment services provider.
This workshop is run by Ayudh Nagara, a principal of Interspace Communications.
The venue host is Hub Melbourne, a professional member community that drives innovation through collaboration by providing diverse individuals and organisations with a thriving space for co-working, meetings and events. Events are open to both members and non-members with members receiving free or discounted entry.