Event Information
Location
East Lismore, NSW 2480
Australia
Refund Policy
Refunds up to 1 day before event
Description
Overview
A relaxing day in the artist's studio, concentrating on mixing and matching colour for watercolour.
This stand-alone class gives artists a chance to really understand the colour part of making a painting.
We explore
- how to mix colours exactly
- strategies for recording colour mixes
- how to make shades, tones and greys without using tube black/white
- how to match colours to the environment
- how to mix green
- how to make colour recede (aerial perspective)
- opaque/transparent and fugitive/permanent colours
- the paints in our collections, how to buy paints, and how to read paint labels
Activities will include
- teacher demonstration, discussion
- painting/colour exercises.
- follow-up activities to do at home
- learning experiences are collated into a useful artist-made resource work-book called "The Little Red Book of Watercolour"
Class numbers
Maximum of ten students only.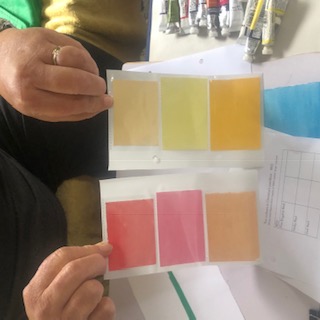 Suitable for:
- Any watercolour painter. Beginner, emerging or experienced. Experienced watercolourists will be encouraged to extend their understanding.
- Other artists - we'll be concentrating on transparent media, however this information translates across to other painting media. Contact Christine if you have any queries.
- There are no pre-requisites
Included:
- full day tuition with prize-winning professional artist and arts educator Christine Porter
- all art materials
- notes, resources for creating the booklet ' The Little Red Book of Watercolour" by Christine Porter
- lunch and morning/afternoon tea ( please advise vego/vegan/GF or allergies)
Program
- 8:30am. Studio opens. Tea/coffee will be available from then
- 9am. Christine starts teaching promptly at 9, so please arrive at least 15 minutes before, to settle in
- Midday. Lunch ( provided) Morning and Afternoon tea provided as the day progresses
- 4 pm Class finishes
Needed for the day
- participants must wear closed in shoes
- bring any tube or pan paints you already have, we'll spend some time investigatng them, along with the paints in Christine's collection. If you don't have any that's fine. All paints, paper and other materials are included in your day fee.
Payment - choose from the following
- To use your credit card or Paypal - follow the links on this page
- To pay Christine directly - download an order form and email to Christine
- To pay by installments - contact Christine directly cp@christineporter.com.au 0407170471
- To swap or barter your gardening time for a space in the class - contact Christine directly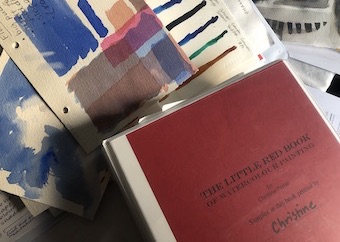 The Little Red Book of Watercolour
Christine has developed a work book called "The Little Red Book of Watercolour". It describes everything that Christine has learnt about watercolour in her 30 + years with this media. Each workshop in this series explores a different element of watercolour . Topics include Mixing colour, paper, brushes and other tools, creating the illusion of distance, painting on site, painting trees etc. Each class can be taken independantly, there is no pre-requisite, and the information complements any other teachers' work.
Children?
This class suits adults. If there is enough interest Christine will organise a teenage or children's class, though there are a number of children's art classes in Lismore.
Getting to the workshop, parking.
The workshop is being held at Christine's studio in East Lismore. When you have enrolled we'll send you a mudmap with directions and parking information.
Contact Christine
Email: cp@christineporter.com.au
Website: www.christineporter.com.au
Refund
The latest day for 100% refund: Wednesday prior to the workshop
50% refund if you let Christine know by the Friday immediately before the workshop
Date and Time
Location
East Lismore, NSW 2480
Australia
Refund Policy
Refunds up to 1 day before event