About this Event
Overview
Participants will create one small and one large mixed media work on canvas, briefly covering design principles. Techniques include collage; printing; stamping and stenciling; glazing and dry-brushing. Drawing can be done directly on the canvas and/or drawings from home can be applied. Tricia's teaching process includes a handout and as much individual time as possible.
Two Day Workshop
Saturday 29 February 2020: 9:00am to 4:00pm
Sunday 1 March 2020: 9:00am to 4:00pm
Two day Workshop
Mixed Media on Canvas – copyright Tricia Reust
Workshop Description:
We will be working on two gessoed canvases, one smaller (about 10x12" or 11x14" or thereabouts is good) and one at least 24 x 30", or preferably larger. The process will be to briefly cover basic design principles; collage and texture the canvas surfaces, and complete the works with paint and/or dry drawing media.
It is optional if you wish to add already existing drawings in with your collage, and if you wish to draw on your canvas (I will be doing both).
We will explore completing one smaller work with a minimal approach, and the other larger work incorporating all the techniques to be covered, including glazing, printing, stencilling and stamping.
Because we cover so many techniques, it is good to have one theme to harmonise the work and to be a repetitive motif eg leaves; birds; chooks; fruit; or, if you prefer an abstract approach, geometric shapes such as circles; rectangles; triangles etc.
Materials are not included in this class, to view the materials list please click here.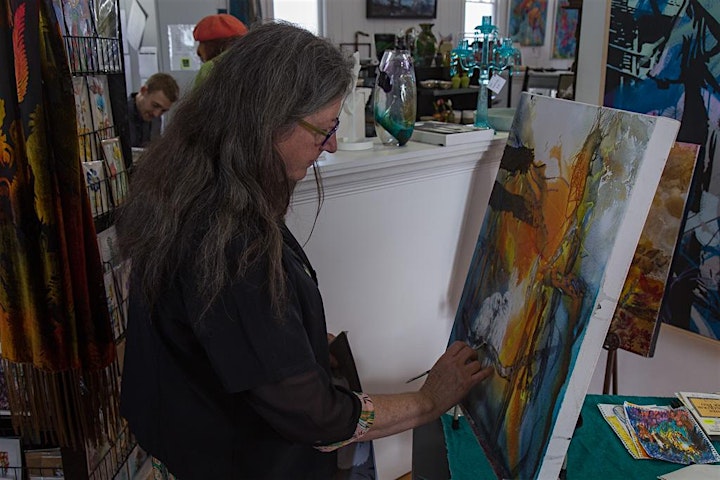 About the Tutor: Tricia Reust
Tricia Reust is a visual artist working in most media. She exhibits regularly, teaches, and judges competitions.
Tricia is an active member of art societies and among many awards won the National Mortimore Prize in 2012, and has had work accepted numerous times in the Bald Archy National Touring Exhibition. She has recorded an episode on TV's "Colour in Your Life", is published in International books; and has three instructional videos available through Pulsar Productions.
Currently, Tricia is writing articles published every second month in the Australian Artist magazine for Chroma Australia, with accompanying instructional videos freely available on YouTube.
Top Image (Cropped): Dying Gulley
Bottom Image: Yellow Hills
www.triciareust.com
MyArt Studio Workshop booking and cancellation policy
The 16 Duggan Street entrance to the classroom will be opened 15 minutes prior to commencement of the class. Students are responsible for their own artists materials unless otherwise stated. A materials list is available for each class and will be emailed to you once your booking is confirmed. Materials lists are also available on our website.Tea and coffee will be provided, and students have access to the kitchenette and toilet facilities. No parking facilities provided. Street parking is time limited and shopping centre parking is at your own expense. Classes with outdoor activities are attended at your own risk.
Fees
Please book into a workshop at least one month prior to its commencement if possible. This will secure your spot in the class and allow us to confirm tutor bookings. If there are insufficient number workshops may be cancelled.
Cancellation of enrolment by you
If you choose to withdraw from a course or workshop up to one month before its commencement, you will be charged a $25 administration fee. The remainder (minus Eventbrite fees) will be refunded. If you choose to withdraw from a course or workshop within 1 month of its commencement, you will be charged a $25 administration fee and the remainder (minus Eventbrite fees) will only be refunded if the position can be filled.
Missed Classes
Once a workshop has commenced there are no refunds. MyArt Studio cannot accept responsibility for changes to students' personal circumstances that prevent attendance. Classes missed are the student's responsibility and are non-refundable. Students are not entitled to a discount or 'make-up' class if they miss a class for any course they are enrolled in.
Cancellations of workshops by us
In the event of a class being cancelled due to insufficient enrollments, a full refund will be given.