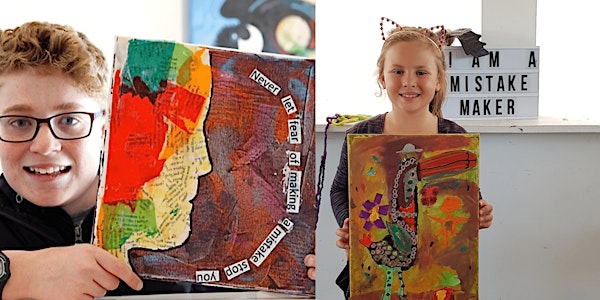 Mistake Maker (2 day camp) Ages 6+(Perth College)
Location
Perth College - Jean Rogerson Science Centre
Queens Cresent
Mount Lawley, WA 6050
Australia
Refund policy
Contact the organiser to request a refund.
Eventbrite's fee is nonrefundable.
A fun and engaging 2 day workshop to teach children skills to confidently deal with challenges and keep trying when they make mistakes.
About this event
This event is now SOLD OUT. We will be running the 2 day camp in October. Register your interest in the next course by filling in your details and letting us know at https://www.strengthheroes.com.au/contact
You can also check out our 1 Day Mistake Me workshop which is a one day workshop that also focus's on mistake making at https://bit.ly/3wo1ydv
Our Brain House and Watch me Grow focus on resilience topics. Check them out at https://www.strengthheroes.com.au/workshops
Imagine your child dealing with mistakes and facing worries with confidence and a growth mindset. In this two day art and play program, kids will explore the art of being and thinking like a Mistake Maker through:
· creating three "make-something-great-from-a-mistake" art projects;
· learning strategies to think with a growth mindset and react with confidence and resilience when mistakes happen;
· learning about famous Mistake Makers in history; and
· improving their problem solving skills through STEAM challenges.
They will let their creativity flow as they complete artsy activities of Zen tangling, painting, drawing to scale, calming colouring in, weaving and textile sculpture and clay sculpting.
Our STEAM play challenges will be done in our Mini Mistake Maker Olympics which kids will compete against themselves to achieve their personal best. Your child will be surprised by how much they can achieve through thinking and behaving with a growth mindset.
Not only will your child learn some new art skills, they will also learn resilience and mindfulness techniques and receive our BAT and Wizzy Dizzy to help manage their emotions when BIG emotions strike.
Knowledge Required
This fun workshop is for all skill levels.
What you'll get
We will engage your children for two consecutive days in this entertaining and thought provoking workshop.
Kids will take home all of their finished art pieces, as well as the special tips and tricks they've learnt in the class.
Parents will receive a copy of the BAT tool with parent information sheet to support their children deal with mistakes after the program.
What to bring
Kids need to bring a water bottle, morning tea, a nut-free lunch and their imagination. BYO a willingness to try learn from mistakes! Dress for mess, aprons provided.
Suitable for
This is a fun indoor activity, suitable for kids (minimum 6 years old). Adult accompaniment is not required.
What our customers say:
" STRENGTH HEROES 🌈🤩 Ava loved attending a two day @strengthheroes 'Mistake Maker' workshop 🥰 She learned what to do when making mistakes, why it's a normal part of learning and life, and how to be more resilient and confident of her strengths 💪🏼 Thank you so much Fiona! 😘 What are your kids loving these school holidays? " Amy Zempalis
"Hi Fiona
I have been meaning to contact you to let you know just how much (name withheld) enjoyed your course. I was a little uncertain as to whether she would enjoy it to be honest. She can be a determined little thing and she's quite fixed on what she does well and what she doesn't like, especially when it comes to art. When she came home on the first afternoon, she claimed it was the best day of her life. She ran through every part of the course, explaining in detail how the brain works, what to do if you make a mistake and proudly showed us her little clay bear. The second day, she was equally enthusiastic. She's hung up her profile picture proudly and has the scrap book on her desk. This course was such an unexpected surprise for me and I have been sharing this story far and wide. Little girls often have a really issue being 'wrong'. For me the pride in being a Mistake Maker is such an empowering concept and I wish I'd learnt it a little earlier in life." Don't be surprised if your course is inundated next holidays! " Kelly Hasluck