Refund policy
Contact the organiser to request a refund.
Eventbrite's fee is nonrefundable.
Join author David Scollon for the launch of his much-anticipated book MISSION: POSSIBLE – Four Steps to Financial Independence on Any Income
About this event
Discover how MISSION:POSSIBLE will save you time, money, and tears, by providing all the critical knowledge you need to know - NOW - to achieve financial independence.
Don't do it the hard way! Whatever your income, age or level of expertise, join personal finance expert David Scollon for this special online book launch as he shares his clear, simple, and straightforward steps to better financial planning and independence.
David wrote MISSION: POSSIBLE recognising that so many people struggle with personal finance, yet there have never been better and more accessible tools to help combat the challenges. Rather than leave the discovery of this knowledge down to people's luck, David wanted to capture it in a book for everyone.
The book is highly anticipated, partly because the book has received impressive testimonials from some of the most globally respected writers in finance, including Howard Marks, Morgan Housel, and Dr William Bernstein:
'Everyone can benefit from reading this book and following its advice.'
— Howard Marks, co-founder and co-chair, Oaktree Capital Management
'Financial independence is the highest dividend money pays. David Scollon's Mission: Possible is a wonderful look at how to get there – and what it can do for your life.'
— Morgan Housel, former columnist at The Wall Street Journal and author of The Psychology of Money
'… read, enjoy and prosper.'
— Dr William Bernstein, neurologist-turned-financial-theorist and prolific finance author
About the launch of MISSION: POSSIBLE
Rather than roll out a standard online book launch, David wants to provide some largely unknown but critical perspectives on personal finance so that attendees come away more enlightened and inspired. He will deliver these perspectives in his usual entertaining way. A couple of special guests will also drop in with some comments.
All attendees will go into the draw for one-on-one coffee zoom sessions with the author. Feel free to pass the invite to all family and friends who could do with some guidance on money.
David looks forward to welcoming you at the launch.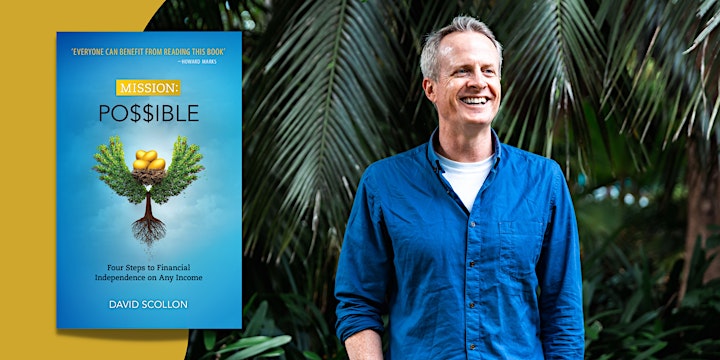 About David
David Scollon has spent twenty-five years in the financial industry, advising many customers, including individuals starting, mums and dads, high net worth, and institutions who invest money on behalf of millions of Australians. He recognises the complexities and challenges people face with personal finances.
He holds a Bachelor of Economics, a Foundation Diploma in Financial Planning, and a Master of Business Administration. David works as a Senior Consultant at JANA Investment Advisers.
How to order the book
You can buy a copy of MISSION: POSSIBLE through Eventbrite or go to the dedicated website for more information:

JOIN VIA ZOOM:
Join from a PC, Mac, iPad, iPhone or Android device:
Please click this URL to join. https://us02web.zoom.us/j/88340729981?pwd=YTYwSit0eFRqQWc4UHM3SVV4VStQQT09
Passcode: 427044
Description: This is the official launch of MISSION: PO$$IBLE - Four Steps to Financial Independence on Any Income. But more than just a book launch, this webinar will provide some critical perspectives on personal finance that will both provoke and help.