About this Event
ANNOUNCEMENT 23/03/2020
After receiving advice from the Victorian Department of Health, we have made the difficult to decision postpone the Miss Fisher and Crypt of Tears Exhibition at Rippon Lea Estate until a new date has been finalised, as a preventative measure against the spread of coronavirus (COVID-19).
For those that have pre-purchased tickets we are now holding your tickets for rebooking when the exhibition reopens.
If you wish to receive a full refund for this event, you may do so by requesting this through the Eventbrite app or emailing events@nattrust.com.au
Experience large scale installations recreating Miss Fisher's world, complete with an interactive mystery experience, all the while enjoying the feature film costumes designed by Margot Wilson, props and more from Miss Fisher's first cinematic release, Miss Fisher and The Crypt of Tears.
Immerse yourself in the adventure with Phryne Fisher and unravel a decade old mystery concerning priceless emeralds, ancient curses and the truth behind the disappearance of a forgotten tribe.
Be transported back to where it all began with a retrospective of the original series Miss Fisher's Murder Mysteries, as well as costumes from the expanded Miss Fisher universe including the 1960's spin off series Ms Fisher's Modern Mysteries and the upcoming Chinese adaptation Miss S, where Phryne has been reimagined as a crime fighting sleuth in 1920s Shanghai.
The Miss Fisher and The Crypt of Tears Exhibition is open daily, 10am to 4pm from 20 March to 19 July 2020 at Rippon Lea Estate.
Download Frequently Asked Questions
_____________________________________________________________________________________________
Miss Fisher and the Crypt of Tears is an Every Cloud Productions feature for Roadshow Films, Australia, with principal production investment from Screen Australia, in association with all3media international, Film Victoria, Fulcrum Media Finance and Film Finances Australasia. In cinemas 27 February 2020.
Please note – This exhibition is presented inside Rippon Lea mansion. During this time the internal furniture and fixtures may have been removed, adjusted or replaced to accommodate the exhibition pieces. Regular tours of the mansion won't be offered during the exhibition period and will only re-commence after all original furniture and fixtures have been re-installed and once the exhibition has ended.
"Miss Phryne Fisher is iconic. The Miss Fisher and the Crypt of Tears Exhibition invites visitors to follow the narrative of the film, whilst giving us a glimpse of the world behind the camera and highlighting her superhero status from sportswear to figure-hugging evening gowns and desert action comfort."
Elizabeth Anya-Petrivna, Exhibition Producer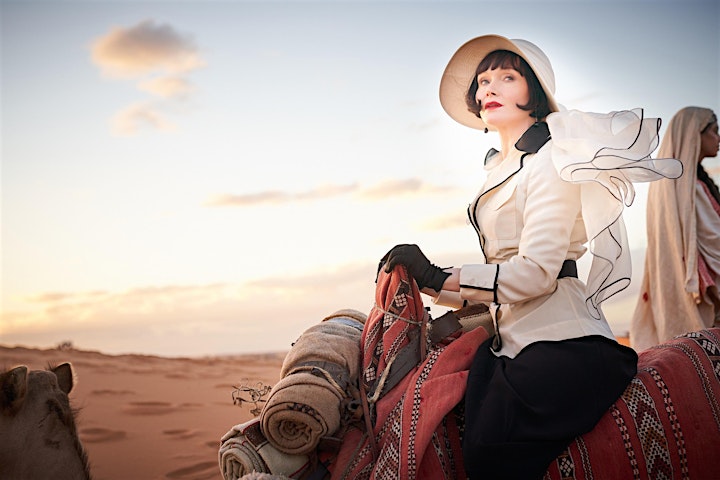 New Member Offer: Join today as a new National Trust member and we'll waive the joining fee and you will receive a free one-time ticket to the exhibition!
Members also receive:
- Free entry to all National Trust properties in Victoria and Australia
- Free entry to over 800 National Trust properties overseas
Your National Trust membership is not only your key to the world's most iconic locations, but a significant contributor to Australia's cultural and historical legacy.