Miss Burlesque Australia 2021 Grand Final Watch Party
About this event
Join us at the magnificent Royale Theatre and watch the Miss Burlesque Australia Grand Final on the big screen in style! Our Grand Final will be hosted LIVE by NSW/ Grand Final Co-Producers Memphis Mae & Kelly Ann Doll and streamed around the globe.
Our finalists span across two incredible years of competition, 2020/ 2021 and it has finally all come down to this night. We are incredibly excited and can't wait to see our performers giving us their pre recorded winning acts!
Event theme: Leopard print & Luxury!
It can be either or, it can be both, it can be neither! Grab your best leopard print outfit, or pop on your most luxurious pieces and join us for one helluva night. Prepare yourself in your finest finery and join the WA Burlesque community as Miss Burlesque Australia gets ready to crown a new national winner.
-------------------------
Doors: 4.25pm
Pre show performance: 4.45pm
Live stream: 5pm - 7.30pm.
Nightcap Chit Chit after party: 7.30pm - 9pm
- Red carpet runway with our photo wall by John Leonard
- Live performance by Cece Desist
STATE WINNERS:
QLD - Citrine Velvetine
NSW - Diesel Darling
SA - Letitia Stitch
WA - Lucy Lovegun
ACT - Possum Galore
WILD CARDS:
Connie Curveball (SA)
Ginger Foxx (NSW)
Kitty Littéur (WA)
With our current Miss Burlesque Australia Bettie Bombshell performing her hand over act.
The competition much like the live event will showcase the Grand Finalist's winning acts in 3 categories
~ Red Carpet Parade
~ Traditional Burlesque
~ Unique Performance
The judging panel is made up of some of Australia's Top Burlesque/ Cabaret Royalty and is being announced across Miss Burlesque Australia Social Media.
Nightcap Chit Chat after party with live performance from Cece Desist!
We know you will be dying to chat about what just happened on that big screen with your best burly pals, so we have arranged a little something just for you WA! Order your dinner in the intermission to be ready after the show, grab a signature MBA cocktail and enjoy your favourite cabaret darling Cece Desist singing some tunes through the night. Let's make this a night to remember!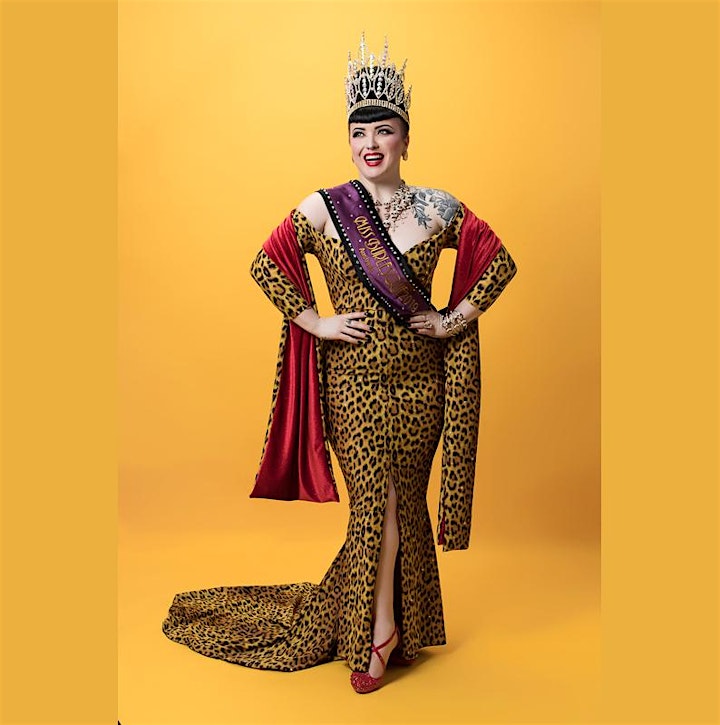 Organizer of Miss Burlesque Australia 2021 Grand Final Watch Party
A once purpose-built IMAX theatre, the Royale Theatre is now home to live entertainment, and boasts incredible sound and visuals, the most comfortable seats in Perth, and an in-theatre bar. The Royale Theatre is part of Planet Royale, where you can eat, drink, play and enjoy live entertainment all under one roof. Button mash with your mates on our vast array of retro arcades and marvel at arguably the GREATEST public collection of pinball machines in the whole of Australia. Re-spawn your soul and your stomach at Pulp Kitchen, where you'll find an epic food offering that would have even Vincent Vega drooling. Level up (quite literally) and indulge in a bespoke cocktail at Major Tom's, our cocktail lounge that oozes good vibes and good tunes, before catching a show in The Royale Theatre. Situated in the heart of Northbridge, Planet really is a one-stop entertainment destination! You are welcome to arrive early before your show to enjoy Planet Royale, or stay on after the show!
NOTE ABOUT VIP BOOTHS: For VIP Booths, you only need to purchase 1 ticket to buy a booth. VIP Booths seat 4 people per ticket, VVIP Booths seat 6 people per ticket.
NOTE ABOUT TICKET RESALES: Please note our tickets are only available for resale through TIXEL. Please do not accept ticket resales on any platform except Tixel, and please do not send anyone you don't know money for tickets, as they are most likely to be a scammer selling fake tickets.