Description
Minecraft Club @ The Battery Shed!
Over the next two months, we are going to be running a weekly Minecraft Club at the Battery Shed (near the Queen Victoria Museum). The club is aimed at kids between the ages of 10 and 14 who are interested in technology in general, or Minecraft in particular! The workshops cost $120 (ex. GST) which covers the cost of all six workshops in the series.
During the six week program Donelle Batty (a local high school teacher who specialises in the use of technology in schools) and Nathaniel Bott (a Launceston College student who has developed a reputation as a local leader in the use of Minecraft in education) will be running an intensive program during which participants will be collaborating to build a vibrant, living world in Minecraft, which engages with an educational concept that the participants will choose as a group during the first session.
At the end of the series, there will be an opportunity for parents and friends to learn about what the participants created and the children will be given a copy of the world that was created during the course to take home and use on their own computers.
---
Key Information
What?
Minecraft Club @ The Battery Shed!
Who?
Children aged 10-14 (Boys & Girls Welcome!)
When?
Every Wednesday, 4pm to 6pm
From the 4th of November to the 9th of December
Where?
The Battery Shed, Queen Victoria Museum, 2 Invermay Road, Inveresk, TAS, 7248
How Much?
$120 For All Six Workshops ($132 inc. GST)
All required equipment and software will be provided.

---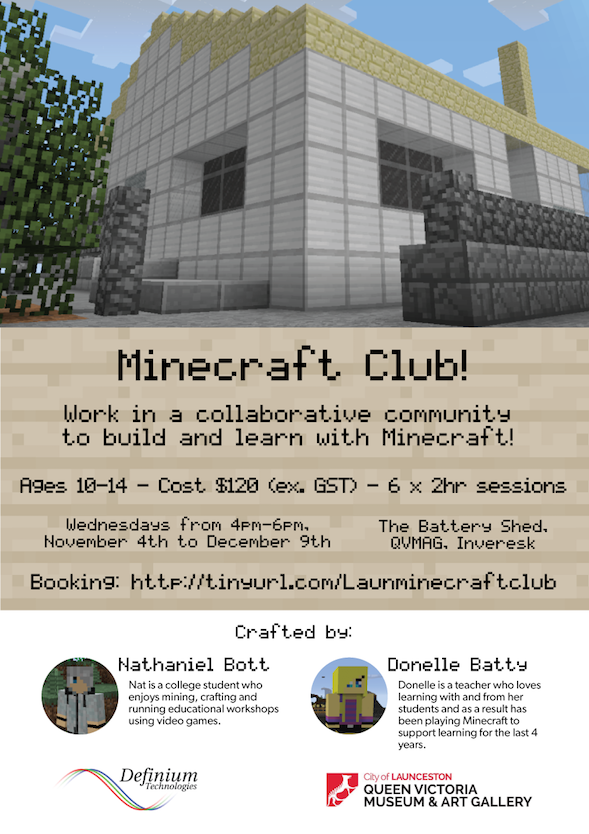 ---
Detailed Schedule
If you would like a quick reference on the dates and times of all six sessions so you can do a bit of diary checking...here you go!
Session 1: Wednesday November 4th, 4pm to 6pm
Session 2: Wednesday November 11th, 4pm to 6pm
Session 3: Wednesday November 18th, 4pm to 6pm
Session 4: Wednesday November 25th, 4pm to 6pm
Session 5: Wednesday December 2nd, 4pm to 6pm
Session 6: Wednesday December 9th, 4pm to 6pm
---
About The Venue
These workshops will be taking place at the Battery Shed, which is a building on the Queen Victoria Museum site at 2 Invermay Road, Inveresk. The Battery Shed is the home of the Innovation Circle, a community group that runs a whole range of events that encourage young people to learn about computer programming, electronics and advanced manufacturing.
To learn more about the Innovation Circle at the Battery Shed, visit our website.
Visit the Innovation Circle Website
For more detailed directions to help you find the Battery Shed, check out the location page on the Innovation Circle site.
Get Detailed Directions to the Battery Shed
---
About The Organisers
Meet Donelle
Donelle is a Tasmanian high school teacher who is passionate about teaching, learning and technology. Donelle has taught in over 12 schools, with a career that has taken her to many places beyond Tasmania. Recently, Donelle was awarded a Hardie fellowship, which enabled her to study and travel in the USA for a year. Donelle has now returned to Tasmania and is full of great ideas for things that we can do to make Tasmania a better place for teaching and learning with technology.
Meet Nathaniel
Nathaniel is a college student from Northern Tasmania who is enthusiastic about helping people to discover and investigate new, innovative ways of learning.
He created and co-ran a Minecraft Video Game subject at Riverside High School with his teacher and peers, hoping to foster a positive digital community for those who participate. This included students not only from Riverside High School, but those from Riverside Primary and Westbury Primary as well.
---
More Information
For more information, contact us through Eventbrite. We'll get back to you as soon as we can!
---
FAQs
Does the price include any fees? Does it include GST?
The listed price of $120 includes allowances for all processing fees. However, it does not include GST. The total cost for the full series of 6 workshops, including all fees and GST is $132.
Can I pay week by week, or can I pay with cash?
Unfortunately, we don't have a good mechanism for accepting week by week payments or accepting cash. As such, it is our strong preference that all payments are made in advance and through Eventbrite.
What are my transport/parking options getting to the event?
The best place to park is the large council carpark near the Museum in Inveresk. The Battery Shed is only a short walk from there.
Does my child need to bring a computer, iPad or other technology to the event?
Nope! All technology will be provided! We'll have laptops and Minecraft licenses ready to go.
Does my child need to have a Minecraft account and do they need to bring along any passwords?
It's definitely helpful if your child is already familiar with Minecraft, but they don't need to be experts and they won't need to remember any passwords. We're using our own Minecraft accounts and our own server to facilitate these events, so your child's existing account won't be touched.
Who is Definium Technologies?
You might come across the name Definium Technologies during your registration process. Definium is a Launceston-based technology company who also run a whole range of educational programs. Definium is helping out with this workshop by providing some administrative support (accepting payments and managing payroll) as well as providing all of the necessary equipment (laptops, etc.) for the workshops.
Who is the Innovation Circle?
The Innovation Circle is a community group that operates out of the Battery Shed at the Queen Victoria Museum site. The Innovation Circle works to create opportunities for young people to learn about computer programming, electronics and advanced manufacturing, as well as working with the museum to deliver projects that have some value to that organisation. The Innovation Circle are helping out with this event by providing the Battery Shed as a venue.
One or more of my children won't be able to participate this time around. Will there be more events like this in the future?
We're going to see how this one goes, but chances are...yes! We've set up a waiting list on this event, so if it sells out you'll be able to register your interest for future events then. If you'd rather get in touch with us directly, you can email us through Eventbrite (there's a contact link at the bottom of this page).
Where can I contact the organiser with any questions?
Get in touch with us via Eventbrite. We'll get back to you as soon as we can!
---