Location
Hawthorn Library
584 Glenferrie Road
Hawthorn, VIC 3122
Australia
Refund policy
Contact the organiser to request a refund.
Eventbrite's fee is nonrefundable.
Mindfulness Made Simple : Simple techniques which you can put to practice straight away to find your inner compass for clarity& creativity.
About this event
Are you ready to silence the unwanted mindnoise from your life?
What do we Know about Mindfulness?
It has been established scientifically that Mindfulness - the practise of being mindful in life - significantly improves our health and wellbeing.
Mindfulness has been associated with improved physical health, heightened concentration, and mental clarity, increased empathy, self-awareness, and a richer quality of life.
Practising mindfulness in our lives helps us embrace every moment, allowing us to live in the present and enjoy the beautiful things that life has to offer. In other words, mindfulness allows us to live more grounded lives, bringing more clarity and creativity to our thoughts and actions.
Why do most people not live in the present? Why do most people suffer and struggle through life? Why do people feel so incomplete?
Most often, we are not living in the present. Our minds are constantly overridden with thoughts and emotions which consume all our energy. At multiple points throughout the day, our minds hijack us, sending us into the past or future. It is in these imaginary realms that we lose our sense of balance and become overwhelmed by emotions and thoughts.
Our wandering minds can instigate anxiety and stress, in severe cases resulting in physical ailments. Unfortunately, we don't always have control of our own minds, do we? It's easy to let our 'mind-noise' or 'mind-chatter' get in the way.
So why are we confined to our shadowed past or the metaphorical world of the future? Why can't we spend more time in this beautiful moment – in the present? How can we direct the mind back to the present moment?
How can we help?
With a simple technique — The Art of Conscious Balance — we can guide you to embrace and foster Conscious awareness into your life. The practise of Conscious awareness will enable you to regain control over your mind and freedom from unwanted mindnoise, ensuring peace, creativity, wellbeing, and clarity in your life.
Santosh Nambiar, founder of Mindnoise Matters will share the helpful techniques he used in his own life to transform his life from one of monotony and anxiety to one of joy and purpose. As noted in his new book – The Art of Conscious Balance – Breaking free from your conditioned self, Santosh explores how we can make our lives a form of meditation, in every moment, rather than our meditation being a mere 30 minute or one-hour affair!
Learn how to bring about the inner peace wherever you are - at a busy workplace, a board meeting, waiting for the bus/train, even at home cooking dinner, going out for a walk in the park,whatever the moment, where-ever you are, with these helpful techniques you can become a moving 'space of peace' wherever you go. Let not the outer chaos affect your inner peace.
Come along and discover:
✓ How to live in the present and enjoy each moment to the full.
✓How to deal with fear, anger, anxiety and stress and rediscover a life of well-being.
✓ How to quiet your mind's incessant background chatter and deal with difficult thoughts and emotions.
Event information
Date and Time: 2 hours. 10 AM – 12PM, 20th August 2022.
Venue: Hawthorn Library Meeting room 1 (Ground floor), 584 Glenferrie Rd, Hawthorn VIC 3122
Car parking: parking available at the library premises on Saturday.
What to bring: Nothing. Dress code: casual (we will be sitting on a chair)
Cost: $25 per person. ( We are a not for profit organisation. This cost will cover the expenses towards the hall hire, insurance, marketing - weekend notes and ticketing - Eventbrite)
Places are strictly limited to 25 persons per session.
Santosh Nambiar is the founder of the non-profit organisations Life a Meditation and Mindnoise Matters. Santosh is also registered mindfulness guide with the Meditation Association of Australia.
Santosh is the author of internationally acclaimed book A New Way of Living& The Art of Conscious Balance. Santosh has a background in Molecular Biology and an MBA from Royal Melbourne Institute of Technology. He is the founder of a Biotech company, which provides support to universities towards biomedical research in finding a cure for diseases like cancer, cardiovascular diseases and ailments that threaten humanity's health.
If you are interested in attending, please note prior bookings are essential; Places are strictly limited per session. The participation fee is $25 per person.
For more information on Santosh or this workshop, please visit www.mindnoisematters.com
***
The New Book – The Art of Conscious Balance will be available for sale during the session – Cash only (20AUD) Listed on Amazon @29.69AUD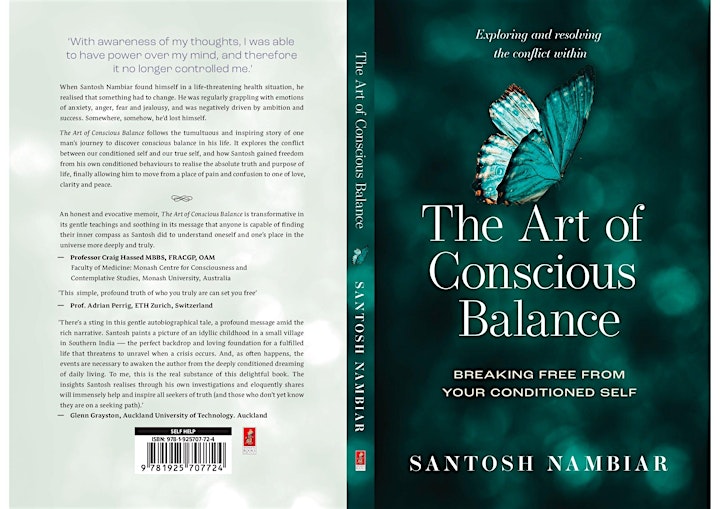 "In this book Santosh has lovingly shared some of his insights and lessons that may inspire many others to find their inner compass to understand oneself and one's place in the universe more deeply and truly"
Professor Craig Hassed MBBS, FRACGP, OAM
More reviews about the book on - www.mindnoisematters.com
The book is now available in all leading book stores including Amazon.
Handing over the first author copy to Prof Craig Hassed, Monash University.
Coordinator of Mindfulness at Monash University.
Monash Centre for Consciousness and Contemplative Studies.