Unplug and reconnect with nature. Let your stress wash away and return feeling relaxed and revived.
About this event
Do you want to feel more peace in your life?
Do you want to feel more connected to yourself, others, and the world around you?
Do you feel overwhelmed, tired, and drained by everything you have to do today?
Have you ever driven to a destination having no real recollection of the journey you undertook to get there?
Mindfulness practice will bring increased awareness, vitality and connection into your life.
Mindfulness is the art of purposefully bringing one's awareness into the present moment. When we practice this art on a regular basis we begin to live with greater awareness. We experience reduced stress, more clarity, less mind fog, increased productivity, harmony in family life and relationships, expanded creativity, and balance within ourselves.
Most of our days are spent running from one engagement to the next and we forget to embrace the experience we were just in. We live on auto pilot.
Mindfulness practice brings our awareness into the present moment.
We all know how good being in nature can make us feel. The sound of the forest, the scent of the trees, the sunlight playing through the leaves, the fresh clean air... these are the things that give us comfort.
Time in nature eases our stress and worry, it helps us to relax and think more clearly. It restores our mood, gives us back our energy and vitality as well as refreshing and rejuvenating us.
We know this in our bones, like an intuition or an instinct. It's a feeling that can be hard to describe. We feel it when we watch a sunset or when we walk through majestic forests.
Science is now showing that time in nature not only makes us feel better, it contributes to our physical wellbeing, reduces blood pressure, heart rate, muscle tension, and activates our parasympathetic nervous system (the good one)!
Join us for an hour and a half a week to learn and practice basic mindfulness and nature connection techniques that you can use in your daily life to reduce stress and live a more balanced, connected life.
Thanks to Moreton Bay Regional Council for sponsoring this event!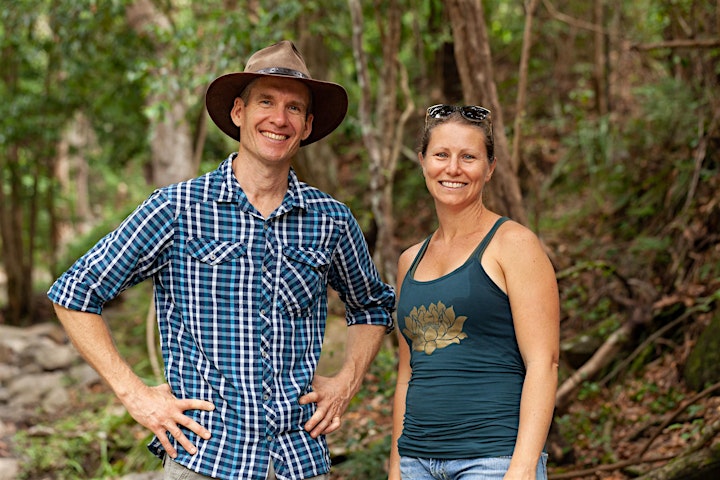 Your guides: Guy L'Estrange and Tammy Russell
What to expect:
Your guide(s) will meet you at the start of the Dawson Creek walking trail in Samford Valley (driving directions below).
The Dawson Creek trail winds between open farmland and tall trees beside a picturesque creek bed. Sometimes flowing, sometimes not, the little creek begins in the rainforest high up on the D'Aguilar Range close to Mt Nebo. The un-formed trail follows a relatively flat section of the creek for 1km (each way) with a few small gullies to negotiate along the way. At regular intervals along the trail we'll stop and welcome you to participate in some simple guided mindfulness and nature connection practices.
Take your shoes off if you dare and feel your connection with the earth. Let the sunshine warm your skin and the water cool your feet as you take in the fresh air, bird song and the myriad of life forms around you.
Bring a mug and we'll boil the billy. A warm brew and morning tea are enjoyed even more under a canopy of trees near the creek.
We'll have you back at your vehicles by the scheduled departure time.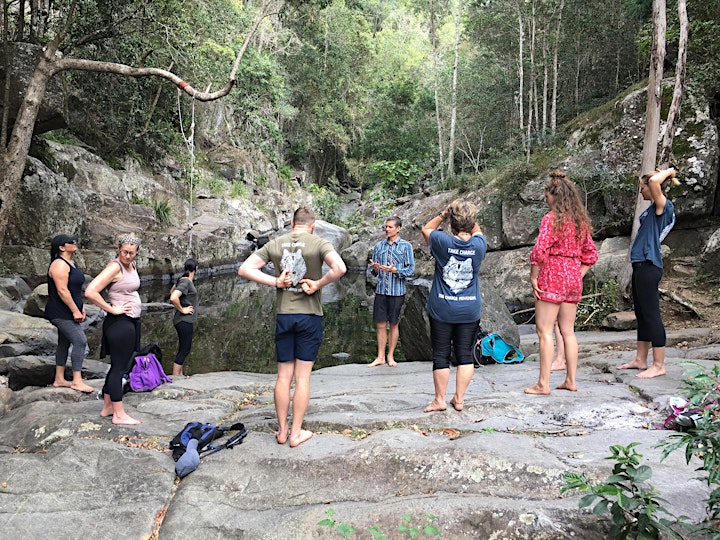 Getting there:
Dawson Creek trail is accessed from Dawson Creek Road in Highvale (Samford Valley). There is no street number for the meeting place. When you turn onto Dawson Creek Road, drive 850m and park on the grassy verge on the left. There's a small gate in the fence here. Your guides will be waiting here 15mins prior to the scheduled meeting time. This link should take you to a google map where you can get directions to the meeting place: https://goo.gl/maps/XFtBf7sRXB8bBCxk7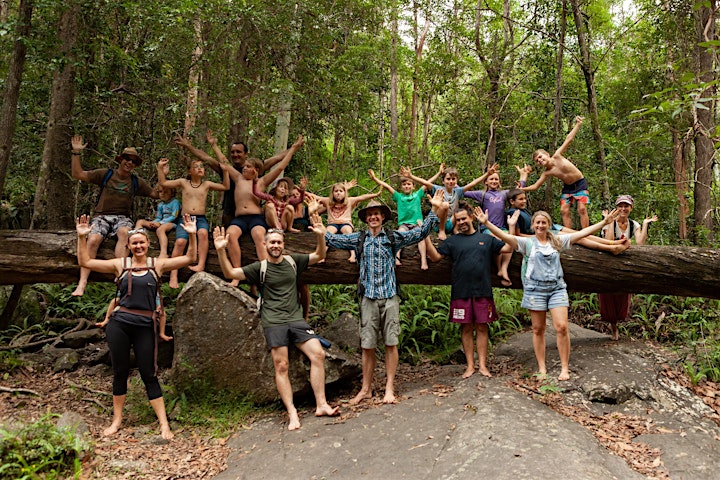 What to wear:
Walking clothes or activewear- Check the weather for Samford Valley (4520)
Walking shoes although you may choose to walk with bare feet
Sun hat
What to take on the walk:
Daypack
Water bottle
A mug and morning tea.
Sunscreen and Insect repellent (no sprays please)
Raincoat or spray jacket- check the weather forecast and bring one if showers are predicted.
Journal/ notebook and Pen
Things to note:
Walking distances- Depending on group fitness levels and how many breaks are taken throughout the day, the group may walk from 1.5 to 2km.
There are no bathroom facilities at the venue so go before you arrive and plan for 'bush wees' during the walk. Guide to bring toilet paper and Ziploc bags for paper and sanitary items.
Phone reception is limited at the venue.
We look forward to you joining us on this experience.
Guy and Tammy