Description
The Mindful Supper Club

April 28 from 7pm - 9pm in The Wholesome Nest Cafe
Join Victoria Gelberg from Think-Bubbles for an evening of mindful eating, guided meditation and to plan your own personal foodie spring clean.
Mindful eating is about brining present moment awareness to the way that you eat and experience food. We explore different types of hunger and the things that drive us with our often quite complex relationship with food.
Victoria has facilitated the ever popular Mindful Supper Club for a few seasons now at Beach Lane and the evenings are going from strength to strength with packed houses! She brings her expertise as a Mindfulness Educator and mindful eater to the table introducing the life enhancing qualities of mindful eating in a warm and accessible manner.
Victoria is supported by the creative team at the Wholesome Nest café who always create a delicious and healthy meal for everyone to enjoy.
Don't miss out on this ever popular evening, book soon and enjoy the pleasures of mindful eating.
---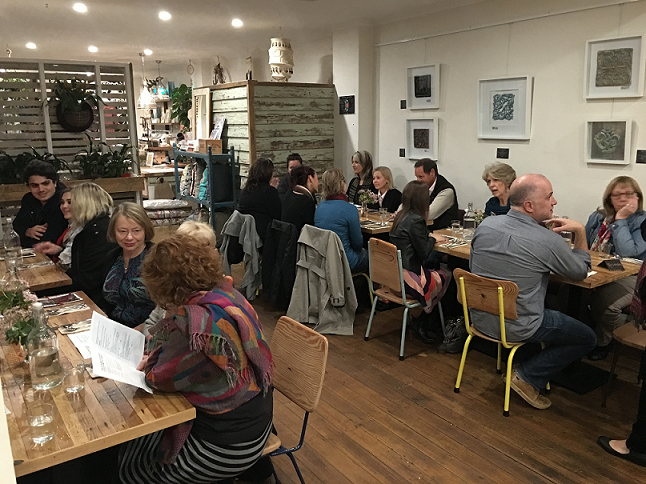 ---
What participants have said..
"Wonderful evening! Enjoyed every moment – listening to Victoria's wisdom and knowledge and eating the amazing, delicious food! Thank you!"
_____
"It was my first mindful eating experience and it was amazing. It has deepened my love affair with food, which I didn't think was even possible. Thank you Victoria."
_____
"It was fun and light and the food was amazing!"
_____
"Great presentation and mindful practice tonight. Wonderful food, company and ambience. Thank you Victoria and the Wholesome Nest."
_____
"Dear Victoria, Thank you for such a wonderful, magical and exciting way to rediscover food. I shall try this mindful eating on our 7 and 10 year olds so we can help them to truly appreciate flavours and textures of food. Thanks once again."
_____
"Wonderfully created Victoria! It's been such a lovely experience with something so important, EATING in a mindful way. It has taught me so much appreciation with the food that's on my plate. My eating habits have changed forever! Thank you.
---