Location
Community Place Kalinga
Melrose Park
20 Clark Street
Wooloowin, QLD 4030
Australia
Refund policy
Refunds up to 30 days before event
Description
A proven way to accept ourselves, build inner strength and thrive.
Explore...
—Slowing down, self-awareness and savouring the present moment
—How to become more confident, resilient, joyful and motivated
—The science of self-compassion and why most of us ignore this vital skill
—Simple practices to transform moments of suffering into moments of love
—How to befriend ourselves and nourish our needs
—Relating to ourselves and others authentically and wholeheartedly
—Moments of connection and shared common humanity
—Building courage and appreciating our values and strengths
—How to transform the inner critic into an inner coach
The Mindful Self-Compassion (MSC) programme teaches us how to motivate ourselves and build our inner resources with kindness, compassion and wisdom.

The blend of mindfulness and self-compassion allow us insight into our emotions, together with the resources to maintain balance, build resilience and decrease our suffering.
Self compassion, simply put, means being a friend to ourselves.
The three components of self-compassion are mindfulness, kindness and common humanity.

—Mindfulness helps us get in touch with our feelings, with curiosity and open-mindedness.
—Kindness brings comfort and warmth, soothing distress and refreshing our motivation.
—Connecting with others reminds us that we all have flaws, that we're all human, and that we're in this together.
Who can benefit from self-compassion?
Self-compassion can be learned by anyone, even those who didn't receive much affection in childhood or who feel uncomfortable being good to themselves.

It's the practice of repeatedly evoking good will toward ourselves and the courage to stand up against harm— especially the harm we inflict on ourselves through self-criticism, self-isolation or self-absorption.

Self-compassion provides emotional strength and resilience, allowing us to admit our shortcomings, motivate ourselves with kindness, forgive ourselves when needed, relate wholeheartedly to others and be more authentically ourselves.
Rapidly expanding research demonstrates that self-compassion is strongly associated with emotional wellbeing, less anxiety, depression and stress, maintaining healthy habits like diet and exercise and satisfying personal relationships. And it's easier than you think.
After participating in this workshop, you'll know:
—how to stop being so hard on yourself
—how to handle difficult emotions with greater ease
—how to motivate yourself with encouragement rather than criticism
—how to transform difficult relationships, both old and new
—mindfulness and self-compassion practices for home and everyday life
—the theory and research behind mindful self-compassion
—how to become your own best teacher

"The point of practice is not to perfect ourselves, it is to perfect our love." ~Jack Kornfield


---


What to expect
Program activities include meditation, short talks, experiential exercises, group discussion, and home practices. MSC is a workshop rather than a retreat. The goal is for participants to directly experience self-compassion and learn practices that evoke self-compassion in daily life.
MSC is primarily a compassion training program rather than mindfulness training like Mindfulness-Based Stress Reduction (MBSR), although mindfulness is the foundation of self-compassion. MSC is also not psychotherapy insofar as the emphasis of MSC is on building emotional resources rather than deliberately accessing and addressing old wounds, although this can sometimes happen. Positive change occurs naturally as we develop the capacity to be with ourselves in a kinder, more compassionate way.
"Love reveals everything unlike itself"
While some difficult emotions may arise when practicing self-compassion, MSC teachers are committed to providing a safe, supportive environment for this process to unfold, and to making the journey interesting and enjoyable for everyone.
MSC includes 8 weekly sessions of 3 hours each, in addition to a 4-hour retreat.
Who is running the course?
The course will be run by Lyndi Smith and Carmel Herington, both graduates of the Mindful Self-Compassion teacher training and teacher/practitioners of mindfulness and compassion for many years.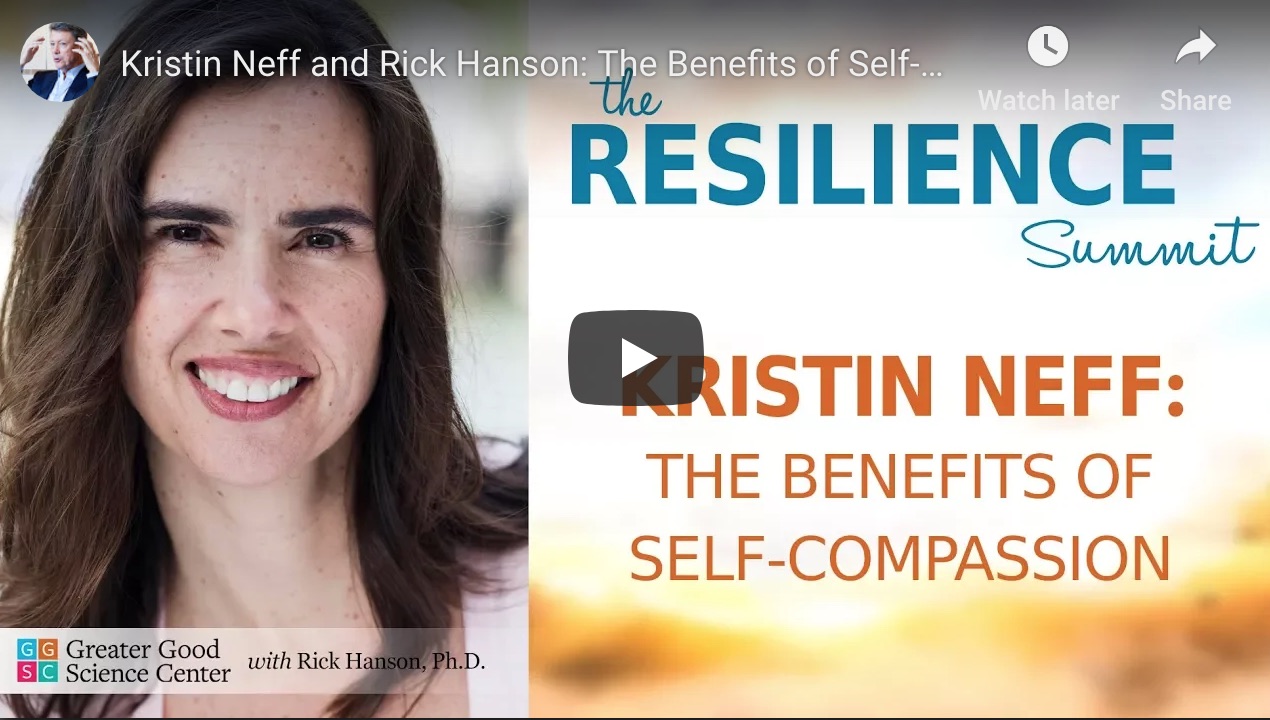 Watch Kristin Neff explain the benefits of self-compassion on Rick Hanson's Resilience Summit
"After practising mindfulness for about ten years, I felt balanced, calm and stable. But focusing on self-compassion has really allowed me to thrive! I feel more confident, more caring and supportive towards myself, less of a slave to relentless perfectionism and more able to pick myself up when things don't go my way. I feel more joyful, motivated and resilient than ever. And am delighted we can share how to do that with others." ~Lyndi Smith
---


When does the course run?
Monday evenings from 6pm to 9pmfrom Feb 11th to Apr 1st 2019 (8 weeks)
plus a half-day retreat on Sat 23rd March 2019, 9.30am until 1.30pm.
The retreat date is an opportunity for supported, silent group practice, in the beautiful grounds of Melrose Park.
Participants should plan to attend every session and practice mindfulness and self-compassion where they can each day throughout the program.
Please note that we have a policy of not turning anyone away for financial reasons. We offer both concessions and scholarships. Please get in touch if you would like to come but cannot afford it.
Feel free to contact Lyndi on 0435 626 154 to answer any questions or provide more information where desired. We hope you can join us in this life enriching course.
"I got some great insight, thank you Lyndi." —Joe
"Very soothing voice. Easy to follow. Found myself in a very peaceful focused space." —Julie

"The breathing exercises helps me in a range of situations – helping me to feel calm, going to sleep, taking time out, etc." —Steph
"I felt when practising able to handle my days better." —Anon
"I really felt the benefit around my daughter. She said, 'Mummy, when you're calm, I'm calm.'" —Jill
"Lyndi was amazing. Professional, thoughtful and epitome of all that is mindfulness." —Brett
"Many thanks for a wonderful experience and learning." —Debbie

---


Is MSC effective?
Mindful Self-Compassion (MSC) is empirically-supported. A randomised, controlled trial demonstrated that MSC significantly increased self-compassion, compassion for others, mindfulness, and life satisfaction, as well as decreased depression, anxiety and stress. Improvements were linked to how much a person practiced mindfulness and self-compassion in their daily lives.
MSC was developed by Christopher K. Germer, PhD, leader in the integration of mindfulness and psychotherapy, and Kristin Neff, PhD, pioneering researcher in the field of self-compassion.
---
FAQs
What are my transport/parking options getting to the event?
There is plenty of on-street parking and a small car park.
What can/can't I bring to the event?
If you prefer to sit on a meditation cushion, or lie on a yoga mat, please bring one. Chairs are provided.
Is my registration/ticket transferrable?
In case of medical emergency, yes. Please contact the organiser for advice.
Do you offer workplace trainings?
Yes, please see lyndismith.com for more details or call Lyndi on 0435 626154.
Is this course researched to be effective, or validated scientifically?
Yes, self-compassion and MSC have been researched for about ten years. For more information, see centerformsc.org.
Does this count towards MSC Teacher Training?
Yes, as do all MSC courses run by graduates of the MSC Teacher Training programme.