Ready to prioritize your self-care for inner peace, self-awareness, self-mastery, and healthier habits using mindfulness?
About this event
If you are ready to prioritize your self-care to cultivate inner peace, self-awareness, self-mastery, and healthier habits, then this mindful living workshop has been designed with you in mind.✨✨✨
You will have opportunities for experiencing mindful living in the core fundamental areas of life. There will be time for:
🌴Guided meditation
🌴Mindful physical activity in Noosa National Park
🌴Nutritious plant-based meals
🌴Quiet time for reflection and connection
So, come join us for a regenerating workshop experience at the upcoming 2-day Mindful Living Kickstart in beautiful Noosa on June 29th and 30th.🌴🏖️🌊
"If you don't mindfully give yourself permission to prioritize time for your own self-care, no one else will." Michelle Segar, Ph.D
Workshop Details:
A 2-day mindfulness meditation workshop. In this workshop, you will establish or reconnect with a regular routine and deepen your meditation practice. You will also learn how to incorporate mindfulness into daily living for healthier habits. On completion of this workshop, you will be on your way to greater inner peace, self-awareness, and self-mastery.
1. Dates and times: The 2-day Mindful Living Kickstart Workshop hours are:
• Tuesday 29th June: 7 am to 8 pm
• Wednesday 30th June: 7 am to 4 pm
2. The workshop will include time for mindful activity, mindful meals, and mindful meditation practices. There will be opportunities for discussion and reflective exercises. The workshop will include the showing of a very special documentary on the evening of Tuesday 29th.
3. Meals: Basic catering is provided. The meals will be breakfast, lunch, and dinner on Tuesday, and breakfast and lunch on Wednesday. Light refreshments will be provided for morning and afternoon teas on both days. All meals provided will be vegan and gluten-free. This won't be gourmet, but you will be fed more than sufficiently and healthily. As you may know, I'm pretty serious about being in good health.
4. Venue: the key feature is the setting - directly opposite the Noosa National Park. The venue for the workshop is a unit complex. The venue is a 10-minute walk from the National Park end of Hastings Street. The address will be provided with the Tax Invoice upon receipt of payment.
5. Fee: $797 incl GST. This is a paid 2-day workshop that includes basic catering.
6. Guests: Please share this event with those you believe would be interested in, and benefit from attending this workshop.
7. Limited numbers: Workshop numbers are strictly limited and will be filled on a first-come-first-served basis subject to application.
8. Parking: onsite parking is extremely limited - once booked, please contact to arrange.
Here's to mindfully bringing our best to life,
Patrea O'Donoghue
Psychologist
For more details contact Patrea at 0410 264 224 or email at patrea@positivepsychologystrategies.com.au
Workshop Facilitator: I'm a registered psychologist and am passionate about being healthy and fit - in both body and mind. I specialise in the areas of performance psychology, resilience, wellbeing, and the science of habits for successful behaviour change. I use a holistic approach to my work with clients, incorporating Positive Psychology and Mindfulness (Mindfulness-integrated CBT).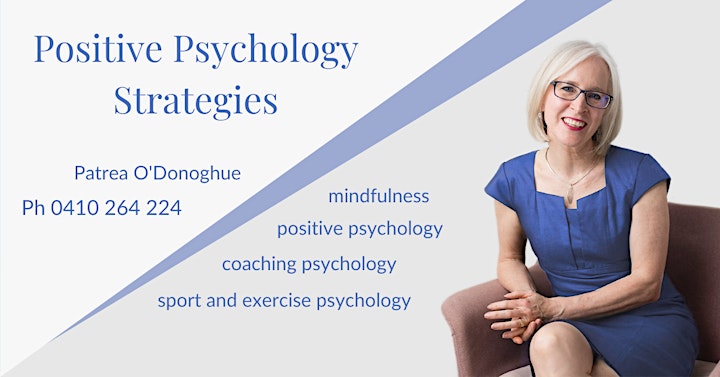 Organiser of Mindful Living Kickstart Noosa 2-day Workshop